The Golden Globes' Weird, Awesome Television Nominations
They snubbed Steve Carell and celebrated a show called Necessary Roughness—just two examples of the frustrating, glorious randomness of the awards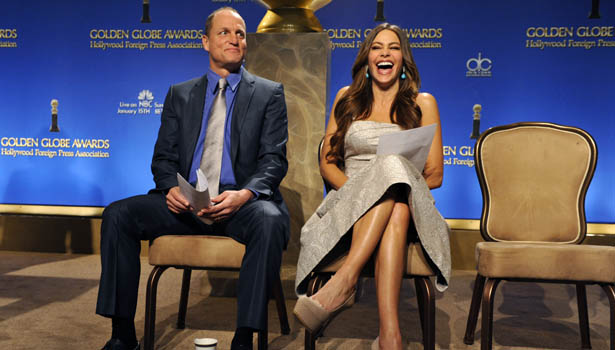 AP Images
The Golden Globe nominations were announced this morning. And their picks for the television categories? Well, they're weird! And kind of awesome. Only on the Golden Globes does Claire Danes's performance of the year on Homeland go up against Callie Thorne's in something called Necessary Roughness. So from 30 Rock snubs to Ryan Murphy love, here's a look at what the Globes got right ... and so, so wrong:
Cable is where all the drama happens: All that talk about the network drama being dead certainly received fuel this morning. Every single nominee for Best Drama—American Horror Story, Boardwalk Empire, Boss, Game of Thrones, and Homeland—airs on a cable network. And only two actors from network dramas received nods: Madeleine Stowe for ABC's soapy Revenge and Julianna Marguiles for The Good Wife, which was a surprise snub in the Best Drama category. That's fine—Homeland's Claire Danes and The Killing's Mireille Enos deserve their spots. But Callie Thorne from Necessary Roughness?! Is that even a show? Oh right, she's this year's recipient of the coveted Piper Perabo slot: the completely nonsensical cable star nomination that it's not even worth trying to explain because it's so out of left field.
As for the best actor—Boardwalk Empire's Steve Buscemi, Breaking Bad's Bryan Cranston, Boss's Kelsey Grammar, The Borgias's Jeremy Irons, and Homeland's Damian Lewis—it's hard to argue against any of their nods. OK. It's not that hard. Where is Friday Night Lights's Kyle Chandler? (Rest easy, this is officially the last awards ceremony for which writers can complain about FNL snubs.) So cable clearly dominates, and the thing is: Beyond The Good Wife, it's difficult to make a case that any network drama deserves recognition in any of these categories. Homeland is easily the best thing on television, with Game of Thrones, and Boardwalk Empire also in the running. If anything, other cable dramas like Breaking Bad, The Killing, or, for lighter fare, White Collar deserved nods too.
The Hollywood Foreign Press loves Ryan Murphy: The Golden Globes' love affair with Ryan Murphy continued this morning. The organization famously awarded his edgy plastic surgery drama Nip/Tuck the Best Drama prize in 2004, while more staid organizations (Emmys, SAG) never recognized it in major categories. Then there was Glee. The Fox musical won Best Comedy for each of its first two seasons, and is nominated again this year (surely Community fans won't be too pleased about that). Last year, stars Jane Lynch and Chris Colfer took home trophies in the supporting races, though the Globes' Glee obsession may be waning a bit, as neither they nor two-time nominees Lea Michele and Matthew Morrison are back this year. But the Ryan Murphy obsession is as strong as ever. Despite its mixed reviews, his spooky-wacky FX drama American Horror Story earned a Best Drama nod, as did star Jessica Lange in the competitive Best Supporting Actress category, which lumps actors from comedies, dramas, miniseries, and TV movies all into the same category.
The Golden Globes have strange taste in comedy: According to the Hollywood Foreign Press, the year's best comedies are Modern Family, Enlightened, Episodes, Glee, and New Girl. Missing from that list? For starters, 30 Rock was considered a shoo-in for a Globe nod. What makes its snub all the more confusing is that the show's leads Tina Fey and Alec Baldwin both earned nods, hinting that the organization is still (rightly) a fan of the series.
While Enlightened and Episodes certainly have their merits, it's surprising to see them here, particularly the incredibly low-rated Enlightened—over cable laffers like Nurse Jackie and The Big C. And as for Glee? Try and convince anyone that the show's uneven third season deserves recognition over, say, Community, Parks and Recreation, or the incredibly buzzy Happy Endings. The Parks and Rec snub is a head-scratcher considering that star Amy Poehler made it into the Actress in a Comedy (alongside Enlightened's Laura Dern, The Big C's Laura Linney, 30 Rock's Tina Fey, and New Girl's Zooey Deschanel. Deschanel and New Girl were expected inclusions in their races as the Globes love to welcome at least one new comedy to the show with big nominations, and it's hard to argue that the charming New Girl isn't the deserving pick. (Though a case could be made for the refreshingly genuine Up All Night and Christina Applegate's winning performance.)
Where are Jim Parsons ... and Steve Carell? The list of Best Actor in a Comedy category nominees is incredibly boring, but that's because the contenders in the field are all pretty boring too. (It's the year of the funny ladies, have you heard?) Still, if there is one thing egregious about that roster it's that Steve Carell is missing from it. His final season was eligible for this year's nominations, and the former Globe-winner and perennial nominee gave arguably his best performance yet during it. Hung's Thomas Jane, Californication's David Duchovny, Episodes's Matt LeBlanc, and 30 Rock's Alec Baldwin are all fine (OK, Baldwin is great). But Carell is better. An incredibly peculiar choice, too, is The Big Bang Theory's Johnny Galecki over his co-star Jim Parsons in the Best Actor race. Parsons' maniacally intelligent performance has made him the two-time reigning Emmy champ, even defeating Carell this fall. If a Big Bang actor were to be nominated (and one should), it should have been him.
The miniseries and TV movie awards are fine, I guess: The miniseries and TV movie awards... happened. They're there. Hardly anyone watches those things anymore, so reacting to those nominations essentially means scanning the list to make sure are the A-list stars you heard were slumming it on TV this year appear. And they do. Kate Winslet, Evan Rachel Wood, and Guy Pearce are all there for Mildred Pierce, as are Tim Robbins and Diane Lane for Cinema Verite, and Paul Giamatti and William Hurt, the guys from Too Big to Fail. To that regard, the only surprise here is that The Kennedys received no nominations. Considering the stargazing tendency of the Globes, it wouldn't have been a longshot for Katie Holmes and a Greg Kinnear to earn nods for their turns in the much-maligned miniseries.
Otherwise that Downton Abbey show you've probably heard nice things about and swore you were going to check out at some point is nominated, as is The Hour, which made us miss Mad Men a little bit less, with its cool '60s vibe and sexual politics and non-Playboy Club or Pan Am-ness. The one gripe is that it's really annoying that miniseries and TV movie supporting actors always dominate the supporting categories. Considering sitcom and serial drama stars are the ones we tune in to see week after week, it's arguable that they deserve more recognition.
The nods may be weird, but so what? The Golden Globe nominations this year border on absurd—but they always do. That's what makes them fun. You have you love an awards show that will nominate Madeleine Stowe for her deliciously campy line deliveries on Revenge alongside the devastating, quiet performance by Mireille Enos on The Killing. Yeah, that Callie Thorne nod is pretty bad, but the Globes are notorious for at least one of those a year. Part of why these Globe nods are all over the map is because TV in general is all over the map this year. You have the over-the-top American Horror Story breaking ratings records with its no-holds-barred ridiculousness, shows like The Killing, Homeland, and Game of Thrones changing the way stories can be told on television, and an increasingly undefinable genre in "comedy," with bold shows like Enlightened making things unpredictable again after years of a 30 Rock/Office/Glee reign.
That's what makes the Golden Globes, for all their faults, worth watching.