The Complicated Glory of College Bowl Season
The bowls highlight the best and worst of the NCAA system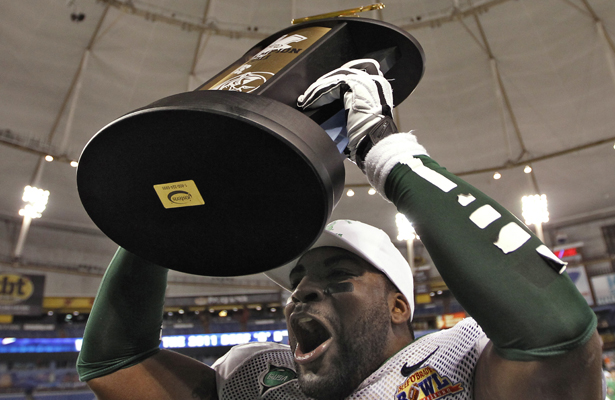 Reuters
Every week, our panel of sports fans discusses a topic of the moment. For today's conversation, Jake Simpson (writer, The Atlantic), Patrick Hruby (writer, ESPN and The Atlantic), Hampton Stevens (writer, ESPN and The Atlantic),and Emma Carmichael (writer, Deadspin) discuss the ups and downs of the NCAA football postseason schedule.
---
"IT'S THE MOST WONDERFUL WEEEEK OF THE YEAR!!" That's right people, it's bowl season! Every major American sport, college or pro, has a postseason with only teams who can win a championship—except college football. Instead, we get a Christmas-to-New Year's smorgasbord of meaningless games that somehow remain interesting.
Every year there are a few intriguing matchups among the non-Bowl Championship Series games, and this year the most salivating clash is between 6-6 Florida and 6-6 Ohio State in the Gator Bowl on Jan. 2. (Sidenote: How teams that don't even win more games than they lose can play in a bowl game is beyond me. For a power conference school, a .500 overall record is actually BELOW AVERAGE, yet the Buckeyes and Gators get to go bowling? Ridiculous.) The Buckeyes recently hired former Florida coach Urban Meyer, whose retirement/putting his family first lasted a whole 12 months. Meyer is tasked with rebuilding a Buckeyes' program that just got hit with a one-year postseason ban. And both teams are desperately looking to end disappointing seasons on a high note.
As for individuals to watch, you can't go wrong with Baylor quarterback and Heisman Trophy winner Robert Griffin III. RG3 and the Bears will face Washington in the Alamo Bowl in San Antonio on Dec. 29, a virtual home game for Baylor. The Huskies, meanwhile, allow 33.3 points per game (99th in the country), and gave up 65 points to Stanford and Heisman runner-up Andrew Luck in October. Look for Griffin to run wild in this one.
Patrick? What lower bowl matchups are you excited about?
–Jake
Jake,
Forget the college bowl season. I'm salivating over Election Day, 2012. A real bonanza. While the rest of the country focuses on the inevitable Obama-Romney showdown, I'll be watching Rick Perry and Ron Paul duke it out for the governorship of Texas. Newt Gingrich and Herman Cain, locked in mortal combat to be named South Carolina attorney general. Rick Santorum versus Michelle Bachman, for all the marbles on the Sioux Falls city council. Oh, and also John Huntsman against that guy who never even gets invited to the Republican debates—two men enter, one man leaves with the title of Dothan, Alabama comptroller.
Oh, wait. I won't  be watching any of those ridiculous races. Because—thankfully—American presidential politics isn't run like college football.
There are many reasons to boycott college bowl season: because the overstuffed slate of games produces a watered-down product. Because late-season professional football is more skillful and dramatic. Because I'm not sure if Beef O'Brady is a foodstuff or an offensive lineman for Yale, circa 1907. Because supporting the bowls in any way means supporting blatant grifting, on a yellow blazer-wearing minor and civil rights-denying major scale. Because—as mentioned—there are no playoffs, just a bunch of exhibition games.
(Writer Chuck Klosterman once made the point that in sports, they're all exhibition games. He was correct. But some of those games are more exhibition-y than others).
Yes, there are plenty of reasons I won't be watching this years bowls, but I only need one: because they're dumb.
Hampton, will you help me shovel more coal into Jake's stocking, or can you find some holiday cheer in the bowl lineup?
–Patrick
Hey, Ebeneezer Hruby. Give it a rest. Enough with the Grinchitutde. It's Christmas, for goodness sake. And Hanukkah. And probably Festivus.
You won't tolerate anyone who contributes to the bowl system? You'll be boycotting every corporation that sponsors a game, including, but not limited to, Sheraton, Little Caesars, Vizio, Champs Sports, New Era, AutoZone, Allstate, Discover, GoDaddy.com, AT&T, Kraft, Outback, and Tostitos. That's in addition, of course, to not buying any oranges, roses, or sugar, and not wearing anything made of cotton.
Yes, the BCS is corrupt. So are presidential politics. We still take part. The difference is that the outcome of a presidential election can profoundly impact the life of everybody on the planet. The outcome of the Chik-fil-A Bowl? Not so much. The entire point of the bowl system, having grown delightfully out of step with its times, is fun. Not choosing a champ. Bowl games give alums an excuse to go somewhere in winter. They also give athletes a chance to play one more game. That's it. That's all. But that's enough.
Because all the very justified outrage over the NCAA's crimes can sometimes obscure that most players are ferocious competitors who utterly adore the sport of tackle football—in full pads and helmets7mdash;and know full well that their final college game will be the last time they get to play it. Ever. They may also be perfectly aware that they are being exploited by The Man. Every fry cook knows that feeling. But fry cooks don't get to compete at a game they love on a very big stage, in front of a roaring crowd and try to make a memory that will last a lifetime.
So, sure. The NFL players are more skillful, but there's no way their games are more dramatic. The college kids, especially in bowl games, play with more passion and joy. And, joy, Emma, is what the holiday season is supposed to be all about.
–Hampton
Hey, guys,
Hampton, I am all for the holiday spirit, and I won't boycott the games this year—especially the good ones. But that doesn't mean that nobody should. Earlier this year, in this company's magazine, Taylor Branch dropped a rather embedded anecdote into his wonderful feature story, "The Shame of College Sports." He referenced an NCAA basketball tournament in which a team threatened "a wildcat student strike" if they made it to the national championship game.
The team must have never advanced, however, because we've never seen anything like it in a major, Division I playoff game in either football or basketball. I think you're right, Hampton, that no one will notice if Ebeneezer Hruby (apologies, Patrick!) skips out on the Chick-fil-A Bowl, and that unfortunately, refusing to watch a game doesn't pack much of a punch. Whether we like it or not, we're rather passive observers in this system. Even though their first game was a total dud, I'll watch LSU-Alabama on Jan. 9 because of the hype and the spectacle, and I'll enjoy the passion and the joy that Hampton referenced so optimistically.
But the players are a different story. Viewers may not have the real power here, and because the NCAA and its universities' athletic programs are so dependent on BCS profits and ratings, we can't hope from anything from the institutions that run the games. The players, though, could get more out of the deal than a swag bag if they took the chance. I know that Baylor's Robert Griffin III plays football with both passion and joy, but I'd love to see what might happen to the very flawed NCAA and the very flawed BCS if he refused to.
–Emma