The Classical Holiday Music You Should Be Hearing at CVS
Instead of listening to shopping-mall versions of 'The Sugar Plum Fairy,' revisit the original, as well as these other, fantastic holiday classical works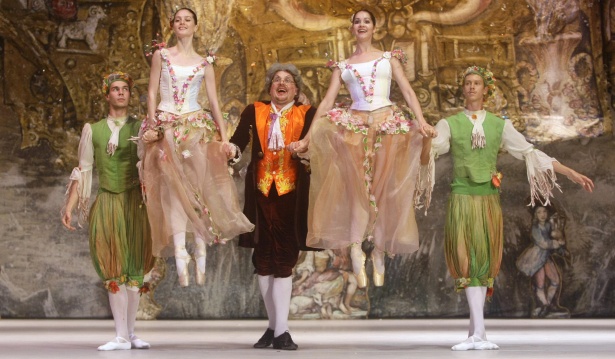 Reuters
For classical-music evangelists, there's something sad—a sense of missed opportunity—about this time of year. The Christmas season, more than any other, witnesses a cultural convergence: Diehard classical lovers haul out the Mariah Carey, while Top-40 enthusiasts smile when dealt out a digitized version of "Carol of the Bells." But the wealth of Christmas music in Western society, whatever your preferred genre, is immense. Only a fraction of the good stuff winds up getting played.
Personally, it's not that I resent "Have Yourself a Merry Little Christmas," or even "All I Want for Christmas," having a place in the yearly playlists. And I recognize the merit in the time-honored and creatively crucial tradition of covers, variations, bastardizations, and re-arrangements in both classical and pop music.
I just don't understand why, when classical items do appear on the holiday-season airwaves, they have to be sold like a four-year-old with a fake chest at a beauty pageant. The Muzak-ified classics don't come across as variations, offered up for their creative merit, but rather conscious attempts to package and sell the originals as something other than they are. As with the case of the four-year-old at the pageant, what's objectionable is the implicit judgment that what's actually on offer isn't sufficient or acceptable. The prosthetics, physical or musical, are meant to transform the product into what people think appeals to a crowd. But just as most crowds actually find it charming to watch children hopping around on stage without pretense, most people I talk to, including the Top-40 listeners, actually prefer the "Hallelujah Chorus" without, say, the extraneous soloist and backup in the version they keep hearing at CVS.
So let me make my case to home listeners and drugstore managers alike. Below, a partial list of Christmas classical classics, a suggested place to start in the diversification of the season's music—what to listen to if you crave that traditional sound, even if classical music isn't normally your thing. There are the beauties of which only a rearranged fragment is usually played, the gems that are rarely offered at all, and even some edgy modern works people might like if given a chance. Any list of this sort is targeted, and this one is tailored to those with extremely limited exposure to the sort of music on it. But it's also a reminder for jaded fans: Even in the most overplayed and trivialized works, there is much to rediscover.
Rediscovering the Classics: Move Beyond the 'Hallelujah Chorus' and 'The Sugar Plum Fairy'
Sure, the Hallelujah Chorus is fun. While around Christmastime it often gets tarted up beyond recognition, it's also worth remembering that there's an entire oratorio it came with that's well worth a second look. And don't just go to that hilarious and infamous instance of botched lyric-setting—the chorus which sounds like it's saying "oh, we like sheep!" (words: "All we, like sheep, have gone astray.") In the immortal words of classical-pop crossover Julie Andrews, let's start at the very beginning: It's a revelation when you hear the simple, unadorned opening to The Messiah for the first time. Classical music lovers and professionals may be inured to its power, having endured it on endless repeat every year. But there's something striking about the purity of this first recitative and dance-like aria when you stumble upon them even after a long break. Here's the wonderful late American tenor Jerry Hadley performing it. (The London Symphony Orchestra also has a fantastic Youtube page with Mark Padmore singing the aria, and the page also includes a performance of the chorus "For unto us a child is born.")
The other classic in need of a good listen with a fresh ear: The Nutcracker. Spare us the digitized horrors perpetrated upon that poor "Dance of the Sugar Plum Fairy" and the famous "March." And even if you've already listened to the full ballet once or twice, go back. Tchaikovsky is often maligned in musical circles, and certainly dancers tend to be sick to death of this piece, but the little collection of musical vignettes contains some remarkably inventive melodies and orchestrations. For my money, the best recording for a fresh listen might be Valery Gergiev leading the Kirov Orchestra back in 1998, because the breakneck pace of some of the sections makes you hear them differently. There are a lot of good recordings, though. Here's a snippet from one wherein Don Jackson conducts the Royal Philharmonic Orchestra. This is the second-to-last section of the ballet, and it usually flies below the radar of the Muzak selection teams. Listen for the frenetic deployment of cymbals under the melody the second time around (0:45). Russian composers of the period took such glee in percussion!
The Oratorios Muzak Missed: Bach and Mendelssohn
Johann Sebastian Bach's Christmas Oratorio is one of the greats—joyous, child-like, complicated. It's impossible to pick a favorite moment, but since the opening is what those putting it on will here first, here's a performance of that by the Monteverdi Choir and English Baroque Soloists led by John Eliot Gardiner.
Felix Mendlessohn was instrumental in the German rediscovery of Bach's music in the nineteenth century. A gifted composer himself, Mendelssohn died at the age of 38, leaving only a fragment of the oratorio he was in the midst of composing. The fragment included a heartstoppingly beautiful chorus, known in English as "There Shall a Star Come Out of Jacob," now well-established in the Christmas canon. It finishes with a chorale showing the clear influence of his beloved Bach, but with harmonies updated for the nineteenth century. Here's a performance in the Tabernacle Presbyterian Church of Indianapolis.
The Mystery of the Holiday: O Magnum Mysterium
"O Magnum Mysterium" isn't a single piece. It's a text—a Latin Christmas chant. Translated: "O great mystery and wonderful sacrament, That animals should see the new-born Lord lying in a manger. Blessed is the Virgin whose womb was worthy to bear Christ the Lord. Alleluia!"
The text has been set many times over hundreds of years. One early and especially haunting setting comes from the renaissance composer Tomas Luis de Victoria. You can listen to it here. A distinctly modern and strikingly beautiful version is Morten Lauridsen's, below. Its gorgeous harmonic tensions make it an instantly recognizable, accessible staple of high-school and professional choirs alike. It wouldn't be out of place in a movie soundtrack—so why can't we get it into Walgreens? It's no more religious than "O Holy Night," after all.
In Dulci Jubilo—a.k.a. "Good Christian Men Rejoice"
This is another piece with seemingly endless iterations. The tune is the one present in the English song "Good Christian Men Rejoice," but first appeared in a 14th-century manuscript written alternating between Latin and German. In the 19th century, English composer Robert Lucas de Pearsall produced a translation and arrangement that is now regularly performed at Christmastime. Here is a recording of King's College Choir at Cambridge singing the piece as part of their famous annual Festival of Nine Lessons and Carols in 2001. Pearsall's version, as you'll hear, returns to and lingers on the line "O that we were there!" There is an unmistakable element of longing mixed in with the rejoicing, emphasized also in the second verse: "O Jesu parvule! / I yearn for thee alway!" Try to get past the stiff posture of the singers here, which is a regular feature in videos of the King's College performances, and focus on the quality of the sound (and don't blame the singers for how they're stanging; those costumes look stifling).
A Very Human Christmas: "The Shepherd's Farewell"
"L'enfance du Christ" ("The Childhood of Christ"), an oratorio by French 19th-century composer Hector Berlioz, started out as a single piece of music so melodic that, when Berlioz jokingly attempted to pass it off as a work from the seventeenth century, those usually critical of his music fell in love with it; famously, one concertgoer even declared that Berlioz himself would never have been able to write something so simple and beautiful as the (fake) seventeenth-century composer. The piece—L'adieu des Bergers, or "The Shepherd's Farewell"—is sung by a chorus of shepherds bidding goodbye to the baby Jesus as the Holy Family departs for Egypt. The piece is often sung in translation, and the literal translation from the French is more touching than the one designed to fit the meter. In the first verse, the shepherds wish that the blessed baby may be loved always by his parents, and—at the tune's climax—that he may become a good parent himself one day. It's a poignant moment as the audience recalls the way the child will actually end his life, but also a brilliant evocation the Christmastime paradox: All are brought back to childhood while being more aware than usual of the passing of time and the magic in store for future generations. Innocence is especially sacred at Christmas (as, for that matter, and more secularly, is family). The second and third verses continue the theme of a fervent and fond prayer over a young and helpless child—"May he find happiness again by coming back to us!"—and warmest wishes for his parents: "May you never feel the blows of injustice. May a good angel warn you of the dangers hovering over you."
Modernizing the Holiday
Where to begin? There's an astonishing range of lovely works with a modern edge that have been produced for Christmas in the past century. Benjamin Britten's"Ceremony of Carols" is a common favorite, quirkily set to Middle English text. Here's the spirited "Deo Gracias" from that being performed by the Choir of Trinity College, Cambridge (the more sedate, frequently performed "There Is No Rose of Such Vertu" is here).
If Mortensen's "O Magnum Mysterium" could be worked into a film score, Ralph Vaughan Williams's "Hodie," written in 1954, sounds to the modern ear like it was ripped from one. In fact, Vaughan Williams wrote repeatedly for film, including providing the score for 49th Parallel, featuring Laurence Olivier and Leslie Howard. Below, the dramatic opening to "Hodie," a Christmas cantata, being performed by the London Symphony Orchestra and London Symphony Chorus.
French composer Olivier Messiaen's massive piano cycle "Vingt Segards Sur L'enfant Jésus" sure isn't going to be on an elevator's December playlist anytime soon. That doesn't mean you can't try it at home. This piece, No. 19 out of 20, starts out placid enough and quickly moves into a distinctly modern take on the cradle scene. It's a major piano work, and a reminder that not all Christmas music is choral. One classical music-fan friend I emailed while researching this article was quick to point out, too, a charming item from Russian composer Nikolai Medtner's "Fairy Tales," which renowned pianist Vladimir Horowitz then recorded for one of Goodyear's Great Songs of Christmas album in 1969. There's no mention of Christmas in Medtner's notes on the score, but the feel certainly fits, and clearly Horowitz and the record label felt so, too. Below, the Messiaen, which you'd be forgiven for thinking is a little less snowflakes-and-magic (see the Medtner for that) and a little more "infant Christ meets Young Frankenstein."
If you're not ready to go quite so modern as Messaien, try Gian Carlo Menotti's classic Christmas opera Amahl and the Night Visitors, about a boy and his mother who host the three kings on their way to see the newborn Christ. In fact, try naming another 20th-century opera, aside from Porgy and Bess, that's known to so many people who aren't classical music buffs. There's a reason Amahl is ubiquitous (even aside from the fact that it was quite literally made for TV): The farcical half-spoken dialogue along with the relatively simple lines of the songs makes it unusually accessible. Add in the child singer, and all of the sudden it's modern music to take your kids to.
Of course, not all 20th-century classical compositions are a challenge for the casual listener. In fact, that's the whole point: There's nothing inherently stuffy about classical music at all. Christmas is one of the few Western holidays to have what can properly be called its own musical canon. Even if church choirs aren't usually your cup of tea, this time of year is perfect for exploring such a rich tradition. And since the makers of shopping-mall soundtracks clearly want to feature takeoffs from the classical tradition anyway, why not use the originals? By all means, let's keep Mariah Carey, let's keep Frank Sinatra, and by God we've got to keep Alvin and the Chipmunks. But next time the hundredth playing of some pimped-out version of Handel comes around, recall this earnest plea for a change of pace.
So, to close up the selection, here is exactly that change of pace: an easily approachable favorite at carol services worldwide, written by the English composer John Gardner, here performed by the choir of St. George's Cathedral, Perth Western Australia. If you want the even more lively version, complete with tambourine, you'll have to track it down on an album. Early music choral group The Sixteen's album of modern Christmas music, "Hodie," would be a good place to start. You'll also hear it every now and then at America's own oldest carols service—and on its associated recordings—run out of The Memorial Church at Harvard University, the very choir where yours truly was introduced to much of this music in the first place.