Stay Classy, St. Louis: Don't Give Albert Pujols the LeBron James Treatment
A Cardinals fan warns the city against vilifying the slugger, who's moving to the Los Angeles Angels of Anaheim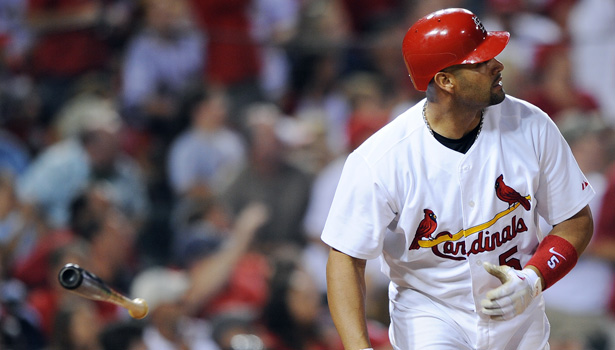 AP Images
The night before Albert Pujols agreed to his $250 million contract with the Los Angeles Angels of Anaheim, I ran into him in a dream. Albert sat on a bench with his wife, Deidre, in a dimly lit, concrete parking garage—possibly located near Busch Stadium—his eyes welling up with tears. He sat upright, his paunch slumping out in front of him, like it always does in his semi-baggy uniform, as the two talked about the future.
At the time, I thought Pujols might sign with Miami, and I couldn't blame him for it. Much closer to the Dominican Republic, Miami would make his charity work easier. Playing with Jose Reyes and Hanley Ramirez, both superstars in their own rights, Pujols could form the best nucleus of Latin talent in the MLB—a formula for baseball renaissance in Miami, despite the garish new uniforms and the team's tendency to, you know, sell off all its best players after winning championships.
I stopped in the parking garage to tell Pujols and his wife that I didn't envy their decision, and that we, the die-hard fans of the St. Louis Cardinals, would understand if he left. It was his decision, I told him. Then I stole a car.
But he didn't sign with Miami; he took a deal with the Angels that, at first blush, makes sense only in monetary terms. The dream is over. Albert Pujols is no longer a St. Louis Cardinal. And I have to say I'm not okay with it. At least not yet.
For Cardinals fans, the utter dismay at Pujols's departure can be overstated—but it's tough. Waking up to the news, via text message from a sports-agent friend, was like getting kicked in the solar plexus by Steven Seagal, except more painful. Here's why: The Angels deal came out of left field. (Haha, left field. I am nearly crying as I write this. I can't go on. I'll go on.) The Marlins, I could understand. But on Wednesday, before the late Angels offer became clear, it seemed like Albert was headed back to Busch and a lifelong Cardinal career, destined to break records with the club that groomed him. The next Stan The Man. El Hombre. Pleasure in this expected outcome wasn't about cultural trends of old school vs. new school, of the good old days when players stuck with one team for the long haul. It was about Albert and how Cardinals fans feel about him. And it's the sheer surprise of the Angels deal that will wreak psychic devastation on the Cardinal fan base, which encompasses large swaths of the Midwest, and even the Southwest, a product of KMOX's strong signal on clear nights. (I listened to parts of the 2011 World Series in my car in Washington, D.C.)
This may be the biggest let-down in franchise history. Recent history, at least. It tops the retirement of Ozzie Smith, Ricky Henderson breaking Lou Brock's steals record, Barry Bonds breaking Mark McGwire's home-run record, the slow realization that McGwire had juiced, Rick Ankiel's playoff meltdown and the demise of his promising pitching career, and the 2004 World Series loss to Boston.
ESPN routinely notes that Pujols has broken all-time records for any player's first 11 major-league seasons—number one in home runs (445), number one in RBIs (1,329), number one in total bases (3,893)—but a simple fact about Pujols hasn't fully been absorbed: He may very well end his career as the greatest baseball player of all time. There is a real possibility of that.
And he is no longer a Cardinal. There's not much else to say.
I know there will be some backlash against Pujols. Spite from fans. A feeling of betrayal. Declarations of Albert's pettiness and speculations about its dimensions. He wasn't always the warmest guy to media; maybe his fragile ego left him offended by the manner in which the Cardinals offered him $220 million over 10 years; maybe he sulked when the Cardinals made big-dollar commitments to outfielder Matt Holliday and pitcher Adam Wainwright; maybe he wanted all the money for himself and didn't really want to see, like he claimed, an organizational commitment to winning; maybe he's a humongous, greedy traitor who doesn't really care about winning at all. And he went to the American League, no less, where he'll likely fill out his late-career stats as a designated hitter. (As a New York Mets fan told me today, "I have no respect for the AL. I have more respect for embezzlers." St. Louis, a National-League city, also feels this way.)
On Thursday morning, the front page of the St. Louis Post-Dispatch's website looked like this: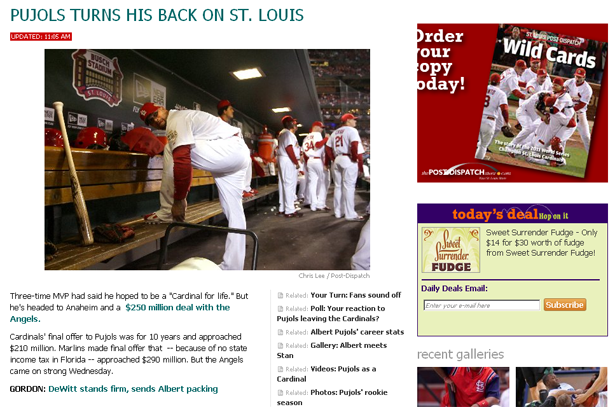 But we can see why he did it. An extra $30 million isn't nothing.
By now, everyone is getting tired of hearing it, but sports is a business. St. Louis fans, as much as anyone, should recognize that. As badly as I wanted to see Albert Pujols play the rest of his career in a Cardinals uniform, the idea of single-team athletes is wrapped in nostalgia for another era—when labor laws worked differently, and when free agency did not exist. Athletes gained control over their careers, and shed the notion that players were owned by their teams, when another historically significant Cardinal revolutionized sports labor rights. In some ways, Albert Pujols is headed to Anaheim because of Curt Flood.
We all saw what happened in Cleveland when LeBron James took his talents to South Beach. But St. Louis shouldn't turn its back on Albert, even if the Post-Dispatch thinks Albert turned his back on St. Louis.
For one, Pujols didn't break our hearts in a primetime TV special. For another, we remember what he gave us. The Pujols Era was debatably the best in Cardinals history—totaling three pennants and two World Series championships.
Life will go on for the Cardinals, and, had owner Bill DeWitt ponied up $250 million, some fans would actually be upset right now. Albert Pujols will turn 32 in January. It's generally a bad idea to pay a 41-year-old $25 million to play baseball—especially in the National League. Simply put, late-career sluggers are worth much, much more in the AL. I choose to blame the DH for what just happened. It wouldn't help the franchise, long term, to pay an NL hitter on an AL pay scale. Even if that hitter has magical powers and is speculated to actually be a machine.
Pujols has declined over the last few seasons, even if his stats haven't always reflected it. There was a time when Albert, the King of Baseball, carried an air of inevitability just like Bonds once did. Pujols seemed to toy with pitchers. When he came to bat in the ninth inning of Game Five of the 2005 National League Championship Series against the Houston Astros, I knew he would take Brad Lidge deep. And he did. The silence at Minute Maid park was as predictable as it was eerie. Pujols has lost a bit of that. I now half-expect an inning-ending double play when he bats with runners in scoring position. Fly-outs are routine.
But, most of all, it's not who we are. Cardinals fans are discerning; as the price of Pujols's contract escalated, not everyone was totally sure the team should simply "pay the mang." The deal didn't happen, and the Cardinals may be better off in the long run, having soared during Pujols's best years and avoided mortgaging the franchise on the type of long-term, high-dollar contract that has burdened so many teams. All that is separate from the question of whether or not to begin disliking Albert Pujols, even if it might make fans feel better, but the emotional side of things is more important. It will answer questions about the cultural identity of Cardinals fans, who've always been, in my esteem, a notch more compassionate than the boo-happy cities of the sports world.
There is a difference between disappointment and vindictive rage, between burning Pujols jerseys like Cleveland fans did to LeBron's, and just being sad and a little bit resentful. Playing sports in St. Louis involves a measure of unconditional love. St. Louis fans rarely boo the home team, unless they've done something particularly egregious. (Like not be able to score touchdowns, ever, like the NFL's 2011 Rams.) How Cardinals fans handle the Pujols devastation will say a lot about the culture of Cardinals fanship. It's an important moment for the Cardinals organization as a whole, not just the team it fields.
There will be some bitterness, both at Pujols and at the Cardinals front office for failing to re-sign him. But I don't think that bitterness will ever approach what happened in Cleveland. After all, Jim Edmonds, another fan favorite known in some corners as Jimmy Baseball, played for the Cubs, and we got over it. Jack Clark went to the Yankees in 1988. We got over it.
I am fully convinced that the world would be a better place today if Albert Pujols had remained a Cardinal. I believe that, had he stayed in St. Louis, he would stand a better chance of collecting more rings before his eventual retirement. I think those rings, or at least the chance to win them, might be worth more than $30 million.
But it's really not my call. Those dollars will probably be put to good use through Pujols's extensive charity work, and after the best 11 years any hitter has ever produced, I want Albert Pujols to be happy. I hope he is. And I hope that, should Albert return to Busch Stadium in an Angels uniform, the adoration won't have left town.