Reading the Golden Globe Nominations With an Eye for the Oscars
Good news for George Clooney, bad news for Scott Rudin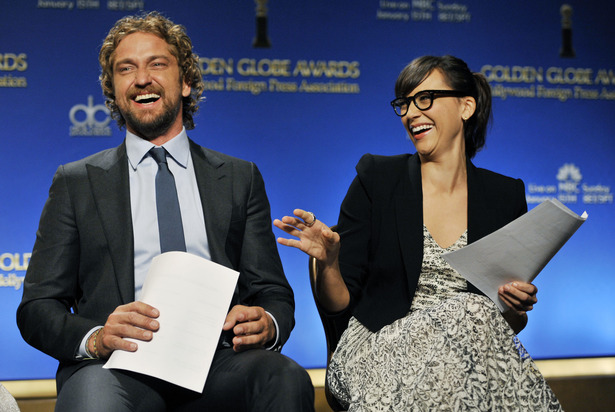 AP Images
There weren't any alarming snubs or terribly unexpected successes among the Golden Globes movie nominations, which were announced yesterday. The Hollywood Foreign Press Association stuck to its time-honored tradition of recognizing as many movie stars in as many categories as possible, an understandable tactic in a year in which George Clooney, Meryl Streep, Brad Pitt, and Michelle Williams are widely considered Oscar front-runners. Here's our take on what to make of the HFPA's movie selections and what they say about that other, higher-profile awards show on the way:
The George and Ryan show: Clooney and Ryan Gosling better get used to hearing their names mentioned during awards season, because the HFPA nominated them both multiple times. In the Best Actor - Drama category, Clooney's much-admired work in The Descendants goes up against Gosling's less-acclaimed performance in The Ides of March. Gosling unexpectedly earned a second nomination for Crazy, Stupid, Love, not Drive, and Clooney came away with director and screenplay nods for Ides. While The Descendants is widely considered an Oscar front-runner and is sure to win Best Picture - Drama, no one saw The Ides of March and Crazy, Stupid, Love attention coming. The Globes's viability as an Oscar harbinger is questionable, but the degree of affection lavished on Ides might be a sign of bigger things to come for the divisive political drama.
Can anyone beat Meryl Streep or Michelle Williams?: Awards-granting organizations are suckers for great actors embodying real people, so it's widely accepted that the race for the Best Actress Oscar is down to Meryl Streep as Margaret Thatcher in The Iron Lady and Michelle Williams as Marilyn Monroe in My Week With Marilyn. With the tandem nominated in different categories (Best Actress - Drama for Streep and Comedy or Musical for Williams) by the HFPA, the Globes will offer a test of their perceived supremacy. It's unlikely that Viola Davis (The Help) or Glenn Close (Albert Nobbs) have what it takes to defeat Streep, and we're equally sure next-in-line Charlize Theron (Young Adult) won't stop the Williams juggernaut.
Whither War Horse?: War Horse got a token Best Picture - Drama nod and John Williams got his expected nomination for scoring the film, but Steven Spielberg was snubbed for director. Ignoring a Hollywood titan is such an uncommon practice for this organization that it likely speaks to some sort of deep-rooted disregard for the war epic. Audiences were audibly sniffling when we saw it at an Academy screening, though, so don't rule it out when it comes to the Oscars.
Few newcomers: Rooney Mara deservingly earned a nomination for The Girl with the Dragon Tattoo and Shailene Woodley picked up a nod for her terrific work in The Descendants, but the HFPA otherwise largely snubbed such newcomer indie successes as Elizabeth Olsen for Martha Marcy May Marlene and Felicity Jones for Like Crazy. At the same time, Jessica Chastain—who was in six movies this year—earned her expected supporting actress nod for The Help, where she'll compete with co-star Octavia Spencer and likely throw the category toward Woodley.
When it comes to best picture, the Globes have it both ways: The HFPA often can be counted on to fill its Best Picture - Comedy or Musical category with at least one or two movies that don't really fit. In recent years, such bizarre choices include the moving, dramatic Eternal Sunshine of the Spotless Mind and the horrifically bad Burlesque. This year, Oscar prognosticators hoping to read something into the Globes's best picture selections will be frustrated. The HFPA, in its infinite wisdom, has decided that The Artist, which tells the serious-minded story of an actor's career falling apart, is a comedy and therefore a non-competitor with chief rival The Descendants. Maybe it's Uggie's fault.
Gnomeo & Juliet: 1. The Tree of Life: 0: We're not really being fair to Gnomeo & Juliet, which earned its one nomination for an Elton John song. It's also not especially surprising that The Tree of Life got shut out. Terrence Malick's meditative masterpiece is an esoteric film, and this is an awards show for the NBC-watching masses. At the same time, the star-loving HFPA is guaranteed its Brangelina sighting. Pitt got an acting nod for the more widely palatable Moneyball and Angelina Jolie, director of In the Land of Blood and Honey, will compete against Pedro Almodóvar and Zhang Yimou in Best Foreign Language Film. It'd be tempting to chalk up an Angie win to the organization's movie star fetish, but Blood and Honey is actually a well-made, engaging tragedy set against the Bosnian War, so a Jolie triumph wouldn't be unwarranted.
Don't count out Woody: Midnight in Paris is Woody Allen's highest-grossing film of all time, so it's not surprising that the cinematic legend, nominated for his direction and screenplay, will have another awards show to not attend. Had the HFPA done the right thing and deemed The Artist a drama, Midnight would easily be the comedy frontrunner for picture and unexpected nominee Owen Wilson could have had a shot at Best Actor - Comedy.
Sorry, Scott Rudin: Awards season is at its best when mega-producer Scott Rudin takes on his mega-producer counterpart Harvey Weinstein. Just look at the fireworks surrounding the battle between Rudin's The Social Network and Harvey's The King's Speech last year. So those of us who love the spectacle of a hard-fought campaign will be disappointed that Rudin's highest-profile awards contenders, The Girl with the Dragon Tattoo and Extremely Loud & Incredibly Close earned just two nominations total (Mara's and Trent Reznor and Atticus Ross for the Tattoo score). On the other hand, Weinstein's got likely frontrunners The Artist, The Iron Lady and My Week with Marilyn, so Harvey wins 2011.