Korn's Supposedly Innovative Dance Album Is Actually a Throwback
The late-'90s angst peddlers enlisted newly popular dubstep DJs for Path of Totality. But did we all forget that the nu-metal movement saw plenty of electronic/rock crossover?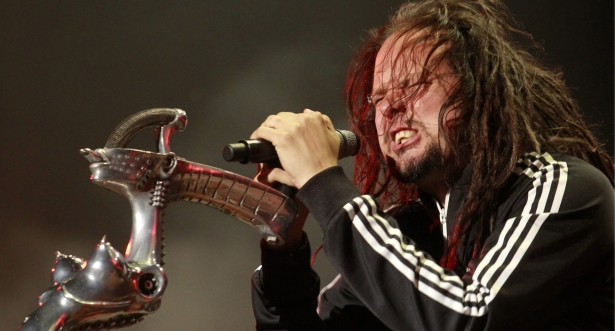 AP Images
After Lulu, the recently released heavy metal/beat poetry fiasco from Metallica and Lou Reed, Korn's collaboration with dance music's new royalty falls in the realm of the less ludicrous. Fourteen years ago, Korn's depressive lyrics and bludgeoning, simple, down-tuned guitar riffs brought nu-metal into the public consciousness, freaking out parents and spreading the gospel of black nail polish. Today, a DJ going by the name Skrillex is filling a similar role by popularizing dubstep, spastic electronica with painfully distorted bass drops that can come off as ugly and incomprehensible to the uninitiated. It's not so crazy that the two acts, and a few other dubstep all-stars, would collaborate for an album like Path of Totality, Korn's latest.
The thing is, though, that Totality is being received as some sort of brave step forward. After years of relative silence (not to mention irrelevancy) Korn in September announced the album alongside claims that they had practically invented dubstep before its time. It was a statement that successfully baited the attention of critics, who have blessed the album with descriptors like "risky" and "gamble," alongside assertions that The Path of Totality is their group's best album in years. Though that may be true, the album is anything but bold or adventurous.
Admittedly, Korn do sound like they're having the most fun since 1998's Follow the Leader. Their newfound love for exuberant electro has found its way into the every space between their signature chugging riffs, fusing Jonathan Davis' patented mopey crooning with chest-caving dance beats. But the bulk of this supposedly inventive approach can be attributed entirely to their cast of guest stars (eight different DJs guest on the album) and the innovations made by Korn's own imitators in the aftermath of their success. Orgy, Static-X, Crazy Town, and even Korn Klone bands like Adema already recorded The Path of Totality in bits and pieces over the intervening years, and their influences here, direct or indirect, are easy to spot. Remember when every radio rock band had to have a DJ dropping weird noise loops in the background?
Story continues below
For anyone who went through angst-ridden puberty circa 2000, it's impossible to listen to the thrumming verses of "Let's Go" without hearing Orgy's "Social Enemies" from their 1998 synth-metal album, Candyass. Similarly, the rapping segments of "Let's Go" just increases the urge to spin Crazy Town (a band unfortunately tarnished by the "Butterfly" single) and their righteous dance jam, "Darkside." "We're mixing metal and electro music," says Davis in Totality's promo material. "And you're not supposed to do that." Did he tell that to Jay Gordon when he signed Orgy to his own Elementree label and brought them on the 1998 Family Values Tour? What about Static-X in 2001? Either Korn has collective amnesia or they're hoping the public does.
But those bands did a more convincing job of combining metal with electronic elements, whereas the seams on The Path of Totality are glaring. On tracks like lead single "Get Up," the music merely switches back and forth between the two genres. Elsewhere, Korn's reliance on their guest stars to pad their own material seems more like a crutch than an act of inspired innovation. When they do find a happy medium, like on "Kill Mercy Within" it's more to the credit of collaborator Noisia than Korn themselves.
The only thing Korn should really be getting credit for is their intelligent choice of bandwagon. The Path of Totality is brilliant, but only as a piece of PR designed to get everyone talking about a band that's already done everything they can for us.