In a Big Year for New Soul, a Small But Influential Label Turns 10
2011 marks a decade of Daptone Records, which lovingly recreates '60s sounds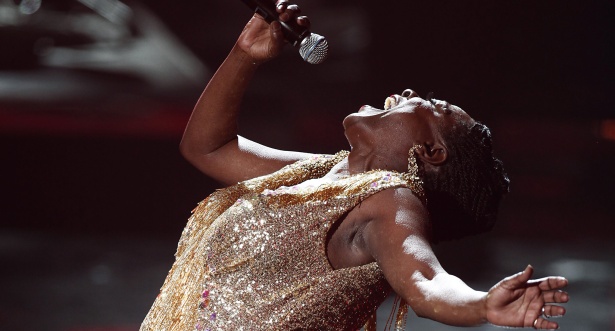 Reuters
In a year when Adele, the retro-soul stylist with a ground-shaking alto, sold a gazillion albums, and Amy Winehouse, the game-changing soul-revivalist who battled her demons in public, passed away, it's been easy to overlook another milestone in this new era of soul: the tenth anniversary of Daptone Records, the very label that helped usher in that era.
Founded at the start of the decade by musicians Gabriel Roth and Neal Sugarman, the label puts out classic soul, funk, blues, R&B, and afrobeat. Their continued success has been largely off the mainstream radar, serving as a reminder that the soul revival of the past few years has been taking place at all levels of music, from indie-leaning clubs to the Grammys.
Daptone's creation story is also a reminder that soul never entirely went away in the first place. While working as a musician in the New York soul and funk scene in the '90s, Roth and his colleague Philip Lehman started the short-lived Desco Records, where Roth began crafting his analog producing process. Sugarman, meanwhile, came out of the Boston punk scene in the '80s. When he arrived in New York he worked as a freelance jazz musician. He forged his relationship with Roth when his group, The Sugarman 3, recorded music on Desco.
There wasn't really a plan to start Daptone. Roth and Sugarman wanted to keep their records together and sustain the energy that they started at Desco. The forward-thinking friends felt there was no other label that could deliver the sound they wanted, so they decided to create it themselves. "From the beginning we never planned to have some big record company," Roth explains. "I wasn't trying to become a mogul or producer; we just wanted to make some records and have fun." They now both play in flagship band the Dap-Kings: Roth on bass and Sugarman on sax.
The Dap-Kings catapulted to worldwide fame when producer Mark Ronson asked them to work on the late Amy Winehouse's now legendary second album, Back to Black. That record went on to sell more than 10 million copies. The Dap-Kings also backed her on the subsequent North American tour. Roth won a Grammy for his work behind the glass and was even issued a platinum record.
There was already growing interest in soul and funk making its way into contemporary pop music before the label started. But Roth insists that the label's artists make music that sounds good to them—if it happens to sound like music from the '60s, then so be it. The team at Daptone was following their muse, while the zeitgeist had already been shifting.
Terry Currier, manager of Music Millennium in Portland, Oregon, the longest running independent record store in the Pacific Northwest, says the success of Daptone has had a significant impact on the music industry. "The soul revival has been really exciting; a lot of new bands have been given a chance like, Black Joe Lewis, JC Brooks and the Uptown Sound, and Daptone was the catalyst for spreading this style of music to a wider audience," he says. "Not only are new bands playing '60s-era soul, but there are a lot of reissue labels like Light in the Attic Records and archival label Numero opening their vaults to release things that have never been out before or have been out of print, and there is now a big interest, especially among younger people who maybe have never listened to this music before."
Music writer David Ma, who runs nerdtorious.com and writes about hip-hop, R&B and soul for Pitchfork, The Source, and others, has covered Daptone's rise extensively. "Daptone doesn't only make soul songs with themes and arrangements in the style of soul music but, more importantly, they make records that aesthetically sound like the era," Ma says. "You can see their influence with almost every modern soul group, most of which flooded the market after Back to Black. To make soul music is one thing, but to sound as brassy, drum-heavy, and project the warmth that can only be achieved with analog equipment, is probably Daptone's biggest influence."
That distinct sound displayed on Winehouse's masterpiece helped create a new musical landscape. While Winehouse's supernatural voice and the subversive wit took center stage in the songs, it's the warm sound and the propulsive Dap-Kings instrumentation that made people wonder if they were listening to something from the 1960s.
Roth's recording process has become mythic. He uses analog equipment, including a reel-to-reel recorder. While he's been called a mad genius, Roth sees his approach as simple. "I'm always presented as some sort of analog champion," says Roth. "But that's not really the case. I don't use computers because it's not the process I enjoy. I enjoy having to commit to sounds in the studio and not having an undo button. It's about the process and not the technology."
Roth is very particular about sound and knows exactly what microphones he's using and where they're placed. "I don't listen to what experts tell you to listen to—I actually listen to sounds," Roth says. In recording he might use Radio Shack mikes, or the common SM57 or even a $10,000 condenser mic. He's not concerned with what's a good mic or a bad one; he's only interested in what works for the music. This signature sound is the defining characteristic of Daptone.
The most prominent act on the label is Sharon Jones & The Dap-Kings. Jones, a former Riker's Island corrections officer, was with Roth and Sugarman since the Desco days. Last year the fourth Sharon Jones and the Dap-Kings album, I Learned the Hard Way, sold more than 100,000 copies in its first four months, making the band one of the top indie acts in the country.
Jones's voice is equal parts Aretha Franklin and Mavis Staples. She sings with a conviction that doesn't so much pull at listeners' heartstrings as much as punch them in their gut. "I sing soul music because that's what's inside of me," Jones says. "That's what I live."
The band has been touring extensively for the last few years. On stage, Roth leads the band with cool precision, making subtle gestures and using his bass like a conductor. Jones is a fireball of infectious energy and prowls the stage as she kicks out new soul tunes—most of which are written by Roth and then transformed by Jones's verve. The juxtaposition of styles is complimentary, allowing both artists to excel at what they do best.
From the outside, it looks as if Roth and Sugarman are consciously making the decision to produce and play with older artists. Jones is in her mid-'50s and singer Charles Bradley, whose critically acclaimed first album "No Time for Dreaming," was released this year, is in his early '60s. However things are not exactly as they seem. The musicians that make up the label and play in The Budos Band, Menahan Street Band, El Michel's Affair, and the house band are a mixture of young and old and come from different backgrounds. Some of the Dap-Kings even started playing in the band as teenagers.
When Roth compares his process to that of other labels, he's adamant that it's comparing apples and oranges. "They're looking to do something different [from us]," he says. "Their goal is to sell a million records and push something down people's throats. But that's fine. That's what they're looking to do. I'm just looking to make great music." He's largely turned his back on contemporary pop. "I think people might have to do a lot of bad shit to sell a million records," Roth says.
Sugarman basically agrees. "We stuck to what we wanted to do," he says. "We weren't looking over our shoulders. And we were able to break artists like Sharon Jones and Charles Bradley and connect with people in a meaningful way."