It's impossible to choose the year's best college football player—so the voters should pick two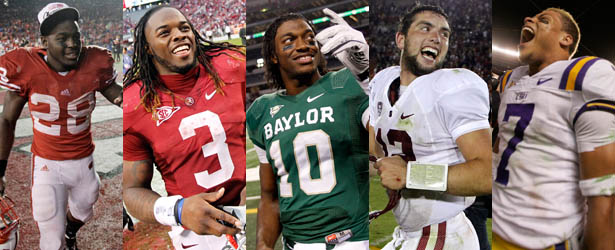 AP Images, Reuters
The principal absurdity of the Heisman trophy—that it's possible to choose "the outstanding college football player in the country" among thousands of players—was nailed in 1954 by W.W. "Pudge" Heffelfinger, the first player selected to an All-America team (back in 1889) and the first to receive money to play football professionally (a year later). "In my day," he wrote in his autobiography, This Was Football, "there was some sense and logic in the All-America selections because there weren't many good teams and naturally there weren't many good players ... today, the All-America is a joke. There are hundreds of excellent players, and trying to rate one above the other is an impossible job."
But once again the Heisman Trophy Trust is going to try and do it anyway—through a system involving regional representatives who select the voters, joined by former Heisman winners who also vote—and though it's too late to have any impact on this year's award, which will be announced Saturday night, it would be refreshing to see some logic and common sense standards brought to the annual debate.
A popular misconception about the Heisman Trophy is that except for Michigan defensive back Charles Woodson in 1997, the award has always gone to offensive players. In fact, the first 30 Heisman winners, starting with the University of Chicago's Jay Berwanger in 1935, had to play on both offense and defense.  No one in the era of two-platoon football would have been considered worthy of a Heisman had he not been able to tackle as well as run and throw.
Since the rules were changed in 1965 to allow unlimited substitution—thus ushering in the era of specialists at each position—Woodson is the only purely defensive player to win the Heisman, and of the remaining 45 trophies, 22 have gone to running backs (including two to Ohio State's Archie Griffin in 1975 and 1976 and one to USC's Reggie Bush in 2005, who was pressured into returning his trophy for having accepted cash and gifts while in college), 20 to quarterbacks, and three to wide receivers/punt returners (including Nebraska's Johnny Rodgers in 1972, who is listed on the Heisman site as a runner but did most of his spectacular work as a pass receiver and return man).
Let's concede, then, that Pudge was right 57 years ago and that it's impossible to really select the best college football player in the country.  (Why isn't an offensive guard who plays for, say, Fresno State, as good at what he does as a passer or runner as one of the star players at a big-name school?)
Here are some commonsense criteria that could be applied to the leading candidates:
Is the player, as best as can be determined, the best man at his position? 
Is the player, as best as can be determined, the main reason for his team's success or does he merely benefit from playing on a strong team?
And, finally, were his gaudy statistics truly significant, were they compiled against worthy opposition? Or were many of those yards and touchdowns just piled on to impress voters?
How do the performances of this year's five Heisman finalists stand up to these questions?
First, LSU defensive back Tyrann Mathieu may well be the best defensive player in the country—he could be the best player on offense or defense. But how would we know?  A coach can choose to give the ball to an offensive player as many times as he wants to, but he can also choose to keep the ball away from a great player on the opposing defense. Mathieu is credited with two interceptions, but it's anyone's guess how many more he would have if opposing teams dared to throw more often in his direction. He is also a superb punt returner: 420 yards on 26 tries, two for TDs (one against Georgia in front of a national audience last Saturday).
Mathieu may go home with the trophy, but to award the Heisman to a defensive player requires a shift from objective evaluation to purely subjective judgment - the handful of observers who have seen the defensive player all season long must make a strong case that he is the very best at his position. (But how would they know if he's better than scores of other defensive players whom they haven't seen every week?)
With the other four candidates, the question is much simpler: Alabama's Trent Richardson and Wisconsin's Montee Ball both put up spectacular numbers. Richardson ran for 1,583 yards, averaging six yards per try, and Ball rushed for 1,759 yards and a 6.4 average. But Richardson, playing in the SEC, achieved his numbers against far tougher competition, (USA Today's Jeff Sagarin, the leading power rankings expert, rates Alabama's schedule a whopping 14 points tougher than Wisconsin's.)
Toughness of schedule is also the problem with evaluating the two very talented quarterbacks who have been invited to New York for the Heisman ceremony, Baylor's Robert Griffin III and Stanford's Andrew Luck.  No argument can be made that both aren't outstanding quarterbacks: In 13 games Griffin threw for just under 4,000 yards and 36 touchdowns while Luck in 12 games, threw for 3,710 and 35 TDs. But neither one faced a single outstanding defense all season, a fact that seems to have eluded most of the Heisman pundits.
In Stanford's last game of the season, a 28-14 victory over Notre Dame, Luck played against the only defense he saw all year that finished within the top 40 in the country in fewest points allowed. (The Irish were 28th best.) Likewise, the closest Griffin came to facing a top-flight defense was against TCU in the first game of the season (TCU ended up with the country's 30th stingiest defense).  That's it.  There was very little in the way of genuine opposition for either quarterback all season long.  This was reflected in the fact that most of their games had scores that seemed more like basketball then football games. Luck's Cardinals, for instance, beat Southern Cal 56-48 in three OTs and lost to Oregon 53-30. Griffin's Bears beat TCU 50-48, Rice 56-31, Missouri 42-39, Oklahoma 45-38, and Texas Tech 66-42.  Baylor lost to Kansas State 36-35, to Texas A&M 55-28, and Okalahoma State 59-24.
Clearly there was only one conference in the country where defense is taken seriously, and that's the Southeastern Conference. Against LSU (ranked second, behind Alabama, in fewest points allowed per game), Mississippi State (19), Florida (25), Vanderbilt (26), Tennessee (35) and Arkansas (37)—not to mention the Big 10's Penn State (No. 5)—Richardson played against outstanding defenses in 7 of his team's 12 games, far more than Griffin and Luck combined.
Also, there is the question of piling on.  Consider that Luck threw for 370 yards in a 48-7 slaughter of hapless Colorado, a team that won just three of its other 12 games. Couldn't the Cardinals have won that game easily with Luck throwing for half that many yards? Griffin was near perfect in a 48-0 pounding of Stephen F. Austin, completing 19 of 21 passes for 25 yards and 3 TDs. But Baylor would still have easily won if Griffin had been relieved midway through the second quarter.
Trent Richardson's numbers are, in comparison, untainted.  Not only was he not left in any game to pad his numbers, Alabama's second- and third-stringer runners, Eddie Lacy and Jalston Fowler, combined for more than 1,000 yards and 11 TDs. If Coach Nick Saban had wanted to, he could have left Richardson in games the Crimson Tide had nailed down so that he could rush for 2,000 or even  2,500 or more yards - and then the winner of this year's Heisman Trophy wouldn't be in doubt. And here's the clincher if the argument comes down to Richardson vs. Luck or Griffin: Luck threw 9 interceptions, Griffin threw 6, and Richardson did not fumble the ball once in  290 chances.
If the Heisman Trophy voters were honest, they'd acknowledge what fans have known for more than four decades: that offensive players—particularly quarterback and running backs—have an unfair advantage over defensive players in the voting because they get the lion's share of opportunities to pile up the stats.  Why not award two Heismans—one for the man they regard as the outstanding player on offense and one for defense?  Wouldn't Richardson and Mathieu, whose teams will play each for the national championship on January 9, make a handsome pair of Heisman bookends?
For that matter, why doesn't the Heisman committee hold the vote until after the bowl games?  This antiquated attitude is a holdover from a time when relatively few teams got to play in bowl games, but now every good team gets a bowl berth, and quite often teams are facing the toughest team they've played all season. The Alabama-LSU matchup in the BCS championship could have been a game to settle both the question of the national championship and the Heisman Trophy - and all in one night.
In a perfect world, Alabama's Trent Richardson and LSU's Tyrann Mathieu would both be awarded big bronze trophies Saturday night. But in the imperfect world we live in, the Heisman should go to Trent Richardson.