How Sportswriting Has Changed Over the Past 100 Years
A look back at the New York Times sports section on New Year's Day of 1912, 1937, 1962, and 1987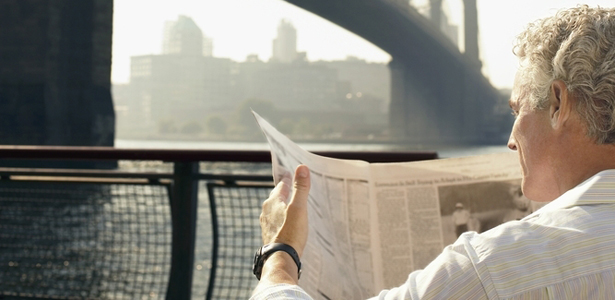 bikeriderlondon/Shutterstock
We live in a sports world that is a fully paid-up constituent of the 24 hour news cycle that relentlessly grinds on, morning, noon, and night. But what of the past, when sports and its media were feeling their way towards the all-encompassing mutual embrace that we accept as second nature today? A look back, at sports pages of the New York Times as published on New Year's Day, starting in 1912 and continuing in 1937, 1962 and 1987, can chart the changes in the world of sports and the way sports have been reported over the past century.
JANUARY 1, 1912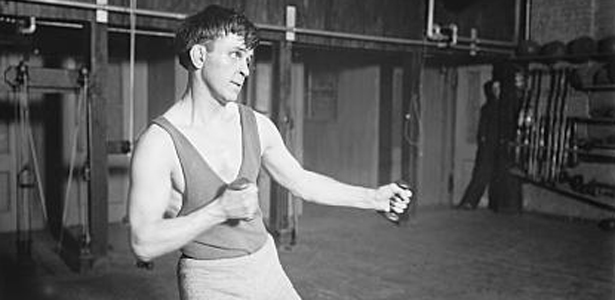 Wikimedia Commons
One hundred years ago there was nothing that we would recognize as a sports page at all. During the summer there would no doubt have been ample baseball news to report, but on New Year's Day there was simply no professional sport to cover—with the exception of boxing. As for the boxing news that day, it included a report of a match in New Orleans the day before in which one-time lightweight champ Battling Nelson took a 20-round decision from Jack Redmond and a preview of no fewer than eight holiday fight cards on offer in the New York area (including one featuring "Darky Griffen and Frankie Williams, two of the cleverest colored bantamweights in the ring.")
Apart from the active boxing calendar and racing results from Juarez, Mexico, the sports scene as reflected in the Times was decidedly local, low key, and in large part the preserve of a social elite that clearly merited the paper's attention. A six-mile road race in Yonkers, a few local amateur soccer matches, upcoming club hockey games and swim meets, a basketball game between the Young Mens' Hebrew Association and the Elindo A.C. (for those anxious to know, the final score was 63-50 in favor of the YMHA), and a trap shooting competition at the Larchmont Yacht Club filled out the two thirds of a page devoted to sports.
More space, in fact, was devoted to activity off the playing field involving amateur athletic organizations that were most decidedly preserves of society's upper crust. The upcoming annual meeting of the United States National Lawn Tennis Association received detailed coverage, its chief order of business the question of whether to continue to play the national championships at Newport or to switch to clubs in Philadelphia. The lead sports story on that first day of 1912 involved the internal deliberations of the New York Athletic Club, focusing on the Club's concern about the "acceptance of men whose chief quality is the ability to perform at some particular game just a bit better than someone else although they lack the true characteristics of a New York A.C. man, "as well as the "winking at the rules governing amateurism."
JANUARY 1, 1937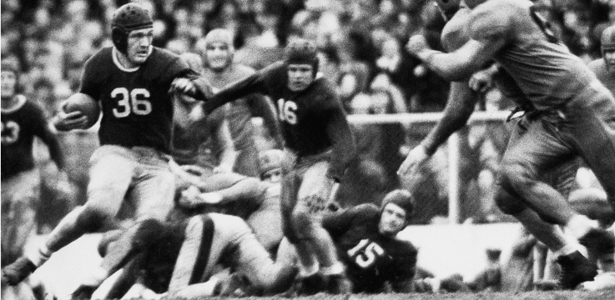 AP Images
Twenty-five years later we encounter a vastly different sports world, as reflected on the Times's sports "page" that day (now pages, 4 in all). College football—that day's Bowl Games—leads the coverage, with an eight-column headline, "Pitt and Washington Rated Even for Rose Bowl Battle Today Before 87,000." Previews of the Sugar Bowl ("Rain Threat to L.S.U. Passes in Santa Clara Contest Today"), the Orange Bowl ("Mississippi State Set for Duquesne"), and the Cotton Bowl ("Air Battle Looms" between Marquette and Texas Christian), along with an East-West all-star game in San Francisco and news of "Havana Awaiting Gridiron Contest" between Auburn and Villanova, filled out most of the rest of the first sports page. The radio listings included that day's broadcast schedule for the bowl games, starting at 2:15 in the afternoon (Eastern Time) and continuing until 8 pm, with several sports highlights shows on the air in the evening as well. "Football," the paper's sports columnist wrote, "had a great year in 1936 and the chances are that it is starting a bigger and better one this very day."
Featured on the first sports page along with all the Bowl game reporting was the news that heavyweight contender Louis had been signed to fight Bob Pastor, who had boxed as an amateur for New York University, at Madison Square Garden in late January; it would be Louis's fifth fight since losing to Max Schmeling in June.
On the succeeding pages, there were accounts of several games in the then eight-team National Hockey League—New York and Montreal each then had two teams--(with 12,000 fans at Madison Square Garden for the Rangers' 2-2 tie with the Boston Bruins), college basketball (sample scores - 43-29, 24-23, and 30-19), and a college hockey holiday festival at Lake Placid. There was also horse racing news from Tropical Park in Florida - and that day's entries at that track and at Santa Anita in California , the Fair Grounds in New Orleans and Alamo Downs in Texas as well.
On other sports fronts, national junior tennis tournaments were going on in Massachusetts and Manhattan and the United States Golf Association announced that "the game of golf shall be played with not more than fourteen clubs beginning January 1, 1938." But some space remained available on New Year's Day 1937 for sports news of limited, indeed parochial, interest—the swim meet schedule of a private school in Princeton, a victory by Cornell's polo team against the 109th Field Artillery as well as other polo scores, the upcoming tournament of the Winter Golf League of Advertising Interests at Palm Beach, Florida, a snowshoe marathon in Maine, and appointments to the Delaware State Athletic Commission. The Lehigh Valley Railroad's "Snow Train" to Hazelton, Pennsylvania was running from Penn Station on Sundays for $2.50 round trip.
JANUARY 1, 1962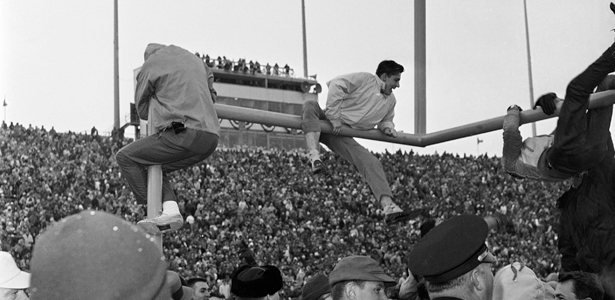 AP Images
A quarter-century on—a half-century ago—the sports section on January 1, 1962 was dominated by the news of the previous day's National Football League championship game between the Green Bay Packers and the New York Giants. Played in frigid conditions in Green Bay, the Packers routed the Giants 37-0 and the paper's in-depth coverage pushed that day's college football bowl games back to the last page of the sports section. "Minnesota Favored Over UCLA," "Ole Miss Choice in Cotton Bowl," "Alabama Is Picked To Beat Arkansas in the Sugar Bowl," and "Weather Warms for Orange Bowl" between L.S.U. and Colorado, were all long familiar sports headlines by then—although there was no college football being played in Havana that day. The television schedule for the four bowl games was listed. In hockey, the Rangers had again played the Bruins on the last day of the old year, this time losing before only 9,500 Madison Square Garden fans in what had become a six team National Hockey League. College basketball scores—including a number of upsets—were handled in one wrap-up story. And there were brief stories about indoor track (highlighted by a 15-6 pole vault by John Uelses), a sailboat race off Long Island, horse racing at Santa Anita and ski jumping at Lake Placid, as well as an India-England cricket match. An American Basketball League double-header in Los Angeles drew a "crowd" of 1,798. An ad for the next day's National Basketball Association double-header at Madison Square Garden offered tickets priced from $ 1.00 to $5.00 (tax included).
JANUARY 1, 1987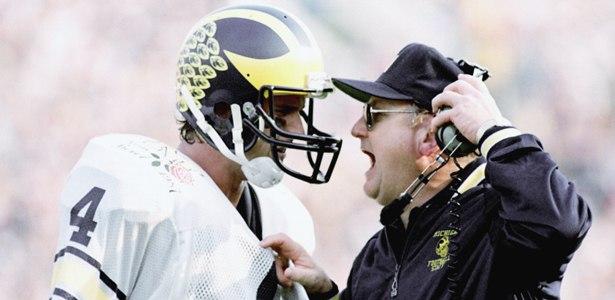 AP Images
And finally moving ahead to 25 years ago, the top sports news in a six- page sports section involves the National Football League playoffs, the wild card games having been completed the previous weekend with the divisional and conference playoffs coming up on the road to the Super Bowl on January 25. That day's bowl games—the Rose, Orange, Cotton, joined now by the Citrus—although offering a "tasty menu for football fans" have again been relegated to the back of the sports section, with a columnist offering as a New Year's wish that the bowls "form the opening of an eight-team college football playoff format toward a national championship." New York Rangers hockey (a win against the Islanders in what is now a 21-team National Hockey League) gets front sports page treatment. There is harness racing at Yonkers and the Meadowlands in New Jersey and thoroughbred racing at Aqueduct in Queens—in the dead of winter. Ski conditions are summarized in a lengthy table. Box scores of hockey and professional basketball games and the scores of college basketball games take up about three quarters of a results page. There are more features and player profiles and less straight reporting than in previous years. The focus is on professional sports played out on a national stage.
And how does the sports news of January 1, 2012—and the sports world it reveals—relate to what was reported on these New Year's Days past? For the answer to that, we can open our papers tomorrow morning.