How 'Extremely Loud & Incredibly Close' Handles 9/11 Right
The film shows that universal grief is processed in strange, personal ways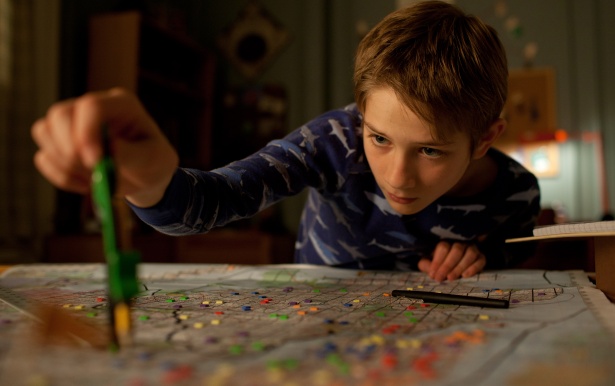 Here's what sounds like a recipe for offensiveness: a 9/11 movie centered on a scavenger hunt.
That's the unusual template for Extremely Loud & Incredibly Close, which opens in limited release on Sunday. And most improbably of all, director Stephen Daldry pulls it off, though, of course, not everyone agrees.
This adaptation of the Jonathan Safran Foer novel depicts the aftermath of the tragedy from the perspective of a child with Asperger's syndrome, living in his mind and reflecting his view of the world. That makes the picture both a cinematic anomaly and an unprecedented effort in the world of movies about 9/11, a subject that—as Lewis Beale pointed out in the Los Angeles Times—Hollywood regards warily. Though we've seen movies about the events of the day (United 93) and portraits of a New York stricken by its fallout (Margaret), Extremely Loud marks the first filmic treatment of the individual story of one of the 3,000-plus kids left parentless that fall morning.
The film embraces the confusion experienced by Oskar Schell (Thomas Horn), a lonely 9-year-old who lost his dad Thomas (Tom Hanks) in the World Trade Center. Oskar and Thomas used to spend hours discussing vivid imaginary quests to far-away lands, and Thomas sent his son on treasure hunts of sorts around the city. So when Oskar finds a mysterious key in his father's closet one year after his death, he naturally assumes that it was left there intentionally. A complicated mission to find its lock ensues, much to the perplexed chagrin of Oskar's distant, grieving mother Linda (Sandra Bullock).
Of course, the story takes leaps of logic in its depiction of Oskar's citywide search for the key's proper home. With only one clue—the label "Black"—to guide him, the determined youngster makes a point of visiting every New Yorker with that last name, in the hope that someone might provide an answer.
Oskar's convoluted mission has angered some critics. "The innocence is shameless," Time Out New York's Joshua Rothkopf writes of the concept of framing 9/11 through the prism of "lost children." The Associated Press's David Germain deems the story "a cheat, which has nothing to do with overcoming sorrow in the real world, where Sept. 11 happened."
Yet if there's one thing the past decade has taught us, it's that 9/11 was a tragedy experienced by members of every age group and all walks of life. On a local level, there's not a segment of New York that was left untouched in some way. Extremely Loud isn't trying to reflect some sort of unifying current of grief; it's not merely a blank slate upon which the viewer is meant to impose his own feelings.
The narrative, wrapped in the meticulous details of Oskar's quest and imbued with adventuresome flourishes, is not meant to be taken literally. It is, instead, a citywide snapshot of mourning in its many forms, as seen from the point of view of a troubled young man processing his premature adult feelings in the only way he can.
On his journey to solve the mystery of the key, Oskar encounters outsized characters from a multitude of backgrounds, undergoing a range of experiences. There are prayer groups and families, an incessant hugger, and a woman (Viola Davis) stuck in a troubled marriage. All are connected by the collective trauma. Daldry simultaneously makes New York seem impossibly vast and microcosmically small; it's an enormous, intimidating metropolis brought together in a communal display of healing.
The portrait of the city at large—seen as a disorienting rush of sounds and images at times and as a quiet, lyrical place at others—reflects Oskar's tumult. Without the comfort and security of his father, he's lost in a vast, frenzied wilderness of emotions and obsessions, setting out on a desperate attempt to reclaim the personal connection that's been so traumatically stripped away.
Newcomer Horn and cinematic legend Max Von Sydow—as the mysterious mute boarder living with Oskar's grandmother, who joins him on his mission—create a genuine, understated bond that keeps you engaged in the task at hand. Things are further kept on a grounded, humanist level by Hanks's easy charm and the steadfast, subtle pain in Bullock's quiet work. At the same time, the movie avoids the obvious trap of turning the flashbacks to 9/11 into cloying, tear-jerking experiences. Eric Roth's screenplay goes back there at the appropriate times, while Daldry frames the day as a haze of terrible memories, all-encompassing guilt and paralyzing grief. Sometimes, the memories hit Oskar in fragments. At others, they come in a terrifying, sickening flood.
The movie never treats Oskar's quixotic task as more than a front for the film's real purpose: living in a troubled character's mind and portraying the various stages of his complicated healing process. That fundamental concept has bothered some critics. "Spending two hours with a fictional character possessing autistic qualities can be grating," Germain writes.
But spending two hours with any character should, at times, be a grating experience, if the character's been portrayed honestly. Life, after all, is a cauldron of moods and emotions, and they're not all pleasant ones. The movie is rough, difficult, and occasionally overstuffed. Oskar's fits of anger and debilitating neuroses are so imbued into the core of the picture—in the compulsive dialogue, the sudden bursts of frenzied activity, and the elaborate flights of fancy—that it can be hard to take.
Whatever the minor flaws in its whimsical design, though, the Extremely Loud filmmakers have made a movie that successfully reflects turmoil. It looks at the world from the specific standpoint of a child who's ill-equipped to comprehend it, trying to survive as best he can.