Historian Joan Saab discusses how clever activists used masterpieces by artists like Michelangelo and Andy Warhol for their advocacy
At the height of the AIDS crisis, fine art was anything but frivolous. Activists all over the world deftly appropriated works by Michelangelo and Henri Matisse to compel people and governments to listen, learn, and act up. Interestingly, history would show that the relationship went both ways. Today, original protest paraphernalia by pop art icons like Keith Haring and Roy Lichtenstein are now considered modern masterpieces.
In the gallery below, view historic placards from the University of Rochester's online archive that used, alluded to, or just plain ripped off works by Eadweard Muybridge, Robert Rauschenberg, and Andy Warhol, among others. Then, in the Q&A with art historian Joan Saab that follows, find out why visual design was instrumental in the war against AIDS and how the lowly poster became the demonstrators' weapon of choice.
---
It's a past that's often overlooked, and it's a way of making sense of history by visualizing it. People often think of public art as being something that's abstract or impenetrable or something that's sort of imposed upon them. I think it's important and interesting to look at more ephemeral types of things that encourage engagement. For me, these posters work in that way. I also remember so many of them, so there is this sense of looking back. There's some sort of time travel going on. Having seen these things on the subways, because I lived in New York, and then to now be looking at them as a sort of study, well, it makes me feel old but it also makes me feel, "Wow, I was there." I'm not sure it's nostalgia. It's a multi-layered analysis of their urgency in that moment and also of them as artifacts now.
Fighting a global scourge.
A special report
Which poster means a lot to you?
The comic strip, the one with Julio and Maricel. I remember reading those repeatedly on the subway and watching the narrative unfold and thinking, "Oh no, what's going to happen?" It was like a soap opera taking place while I was going back and forth from my apartment.
I also really like the one with the Statue of Liberty, the Empire State Building, the Eiffel Tower, and the erect condom. I like that one, first of all, because I think it's funny. Every time I teach architecture, there's always a feminist in the class who says, "Oh, they're all phallic structures." I also teach architectural history, and I always try to tell my students that these urban structures have iconic meaning. I like that progression -- liberty, stability, technology, and safety -- and this idea of trying to make safety iconic. I think the way they all line-up as a sort of skyline is clever too. I thought that one was really smart and funny.
It sounds like you responded to the humorous ones the most.
A lot of them are stark and borderline pornographic, and there's some that are all text. Those will only work for people who will stop since these posters were in dorms, clubs, restaurants, and subways. They were competing for people's attentions.
I think that [visual] humor works because it communicates to people across language barriers. Like the one with the Brazilian soccer team where they all have their hands in front of their crotches, which takes a whole new context compared to when you watch soccer.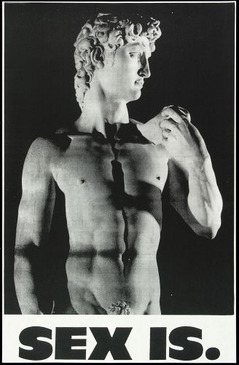 You just look at it and laugh and also get it. That to me is a successful poster because that's what they're supposed to do. They're public service announcements. They weren't meant to be looked at originally as art or as historical artifacts. They were meant to get someone to get tested or to use a condom.
As an art historian, what did you make of the many appropriations of masterpieces like Michelangelo's David?
Oh, that's just a sampling. Believe me. There were so many more Davids. There were real naked men Davids standing in the David pose. There were tons of them.
The Creation of Adam in the Sistine Chapel was everywhere too. What's your opinion on that?
I think they're funny and visually engaging. For me, there's an irony there. I think referencing Michelangelo in many cases, who most people will acknowledge was also gay, and taking these religious stories legitimizes the messages in a way. [Practically,] it was also a way of showing this beautiful male body. As I said, a lot of them showed real male bodies but those got censored. But the Davids get shown. It was a way to get this body circulated.
The appropriations of the Creation in some ways is more interesting than the David because there are so many ways you can read it. It's God and Adam, and He's handing him a condom, so it negates that whole idea of creation. You're not going to create with a condom! And it's also two naked bodies so it's so loaded. You can read it as Adam saying, "Can I use a condom?" And God, saying, "Of course you can, but who will you use the condom with? Eve? Another man?" And there's so many ways that people can get pissed off about it. It flies in the face of so many biblical thou-shall-nots.
There were a lot of symbols used as well, like the pink triangles and bananas. Could you talk about that?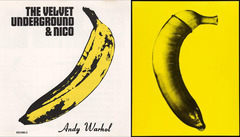 The thing that's interesting to me is there had to be some sort of stand-in so you can represent the condom. I think the yellow banana works well, just like the skyscrapers do. There's another one where the condom is a rocket ship and there were two guys riding it, and some where it becomes a superhero. You basically needed to have something to demonstrate it. The banana was a good vehicle for that and it also worked as a reference to Warhol and that Velvet Underground album cover.
The way that symbols work is that they already have some sort of universal meaning affixed to them. They come coded. They count on the viewer being able to place those in a larger context. The banana and the David, they do that. The early ACT UP image pink triangle was certainly one of them too. Everyone knew what that triangle stood for at a certain point in time. They allow the poster to communicate that message about AIDS but also bestow a sense of knowing into the viewer, so they're able to look at it. It's not as scary. Putting art there softens it in a way. Like the one with the bead of the disease. It's the actual isolation of the cell, and it's in this native beadwork. People get curious when they see it, and it makes the problem not as medical.
What about the medium itself? Why were posters such an effective way to communicate?
There are a couple of things. They're fairly inexpensive. You can plaster them all over. If somebody takes them down, you can put them back up. You can change them. You can add to them. They're a very effective way of grabbing people's eyes. We're very used to posters because we live in a world that's saturated with advertisements and images that are trying to sell us something.
I think also -- and this is going to be a generalization -- there was a number of people suffering from or touched by AIDS who worked in the graphic design industry. This sort of public service announcement, it's a genre of communication that's time-tested and it's something that they knew. I think it's also a way, at least within the 20th century, for artists to enter public discourse.
To me, it's interesting because posters are these ephemeral sort of throwaway objects. Very few people collect them. And I think what's so interesting about this collection -- and I find this with any kind of collection -- is, when do you start collecting? When do you say that this is something worth having? Because the collection bestows value upon the object, the posters, which for the most part are value-less. But we now know that there are posters from different civil liberties unions like the Black Power movement that now have tremendous value. Those things now are worth a lot of money.
Why aren't there as many posters today?
I think the discourse on AIDS has become so much more normalized. I have a son who's in third grade and he's actually learning about it. They don't know about sex yet but they know about AIDS, which I think is weird.
I don't want to say that the posters are not necessary but their immediate work isn't necessary anymore. The poster was a claim for power and attention. It was a way for activists to say, "If the state or the institutions aren't going to support the cause, we're going to do it ourselves." The Gay Men's Health Crisis, ACT UP, and all these not-for-profit or activist wings are the ones who really initially put up these posters into public circulation. And then the United Nations and the World Health Organization got involved too. It was really intended to educate populations that did not know.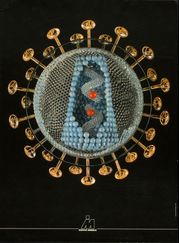 Now, it's written into curriculums. Pregnant women get tested for HIV as part of their pre-natal treatment. In the '80s and '90s, as the disease was just emerging and people didn't even know what it was and how it was spread, the need for the posters was graver and greater. The original target audiences, drug abusers, gay men, and the sexual partners of those people, they now know.
If you look at the collection, it's interesting how very few celebrities were featured. Were these art icons or their masterpieces used as substitute endorsers?
Oh, that's interesting. I hadn't thought of that -- having a high-profile artist like Matisse and having him be the spokesperson. That's something worth thinking about.
Do you think that was the intention though?
I think the intention differs from person to person and country to country. If you look at one that's from Tunisia, it says, "You want to avoid AIDS? Be faithful!" Others are about pleasure, tolerance, protection. They represent so many points of view. You've got people who are pissed, who are scared, who are just compassionate, and they're all making posters for different audiences.
It becomes interesting when you see these continuities across countries. Why are there so many posters of the David? Why are there so many cartoons -- I think about 10 variations -- of Condom Man? You see these different tropes emerge. You think of these universalizing stories that cross borders, cross emotions, and cross groups. All these posters juxtaposed provides multiple narratives that allow each viewer to find their own point of entry, whether they're laughing or crying or shocked. And with any kind of historical moment, it's important to step back and take stock. It's been 30 years. That's a long time, but it's not long ago.
Images displayed were shared by the University of Rochester's Rare Books and Special Collections Library.
---
MORE ON AIDS ART & ACTIVISM:
Why are these AIDS visuals so important to see?
We want to hear what you think about this article. Submit a letter to the editor or write to letters@theatlantic.com.
Hans Villarica
writes for and produces
The Atlantic
's Health channel. His work has appeared in
TIME
,
People Asia
, and
Fast Company
.