Beyond Chris Paul: Who Else Should Get Traded Before the NBA Season?
Sports fans share their basketball wish lists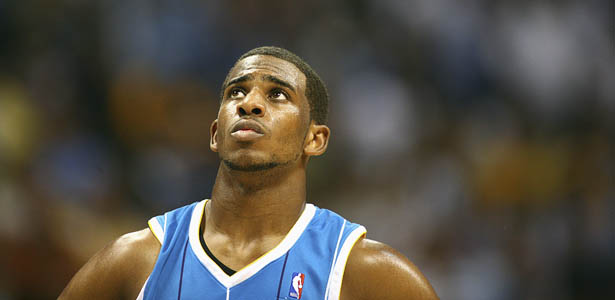 AP Images
Every week, our panel of sports fans discusses a topic of the moment. For today's conversation, Emma Carmichael (writer, Deadspin), Hampton Stevens (writer, ESPN and The Atlantic), Patrick Hruby (writer, ESPN and The Atlantic), and Jake Simpson (writer, The Atlantic) try to make sense of the recent NBA trading madness.
---
Hey, guys,
Who would've thought when the NBA lockout finally ended three weeks ago that we'd be experiencing the kind of roster upheaval (or, at least, threats of roster upheaval) we're now seeing throughout the league. I don't know about you, but I'd personally prepared myself for a few weeks of peaceful training camps, a blockbuster trade or two, and the usual Danny Ainge shuffling that makes me cringe each season.
It's been almost nothing like that, has it? My own panic set in last week, when I heard that Chris Paul would be leaving New Orleans to join Kobe and the Lakers and set up a fearsome backcourt in Los Angeles. (The frontcourt, I realize, would have been laughable—but I wasn't looking for silver linings at the time. I was just panicking.) And it's only gotten more hectic since then. Paul is heading to the Clippers. Tyson Chandler will join Amar'e Stoudemire in New York to give the Knicks a great defensive frontcourt, Lamar Odom is wearing Maverick blue, and Dwight Howard is actually interested in going to New Jersey/Brooklyn.
It's enough to make a person crave that mythical peaceful training camp, isn't it? Or, at least, the relative calm of the league's five opening day games on Christmas. So I'm curious: How have you guys dealt with the madness the past few weeks (and David Stern's deplorable disruptions), and what's the actual blockbuster trade you'd really like to see? I'm happy to keep the C's together as they are for the next season, but I definitely have my wish list. Hampton, what's yours?
–Emma
All I want for Christmas is a three-way trade?
You might be shuddering in your Celts jersey Emma, but not me. Peace and calm? That's what I want at a dentist's office, not from a sports league. The flurry of activity that ended the NFL lockout was nothing compared to this ongoing NBA mess, and yours truly is adoring every chaotic minute. Short of any actual dribbling, this stuff couldn't be more fun.
David Stern finds himself in the wildly untenable, inherently contradictory position of running the entire league while simultaneously managing a single team in it. Chris Paul is mad enough about the veto of his escape from New Orleans to talk about suing the association—an affront for which Paul will apparently be banished to the Clippers. Dwight Howard is suddenly in play, then he's out again. The Nuggets signed Nene, thrilling Denver fans along with admirers of alliteration everywhere.
As you noted, Emma, LA's Lamar Odom was sent to the Mavericks—a move that not only improves the Mavs' chances of repeating as champs, but also means that reality TV fans get one season of "Khloe Does Dallas," complete with another splashy Kardasian divorce as a finale. Good times.
And you, Patrick? Emma's an exception, right? Wouldn't you say that all this chaos for players and owners means much more fun for fans?
–Hampton
If LeBron James' Indecision 2010 summer campaign proved anything, it's that the NBA needs more hot stove drama, not less. As such, I applaud David Stern's effort to simultaneously out-heavy Vince McMahon and make Gary Bettman look like King Solomon. The Chris Paul affair has been a glorious, epochal snafu from start to finish: hurting the Los Angeles Lakers, one of the league's tentpole franchises; screwing the Houston Rockets, a well-managed club that did nothing wrong except assume that Stern was telling the truth about letting New Orleans manage its own basketball affairs; utterly humiliating and emasculating Hornets general manager Dell Demps; setting a leaguewide precedent that Dan Gilbert's pouting ought to count for something; solving the "problem" of superstar free agents wanting to play for big-market teams by ultimately dealing Paul to a franchise located in the backwater cow town of Los Angeles; putting the gimpy-kneed Paul in a Clippers jersey, the basketball bad mojo equivalent of putting him on the cover of Madden NFL; rewarding Clippers owner Donald Sterling, probably the least-appealing person in an owner's box anywhere; ruining the feel-good appeal of unwrapping a saved NBA season on Christmas Day by exposing the deep, bitter, unresolved labor-management divides that are bound to result in a future lockout and/or strike; damaging the league's perpetually strained credibility and fostering a new set of conspiracy theories in a way  no frozen envelope ever could. 
The whole thing made the NBA seem really important, and Paul—a great player, but hardly a basketball-transcending pop culture superstar—even more so. As they say, all publicity is good publicity.
Anyway, my guess is that the first time Paul tosses an alley-oop to Blake Griffin, all of the above will be forgotten. So let's get back to Emma's question: What blockbuster swap would I like to see? That's easy: Dwight Howard for Dwyane Wade, a deal that not only would explode Twitter, but also make perfect basketball sense. Think about it: The biggest problem with the Miami Heat is that James and Wade don't really mesh on the court. They both need the ball to be effective, even when it comes to facilitating their teammates. (And that likely won't change, given that the club isn't about to hire Phil Jackson and use the  triangle offense, which only would be perfect for the James-Wade-Chris Bosh hydra).
Meanwhile, Howard pretty clearly wants out of Orlando—and it's hard to fault him, given that the club has spent the last two seasons  actively making its roster worse.  Everyone in the league knows this. Nobody is going to offer the Magic equal value in a Howard swap. Still, the team would like to do better than Brook Lopez and a sack of magic beans.
Enter Wade. A ticket-selling superstar. A player you can build a contender around. Wade-to-Orlando keeps the Magic viable, helps them fill their expensive new arena. And Howard-to-Miami? It makes the Heat nigh unbeatable, giving them the league's best front court (sorry, New York Knicks!). James dominates the ball and doesn't have to worry about posting up; Bosh can play his finesse scoring game; Howard anchors the middle, rebounding, shot-blocking and dunking. Everyone does what they do best. Win-win-win.
Of course, this probably makes too much sense to actually go down. What about you, Jake? What megadeal would you like to see?
–Patrick
Well as a lifelong-suffering Knicks fan, Patrick, my dream trade would have been an Amare Stoudemire-highlighted package deal for Chris Paul. But now that Paul's on the Clippers, ready to form the best alley-oop combination since Bugs Bunny-to-Jordan in Space Jam with Blake Griffin, I'd love to see Dwight Howard land on the Bulls. A package of Joakim Noah, Luol Deng, and a couple other pieces + draft picks could get it done, and as good as Paul-to-Griffin will be, it wouldn't hold a candle to Howard teaming up with reigning MVP Derrick Rose.
Of course, the odious side effect of this trade madness is a likely precipitous dropoff in the quality of play this season—at least in the early going. All these players moving around the league like ping pong balls just two weeks before the lockout-shortened, madcap 66-game season can only mean a lack of team chemistry around the league, as players adjust to new teammates in regular season game action rather than in summer minicamps or meaningless preseason games. We saw a similar problem in the NFL, where a shortened preseason likely led to a spate of blown coverages in the early weeks and the spectacular failure of the Philadelphia Eagles. But at least pro football players had six weeks to get ready with their teams—NBAers will only get 16-18 days, and recently traded players like Paul even less.
So yes, the trade madness has been an absolute blast. But when we see Paul misfire on four straight lobs to Griffin or Tyson Chandler struggle to gel with Stoudemire and Carmelo Anthony in New York, we may look at things a little differently.