What happens when a novelist composes a novel about a novelist's many novels?
Warren Lehrer
Have you heard of the jail-bird author Blue Mobley, who published 101 books during his lifetime, including Outsourcing Grandma, Semiotic Octopus, Peace Is Just Another Word for Nothing Left to Kill, and There Never Was a Good Old Days? Probably not. That's because Mobley is fictional, the creation of Warren Lehrer, a Queens, New York-based designer/typographer/writer/performer and author. More than seven years ago, Lehrer began developing a visual novel, A Life in Books: the Rise and Fall of Bleu Mobley, chronicling the life of a creatively tormented protagonist, as portrayed through the contiguous narratives of 101 books. As Mobley, Lehrer designed the covers, jackets and some interiors of all the books—and they are pitch-perfect replicas of many book genres and graphic styles.
Lehrer has been refining the project, which has yet to find a publisher, and devoted an excessive amount of time to inventing Mobley's life. He was taken with the idea of creating a book where the reader gets to hunt for where the truth lies: "Is it more in the tell-all confessional the author whispers into a micro-cassette recorder from his prison cell," he asks rhetorically, "or more in his fictions, or in his non-fictions?" He also wanted to "contrast a writer's narrative of his life and motivations via a memoir with artifacts from his life's work via a monographic retrospective."
Story continues below
For Lehrer's last visual non-fiction book, Crossing the BLVD, a documentary about 79 new immigrants and refugees from all over the world who now live along Queens Boulevard, he took on a great responsibility, he explained, representing real people's lives. "So for this project [A Life in Books], I decided I wanted to get at this kind of panoramic view of the world in a different, more evocative and fun way, by writing a novel about one man's use of books and storytelling as a means of understanding himself, the people around him, and a half century of American/global culture," he says.
Through the lens of fictional memoir, Lehrer has taken greater license but no less responsibility in creating a character. For instance, take the seemingly farcical name Bleu Mobley. Lehrer dutifully told me about its origins as though it were truth from the mount:
Bleu's grandfather, Mordechai Jacobson, a Jewish rag merchant, born in Poland, living on the Lower East Side, used an Anglicized name, Jake Mobley, when he traveled outside New York for business. He had a wife and kids in New York as Jacobson and another wife and kids as Mobley in Mexico City. So the Mobley part of Bleu's name comes from a lie. (Bleu's grandfather was such a great storyteller, people said that being with him was better than being at the theater, and it was often just as hard to get a good seat. But over time his stories proved to be more theater than reality. Bleu himself ends up in prison for blurring fiction and non-fiction). Anyway, he was given his first name, not because he was a particularly sad looking baby, but according to his manic-depressive artist mother, who was one quarter French, he was born with a distinctly blue complexion.
Adding to the novel's colorful allure, the verisimilitude of Lehrer's 101 cover designs for Mobley's books is beyond credible. And like the best film title sequences, which establish moods or introduce plotlines, these fictional covers are vehicles by which Lehrer illuminates Mobley's sad tale of success and failure. In Lehrer's early days he liked designing the covers of his books least of all. "As a writer/designer, I was mostly concerned with the interiors and saw the covers more as a matter of marketing," he says. "It seemed difficult if not unfair to have to stereotype the contents of a book into a single image or identity." Eventually, that all changed. He found he was designing the covers of his books before even writing them, "as a way to better understand what the book was all about."
A Life in Books evolved out of Lehrer's queue of book ideas that were lying around in notebooks and random pieces of paper. With his wife and performance partner Judith Sloan, he had the idea of together doing a faux catalogue of 101 best sellers. "Then I decided that as the basis of a novel, all the books would be written by the same author, who is in prison looking back on his life and career," Lehrer says. "Besides this vague notion and a few ideas about the trajectory of Bleu's story, the writing really began with book titles. Then designing the covers opened another door. Truth is, I barely looked at other book cover designs or studied tropes associated with different genres while working on these covers. I wanted Bleu, who designs the covers of all his books, to have his own way of doing things, almost naively. I'm not so much into emulation. Pastiche, nostalgia, appropriation can be deadening. If I was spot on with some of these covers, it must come from seeing so much stuff, it just seeps in."
When she saw the dummy for A Life in Books, Lehrer's mother complained that he was wasting all these covers in a single volume when he could make a lot more money designing real book covers for other people or coming out with his own books. His literary agent, Joe Regal, recently told Lehrer that it was ironic that he couldn't come up with the perfect with the cover for A Life In Books: "You have over a hundred amazing covers in this book, and you can't nail the actual cover."
This is by no means a portfolio; instead Lehrer has created a parallel art world. He set out to make a book that reveals a lot about the creative process, "that shows how artists channel experiences from their lives into their work in ways that are often not directly autobiographical, but oblique, transformative, metaphorical, and hopefully as reflective of the world around them as of themselves." Lehrer is also smitten by the idea of writing a book filled with stories that spring from other stories. "And like Scheherazade, Bleu tells stories as a means of survival," he adds.
Halfway into the book, after Bleu accidentally writes a bestseller and then his daughter is diagnosed with a life threatening disease, Bleu's motivation for writing books changes from something he does to make sense of the world to something he does for the money in order to save his daughter's life. He eventually has a factory of assistants helping him churn out eight to 10 books a year. As the decades go by, "Bleu sees that the book itself as a medium—the very thing that he's devoted his life to—is facing the possibility of extinction, or at least is transforming into something very different," Lehrer says. "He reluctantly adapts, and the last third of A Life grapples with the future of the book, information overload, diminishing attention spans, and alternative ways to bring literature to the people, and a modus operandi back into Bleu's life."
Bleu is cursed with tons of ideas. He is an obsessive and insomniac who can't help but work as many hours in a day as he possibly can. After he develops a degenerative disc disease in his back and tries all kinds of ways to work that would cause him less pain, he comes to terms with the fact that he is a full-time writer in a part-time body. That leads him to write Yes I Can't, hire his first assistant, and invent his first nom de plume, Dr. Sky Jacobs (described as a recovering workaholic and survivor of what he calls "The Never Say No Pandemic"). Yes I Can't is marketed to Type-A personalities in need of lowering their blood pressure, or underachievers looking for a warm and fuzzy road map to oblivion. "You could say I suffer from any number of the maladies just mentioned (except the underachiever one)," Lehrer says.
In addition to the humor in the book titles and covers, Lehrer devised real plots for these books. "This has been a blast for me, because I could get all these book ideas out of my system without having to write them in their entirety," he says. "The tricky part of writing the excerpts was giving them enough of an arc so that they each worked as discrete short stories while creating a sense that they were sliced out of a larger book. And no matter how funny or satirical the covers seem on their face, the excerpts, though often filled with funny, betray the satirical tradition, because Bleu's characters are complex and there are rarely clear good guys or bad guys. This causes him a fair amount of grief when his books start getting turned into movies and he witnesses his characters being one-dimensionalized for the sake of delivering unambiguous messages and action-packed entertainments."
Story continues below images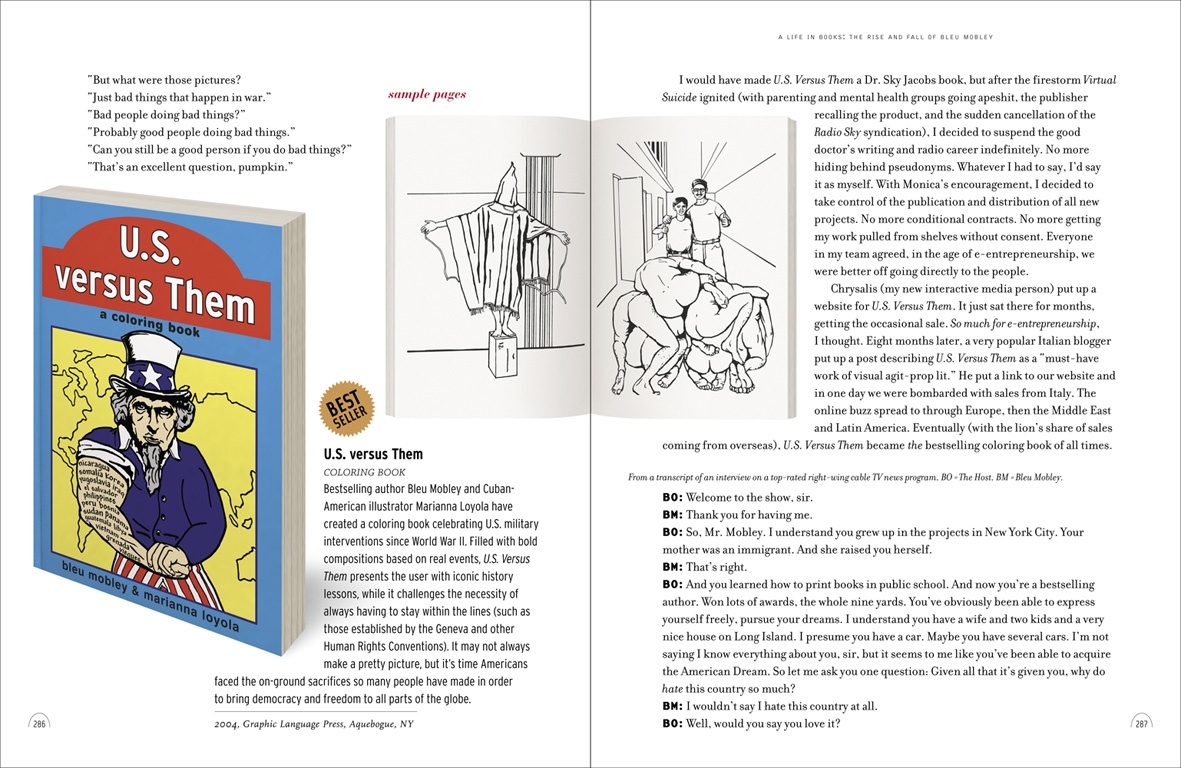 After A Life In Books is published, Lehrer is going to give readers an opportunity to complete a few of them online, as a kind of crowd-source project: "I wouldn't want anyone else to tell me what a character of mine would do or how to end my book, but it could be fun to give people a shot at some of Bleu's books."
Some of Mobley's ideas are worth considering as real spinoffs. Among the most viable is How Bad People Go Bye-Bye, a pull out, pop-up book on the history of capital punishment. It came to Bleu, says Lehrer, "at a time when he was going into big box bookstores, lying down in particular aisles till an idea for a book in that genre came to him. One day he fell asleep in the children's section, and when he got up he saw that the criminology section was right behind him. Somehow the two categories conflated in his mind mixed with the question his five-year-old daughter had asked the week before about the death penalty. Bleu's wife, Aconsha, thought How Bad People Go Bye-Bye was terribly inappropriate for children, and urged him not to publish it. Sure enough the cable news programs turned the book into a national controversy. It was banned in school libraries in all 50 states, and became Bleu's first No. 1 bestseller." Another hybrid-genre book that came to him in a similar way is the novel End Times, about a sex addict turned evangelical fanatic.
I asked Lehrer to name his five or more favorite Bleu Mobley titles: "If I have to pick … I like, Narcissistic Planet Disorder, an oversized book about a planet that thought it was the center of the universe. The Book of Lies, a true fiction narrated by an atheist and self-professed liar who swears he's telling the truth, and nothing but the truth—so help him god. There's a novel called Boxland that takes place in a land where the corporation has superceded all jurisdictions including town, county, state, nation and continent. The Phenomenology of Lint, about a doctoral student who compares laundry lint specimens with oral histories only to discover hidden truths and unexpected friendships."
Lehrer started "noodling" around with A Life in Books in the summer of 2004. He has done live readings, visual presentations and just finished editing the 1000 page manuscript down to 380-page book. Lehrer is currently working on an iPad/tablet version of A Life in Books that will include animations, video performances of excerpts, break-out galleries, and other interactive components. He has created a commercial for a series of fictional lamps called Illuminated Manuscripts that Bleu developed after he gave up writing. Some of his tablet-edition content will also be used in his reading/performance tour of A Life in Books, and in a traveling exhibition. Yet the book is still his highest goal. "I hope this book of mine will be one of those that folks will really want to hold, and bring to bed with them, and read in different ways, and give as a present," Lehrer says. "Now, people who want to make books will need to stop taking the form for granted. Andrei Codrescu just read my manuscript, and sent a jacket quote placing A Life In Books historically, in terms of transforming 'the last novel' into the first 'great illustrated novel.' I hope it's not the last of anything, and I know it's not the first, though I do appreciate his kind words."
We want to hear what you think about this article. Submit a letter to the editor or write to letters@theatlantic.com.
Steven Heller
is a contributing writer for
The Atlantic
, the co-chair of the MFA Design program at the School of Visual Arts, and the co-founder of its MFA Design Criticism program.