Why It's a Great Time to Be a Reader
The books business is surging with innovation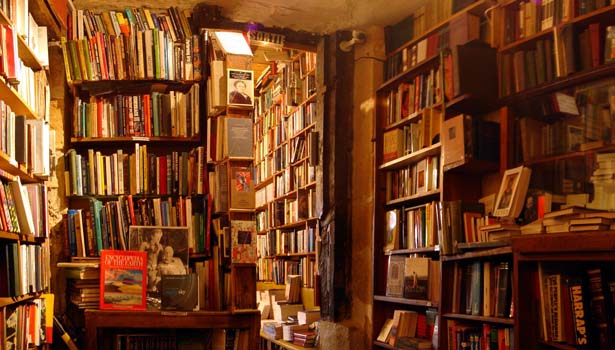 Gadl/Flickr
It is exactly four years since Amazon shipped the first Kindle readers, priced at $399. Skepticism about the prospects for the digital devices was widespread. Those doubts have long since been replaced by fierce competition for preeminence among Apple (iPads), Barnes & Noble (the Nook), and now the Kindle Fire. With a seven-inch color touch screen and a retail price of $199, the Kindle Fire is $50 less than B&N's comparable high-resolution color touch screen Nook, and $300 less than Apple's iPad 2. The Nook and the Kindle Fire have many, but by no means all the the features of the iPad--neither has a camera, Bluetooth, or GPS, and both have fewer apps--but if you are primarily a reader or viewer and want Wi-Fi access to books (along with movies, music, and some games), these readers provide what you need and are only going to add capacity as each device is unveiled.
The unquestioned winners in the competition are consumers, because the prices of books have been driven down and the selection material now available is enormous. Edward Baig, a personal tech columnist for USA Today concluded that both the Nook and Kindle Fire are appealing, "especially if what you have in mind for a tablet is reading (traditional strengths for Amazon and Barnes & Noble); listening to music, watching movies and TV shows (including Adobe Flash sites); playing casual games and checking e-mail." Amazon's vast resources of content, which now include the $79 a year Amazon Prime service that enables streaming of movies and television, plus a controversial e-book rental program, give it an edge. B&N still has hundreds of brick and mortar stores and seems to be preparing to bundle e-books with printed copies as an additional incentive.In many respects, today's book buying process is still a familiar one: the fundamental choice now is whether to read in print or on a hand-held device. Based on reviews, publicity, and prior experience with the author, reading groups, and that trusty perennial--word of mouth--you select a book and then a means of delivery. The greatest challenge confronts traditional booksellers as they devise the means to supply e-books to customers who could download from Apple, Amazon, or B&N in less than a minute.
At the National Book Awards ceremony last week, in accepting the Literarian Award for Outstanding Service to the American Literary Community, Mitchell Kaplan, proprietor of Miami's Books & Books and founder of the Miami Book Fair International, now in its 28th year, addressed the issue of bookstores' added value head on:
I stand shoulder to shoulder with booksellers everywhere, who are doing the same work in their communities... Writers are writing marvelous books. Readers want to read and find them... We need to reassert the place of the bookseller... Our challenge today is to figure out how to solve the complex distribution issues that have arisen in the world we live in.
The millions of digital readers already in circulation with many more to follow highlight, as Kaplan declared, the degree to which a consequence of the digital age has been to make the publishing industry itself more complicated. For generations, authors went to publishers and made a deal to be edited, produced, and marketed. Depending on the genre and stature, authors received advances, and the publishers' goal was to sell enough copies to earn back the investment. The other option was known as "vanity" publishing, in which the author paid for the privilege of seeing their work in print and a small number of companies provided the essential manufacturing.

Nowadays, the options for how to launch a book and the ways it will be distributed have expanded to the point that it is hard to keep up. Works of such venerable authors as William Styron and Leon Uris are reappearing in e-books for the first time. Books that were long out of print are being revived. Print-on-Demand (POD) machines like the Espresso are turning up in leading bookstores such as Denver's Tattered Cover, Manchester, Vermont's Northshire, and Washington's Politics and Prose, and can produce books one at a time or in small quantities. In-store POD is on the verge of a breakthrough that could prove critical to booksellers, who also can provide content to selected digital readers. There are also now about two dozen relatively large subsidy publishers that provide their authors a menu of services--the cost to authors for these services can run into thousands of dollars, but they assure that the book will be made available. This is no longer derided as "vanity publishing"; instead, at its best for authors and booksellers alike, it has the benefits of entrepreneurship. One of the larger of these enterprises, Author Solutions, has a number of imprints, including AuthorHouse, iUniverse, and Xlibris, and according to its website, has released nearly 140,000 titles. In the New York Review of Books, there are as many as eight pages of ads in color for Author Solutions featuring these books in a variety of formats: paperback, hardcover, and e-books.

It is hard to imagine that any publisher would not pursue digital initiatives, given the speed with which they are being adopted, but like the booksellers, they also confront distribution and production challenges that are formidable. If the past is a useful guide, there will be continued dynamic change, with winners among them--the iPad, Nook, Kindles, Canadian-based Kobo, POD machines, and such innovators as Mitchell Kaplan--and losers, the most spectacular case being the collapse of Borders in 2011, which sharply reduced the retail shelf space and thus further increased the appeal of e-books. What we can say with certainty is that the transformation of publishing currently under way has demonstrated the viability of books in the digital age. And that is definitely good news.