Why Eternal Bachelor George Clooney Makes for a Great Family Man
Films like the soon-to-be-released 'The Descendants' put his movie-star charm to the ultimate, frustrating test: domestic life
Films like the soon-to-be-released The Descendants and 2009's animated The Fantastic Mr. Fox put his movie-star charm to the ultimate, frustrating test: domestic life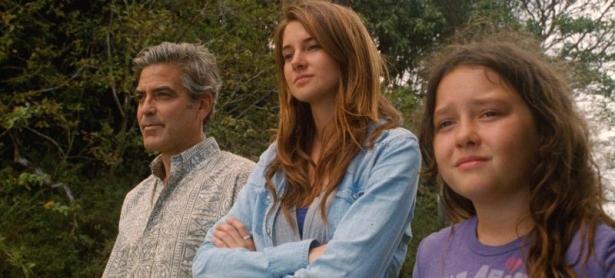 Fox Searchlight
The world's most famous bachelor has transformed himself into a family man. Since its world premiere in Telluride, Colorado in September, Alexander Payne's The Descendants, which is out in New York and L.A. on Wednesday, has vaulted to the forefront of the Oscar race—and inspired some to ask the film's star, inveterate bachelor George Clooney (a probable Best Actor nominee), just how he managed to play a Hawaiian patriarch so convincingly.
The character, Matt King, is a beleaguered husband and father—a self-described "backup parent" whose wife is in a coma following a motorboat accident. Clooney struggles to keep up his composure as he delivers bad tidings to family friends, a pained look in his eyes and a furrow in his brow. Matters get still more complicated when he learns his wife had recently been cheating on him with a cheeseball local realtor. Playing the put-upon man of good breeding, Clooney turns in deeply affecting work.
Of course, the star is publicly known for being the handsomest, suavest man in the room, even when that room is the Kodak Theatre on Oscars night. Lately, he has perhaps been a more reliable presence in the tabloids than at the upper reaches of the box-office charts. Speculation abounds about what new girlfriend he'll be whisking away to his home in Lake Como each year, and if the actor, who was married from 1989 to 1993, will ever settle down again. So it's not surprising that, promoting The Descendants at the Toronto International Film Festival in September, a reporter asked him about the strangeness of deciding to play the role of a family man.
"He didn't seem like a very good family man," Clooney said of the character King, before pausing for a beat. "It seemed perfect for me." Cue audience laughter.
Movie stars of Clooney's stature are generally expected to bring something of themselves to each role, and Clooney in particular has been accused of "playing himself." And indeed it's hard to avoid the sense that, over the years, Clooney's been publicly toying with his swinging single-man image. Many of his late-'90s/early-'00s films with Steven Soderbergh (Out of Sight, the Ocean's films) and the Coen brothers (O Brother, Where Art Thou?, Intolerable Cruelty) might be seen as explorations, and even lampoons, of the type of matinee-idol charisma he exudes so effortlessly. And it certainly could not have been lost on Clooney that some viewers would look at Up in the Air (2009) and see the star at a personal dead end.
But perhaps more intriguing are the roles where Clooney gets fatherly, as he does in The Descendants. In many ways Clooney actually makes a perfect husband or dad in crisis, a frustrated presence in the center of family situations that his considerable magnetism cannot hold together. Domestic life is such a complicated and consuming balancing act that even movie-star charm inevitably begins to lose its luster among kids and spouses.
Though Michael Clayton (2007) is primarily a legal thriller, it also sketches out a broken family life that contrasts with his sterling professional reputation as a "fixer." The restaurant-bar he opened in partnership with his addict brother has just failed, and he has difficulty connecting with his son, who lives with Clayton's ex-wife and her current husband. His onetime gambling addiction was presumably a factor in the divorce.
In the stop-motion-animated film The Fantastic Mr. Fox, an adaptation of the Roald Dahl novel directed by Wes Anderson, Clooney lent his voice to the title paterfamilias, a smooth talker who gets his family and an entire community of animals into hot water. Fox also has a troubled relationship with his only son. In this fall's The Ides of March, which Clooney also co-wrote and directed, the actor plays a presidential candidate refreshing for his candidness: He confesses on Charlie Rose that he wouldn't hesitate to kill someone who murdered his wife, but that a society has to be better than the individuals who compose it. The film's twist, however, hinges on a thought-to-be-impossible lapse in this professed loyalty to his spouse. The center can hold for only so long: Michael Clayton's, Fox's, and Governor Mike Morris's family problems have been caused in large part by compulsions so dark and deep-seated that they can't be talked around.
In The Descendants, Clooney seems absolutely perfect for the role of a man we primarily see as a father (not a lawyer or a stealer of chickens or a campaign-trail star), since he's able to make these frustrations and disappointments of family life felt even more keenly. The very same actor whose knowing smile has unlocked the world in past films now can't win even an iota of his daughters' affection by cheerfully offering them a plate of scrambled eggs.