When Does a Writer Become a Writer?
Before they became celebrated authors, most literary figures had day jobs. When did they start thinking of themselves as "writers"?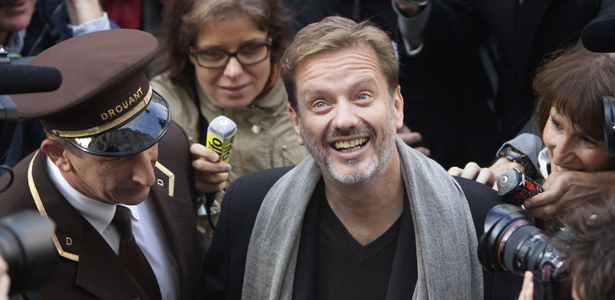 AP Images
A 48-year-old high-school biology teacher from France, Alexis Jenni, won the country's top literary prize this year, the Prix Goncourt.  When he received the honor earlier this month, Jenni told reporters, "I didn't even think that I would be published, so I could hardly dream of the Goncourt. I was a little resigned to anonymity."
Jenni's winnings are, officially, a symbolic check for 10 Euros, and, unofficially, a boost in sales for his 600-page novel, L'art français de la guerre (The French Art of War). In the recent past, Goncourt winners have gone on to sell around 400,000 copies of their books. But Jenni, a father of three, said he has no plans to give up his day job as a science teacher at Le Lycée Saint Marc in Lyon. He intends to remain, as he has been, "a Sunday writer."
The astounding honor that plucked Jenni from his humble weekend scribbling to rank him among the French literary elite—past Goncourt winners include Marcel Proust, Marguerite Duras,  Simone de Beauvoir, and Georges Duhamel—is the rare acknowledgement of a former "nobody" as a "somebody." Since completing his education in his twenties, Jenni had been writing this and that. He sent a manuscript off to some editors, and they all rejected it. Another he did not send at all. L'art français de la guerre was mailed only to one publisher, Gallimard, which decided to give it a go. Upon Jenni's receipt of the prize, Le Lycée Saint Marc posted félicitons on their website under the banner: "Un Prix Goncourt au Lycée Saint-Marc." It was, perhaps, their win as much as his own.
It's the stuff of dreams: proof that those evenings spent hunched over a desk, typing furiously might, just might, not be in vain; that Paul Giamatti's character from Sideways does not represent an undiscovered middle-aged writer's inevitable fate. Or, as Jenni put it, "It's not because you don't do concerts that you can't play the piano."
In the Alexis Jenni school of thought, a writer may be someone, anyone, with a compulsion to scrawl or the conviction of having something to say. A writer is not defined by his career, but the simple act of writing regularly. And authors who found success through the muck of making ends meet have taken that approach for some time now, in practice at least.
Franz Kafka was a legal secretary at the Workmen's Accident Insurance Institute for the Kingdom of Bohemia in Prague (later: In the Czech Lands), where he wrote reports like "Accident Prevention in Quarries," and rose to a top office position, Obersekretär. Though his bureaucratic labors bore literary fruit—providing context and imagery for his fiction writing—Kafka came to feel bogged down by the daily grind. "Writing and office cannot be reconciled, since writing has its center of gravity in depth, whereas the office is on the surface of life," he wrote to his fiancée in 1913. "So it goes up and down, and one is bound to be torn asunder in the process."
T.S. Eliot, on the other hand, was inclined to keep his day job even after it was financially necessary. When the Bloomsbury group offered to set up a fund that would allow him sufficient funding to become a full-time writer, the poet turned them down. "This idea that Eliot should be freed from the drudgery of work misses the point that he was actually very interested in the minutiae of everyday life—he was a commentator on the quotidian," British Library curator Rachel Foss told The Guardian.
And then there were the young writers with unrealized ambition and bills to pay. Anton Chekov was a physician. Laura Ingalls Wilder taught a class of five students in a one-room schoolhouse, and later became secretary-treasurer of the Mansfield Farm Loan Association in Missouri. John Steinbeck spent the summer of 1928 giving tours of a fish hatchery in Lake Tahoe, where he met his future wife. After losing that job in the fall, Steinbeck followed her to San Francisco, where he became a warehouseman at the Bemis Bag Company factory. Margarite Duras wrote technical reports as an assistant in the French Colonial Office, and then worked on publicity for French bananas and tea. Anne Sexton was a fashion model. At an evening writing seminar taught by Robert Lowell, she met Sylvia Plath, who was working by day as a receptionist in the psychiatric unit of Massachusetts General Hospital. Harper Lee shelved books and rang up sales in a shop, and then got a gig as an airline ticket clerk—first for Eastern Airlines, then for the British Overseas Air Corporation. Unable to afford a real desk, she wrote on a door that she lay across two sawhorses.
These future literary stars paid their dues during a period Astri von Arbin Ahlander calls " The Days of Yore." A little over a year ago, she was walking down the street in Williamsburg, Brooklyn with her writer-actor friend Lucas Kavner, when he complained, "Isn't it so frustrating that when you read interviews with artists and writers and so on, that they never go into the part that we're in right now. That in-between space...when you're trying to find your way."  Soon after, the two started a website intended to fill that gap: a reservoir of advice and reflections straight from the mouths of authors and performers who broke into the business not too long ago. "The central tenet that comes out is this idea of perseverance," Von Arbin Ahlander said, "That's why we read stories, right? To see examples of how things can be done and how lives can be lived."
Von Arbin Ahlander describes herself as an "aspiring writer." She hesitates to leave off the qualifier at this stage in her career, after earning an MFA and writing just a couple of published pieces. She earns her living as a translator in Sweden, where she is from, and has been quietly drafting an essay collection that she keeps tucked away in her drawers. Her father is Dag Sebastian Ahlander, former Swedish Consul General to New York and, in Alexis Jenni fashion, the author of popular children's books (in Sweden, thus far never translated into English). Sebastian Ahlander began writing young adult fiction well into his career as a diplomat, while he was in his fifties.
The second movement of his professional life informed his daughter's ideas about writing. "I had always seen it as a career, whatever that means," she said. But then, she noted, "When I actually use that word, 'career,' around some of the writers I interview, they tend to bristle. Because they don't see it that way ... They tend to see it more as a state of being."
The authors featured on The Days of Yore rarely regret the past trials of ill-fated gigs, yet few have continued to work in non-writing jobs, except in the case of teaching positions. William Finnegan was a railroad brakeman on the California coast route between San Francisco and L.A. (this third novel took place on a railroad); Tom McCarthy worked with a Nietzsche-obsessed chef; John D'Agata worked in a goofy condom shop (before he ever had sex); Julia Alvarez wrote dry reports for the aptly named "Special Reports, Inc."; George Saunders did just about everything. He was a geophysicist in Sumatra, a doorman in Beverly Hills, worked in a slaughterhouse, as a doorman, in a convenience store, a dance club, and so on.
Gary Shteyngart, who worked at a non-profit writing directions for Russian immigrants—"like how to not get drunk, how to avoid AIDS, stuff like that," as he explains in his interview—didn't consider himself a writer until his book was published. If he had to do something besides writing, it couldn't be a profession: "You need that job where you can close the door behind you."
Says Von Arbin Ahlander, "We're kidding ourselves if we think we can make a living on writing." As for the romantic ideal of the leisurely writer life, slowly crafting one's masterpiece in the calm solitude of a big, empty house: "I mean, that's over," she added, "Unless you're a trust fund baby."
Though it's rare to make a living on writing, it's becoming increasingly easy to call yourself one. Without any money at all, anyone can publish digitally with the click of a button or, for a price, self-publish a print manuscript. The ecology of authorship has changed dramatically since, say March 1845, when Charlotte Brontë was working as a governess, miserable, and wrote in a letter, "I shall soon be 30 and I have done nothing yet." That was two years before Jane Eyre was published. Brontë was 31—she had Jenni beat by 17 years (or 164, depending on your count).  And in spite of the anxious determination of those who work to write, or the casual persistence of the Sunday writers, there is something "very liberating" in having yet to be discovered, Von Arbin Ahlander remarked. "Okay, you haven't gotten recognition. But at the same time, you don't have expectations."