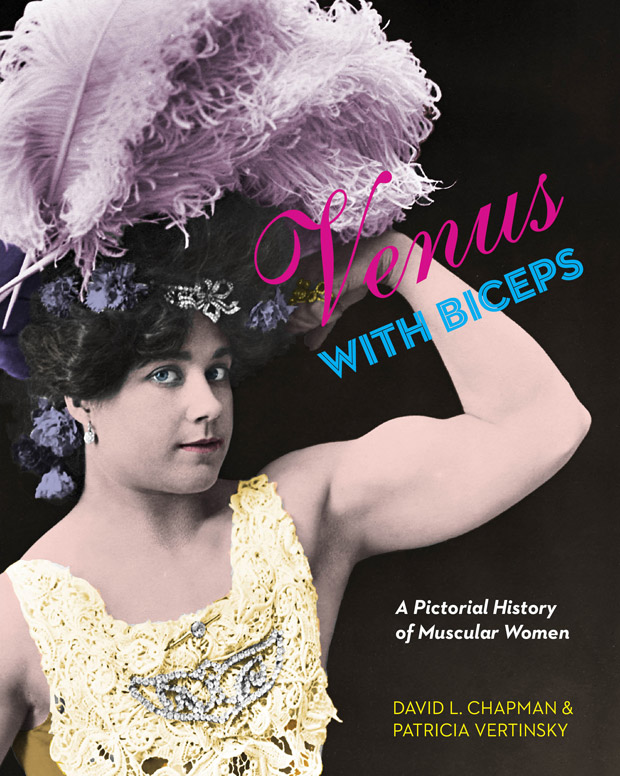 Having competed in amateur (a.k.a. drug-free) bodybuilding in my college years and to this day remaining the dedicated maintainer of a six-pack, I'm tremendously fascinated by the intersection of femininity and muscularity. So I was thrilled to come across Venus with Biceps: A Pictorial History of Muscular Women -- a fascinating collection of rare archival images by David L. Chapman and Patricia Vertinsky 30 years in the making, chronicling nearly 200 years of sociocultural narrative on the strong female physique. These women expanded and redefined femininity itself, reining in a new era of relating to the will and the body, but their plight was and remains far from easy, carried out most prominently in the battlefield of popular imagery.
This treasure trove explores strongwomen's legacy through rare posters, advertisements, comic books, flyers, and magazines, many never-before-published, for a total of 200 fantastic full-color and black-and-white illustrations and photographs, framed in their intriguing and far from frictionless cultural context.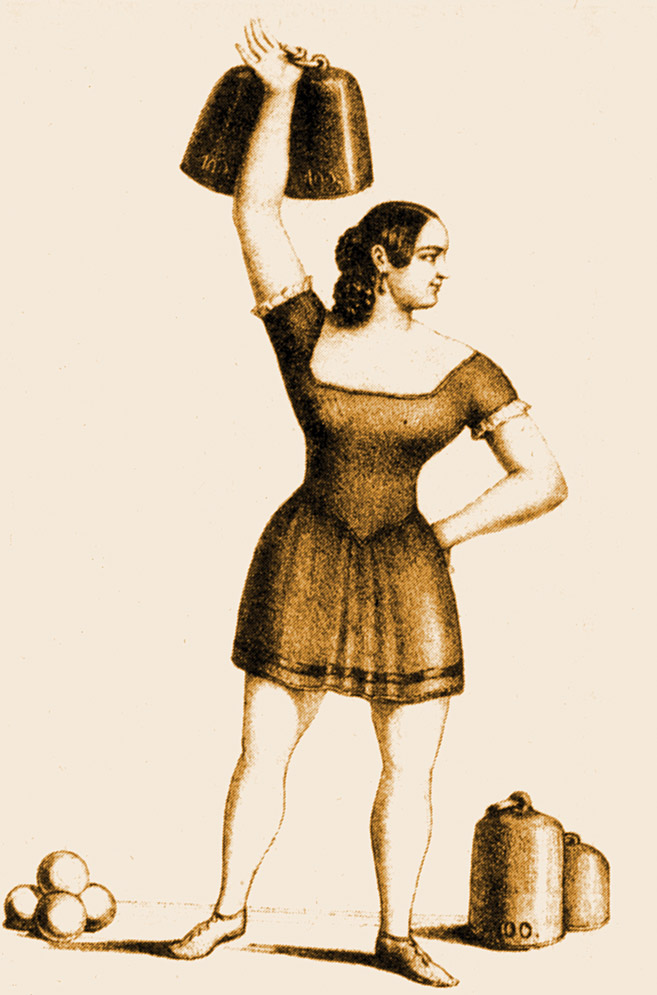 Among the earliest strongwomen whose names have come down to us is the subject of this lithograph: Elise Serafin Luftmann. Apparently from a German-speaking region of Bohemia, she performed all over central Europe. Luftmann was famous for her ability to lift heavy weights and to juggle cannonballs. This illustration dates c. 1830.
There is something profoundly upsetting about a proud, confident, unrepentantly muscular woman. She risks being seen by her viewers as dangerous, alluring, odd, beautiful or, at worst, a sort of rare show. She is, in fact, a smorgasbord of mixed messages. This inability to come to grips with a strong, heavily muscled woman accounts for much of the confusion and downright hostility that often greets her. --David L. Chapman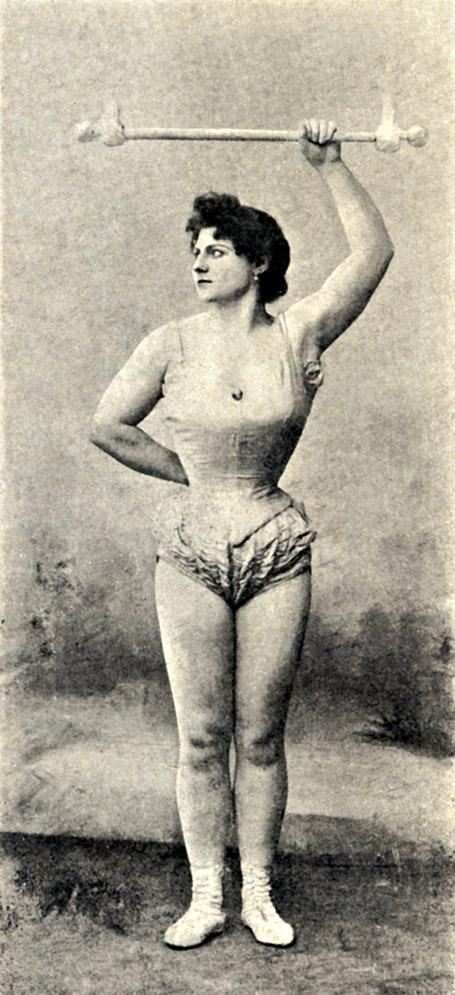 A way to diffuse male worries about women being too strong and threatening was to portray them in photos that emphasized their grace and beauty rather than their mass and musculature. Trapeze artists like this one had highly developed arms and upper bodies; it is significant that the photographer chose not to emphasize those parts of the subject's anatomy. Although her name and date are unknown, this gymnast is almost certainly a circus or music hall performer from the 1890s.
The ambivalence about women and muscularity has a long history, as it pushes at the limits of gender identity. Images of muscular women are disconcerting, even threatening. They disrupt the equation of men with strength and women with weakness that underpins gender roles and power relations. --Patricia Vertinsky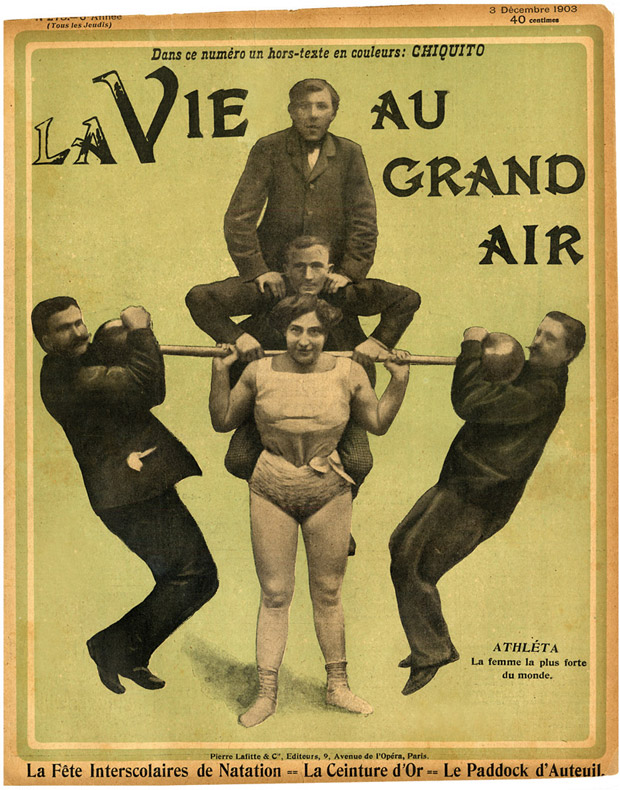 The Belgian strongwoman had figured out that the one of the ways that she could amaze audiences was to lift a man on her shoulders. Eventually she was able to support half a dozen burly males as well as an oversized barbell.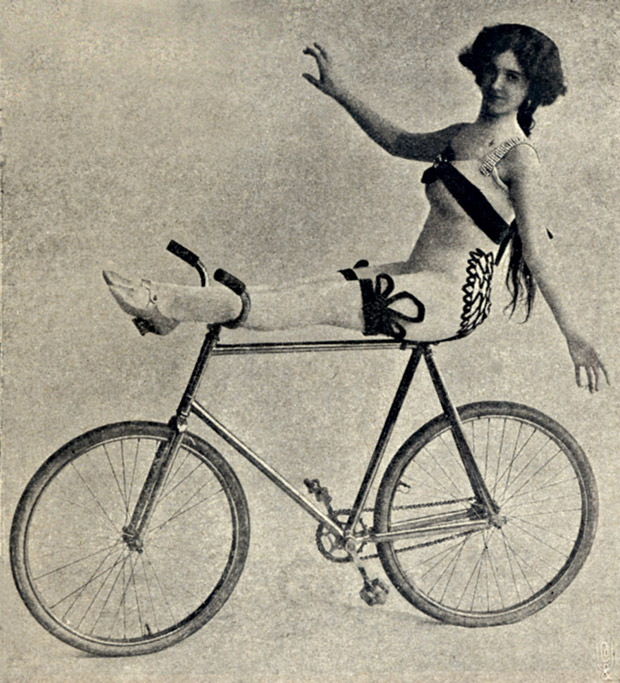 In the early 20th century, nothing conveyed the modern spirit of mobility, freedom, and independence better than the bicycle. When a pretty athletic girl was included, she added sexual desirability to the mix -- a sleek human machine joined to the manufactured machine. To many observers, this novel combination was exciting and perhaps a little frightening.
Created between 1800 and 1980, the images trace society's conflicted relationship with muscular women, met with everything from fascination to erotic objectification to derision, and even moral admonition. (A 1878 article for The American Christian Review, for instance, outlined a nine-step path to sin and humiliation, down which women participating in sports were headed -- a simple croquet game could lead to picnics, which led to dances, which led to absence from church, which engendered moral degeneration ... poverty ... disconnect ... disgrace ... and, finally, ruin.) Coupled with this is the permeating fear that a sculpted musculature would effectively "unsex a woman."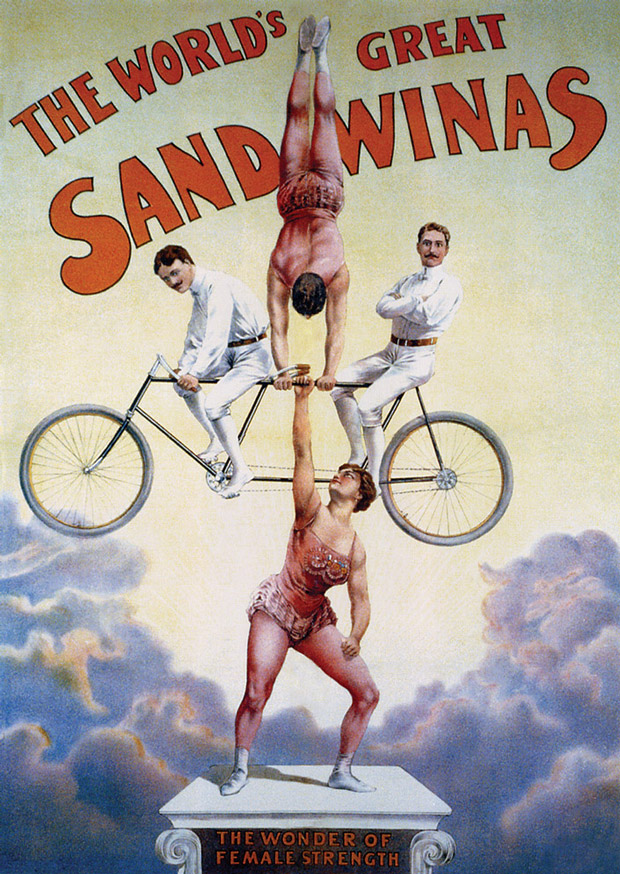 The strongest and most famous strongwoman of the Golden Age of the early 20th century was Sandwina. Her birth name was Katie Brumbach. She stood over six feet tall and had enough bulk and muscle to amaze audiences with her prowess. Sandwina came from an athletic family, and in this poster c. 1900 she lifts three people (probably siblings) on a bicycle.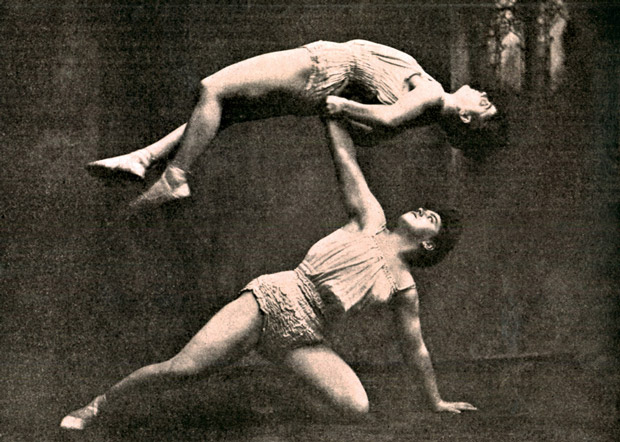 The Braselly Sisters were a pair of strongwomen who specialized in graceful and artistic strength stunts. They were also sisters of the even more famous female athlete, Sandwina. Here the two ladies do an adagio (acrobatic balancing) act. The photo found its way into The Police Gazette in 1909 where it was titled 'Muscles and Music.' The editors asked rhetorically, 'But don't you think the lady athletes are a stunning pair of statuesque beauties?'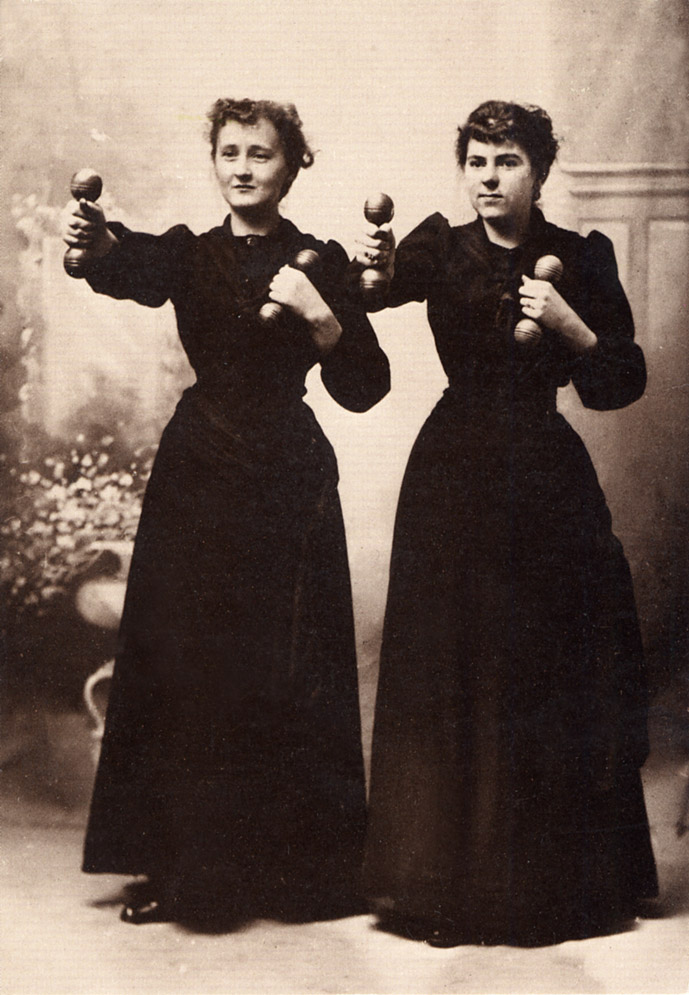 When women first began to work out with weights, it was considered dangerous to have them lift anything heavy and so they were given only two- or four-pound wooden dumbbells. The fact that women lifted much heavier objects in the home seems to have escaped most of the men who designed the exercise. here two cheerful ladies work out in their street clothes in a photograph c. 1910 by Willis T. White.
Curiously, the period between 1900 and 1914 was a golden age for images of muscular women, but these images become mysteriously difficult to find in popular media, until about the 1970s. Chapman speculates the advent of cinema and other popular entertainment displaced fairs, circuses, and vaudevilles, a prime venue for strongwomen, causing these foremothers to gradually disappear.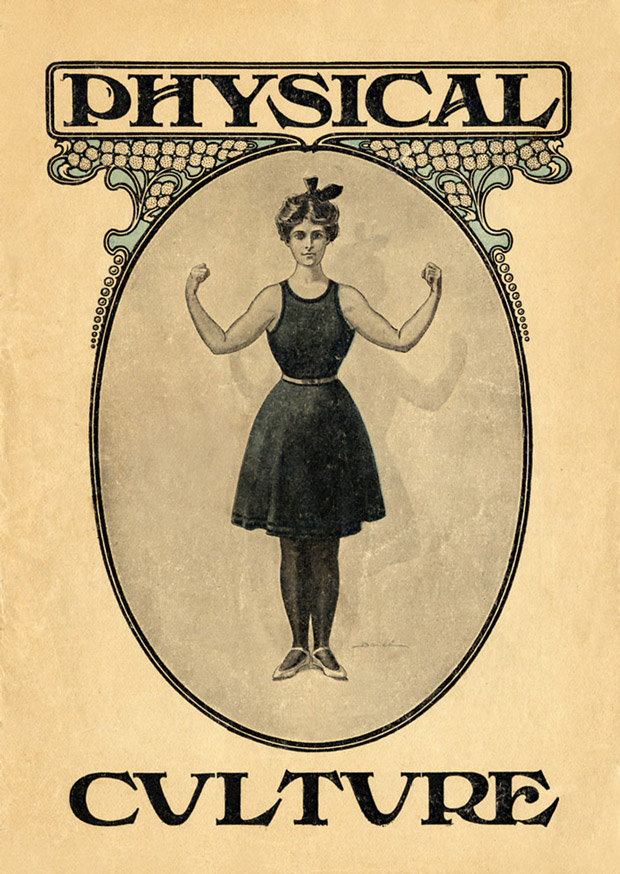 Lydia Pinkham marketed a vegetable compound that was supposed to alleviate menstrual and menopausal pains. The company was successful because the remedy was sold by a woman to women at a a time when females were considered childish and emotional to have much medical knowledge. Pinkham's company produced this booklet (with the same title as Bernarr Mcfadden's well-known magazine), c. 1900. It featured a female athlete flexing her muscles, and was emblematic of the positive and respectful attitude toward their customers.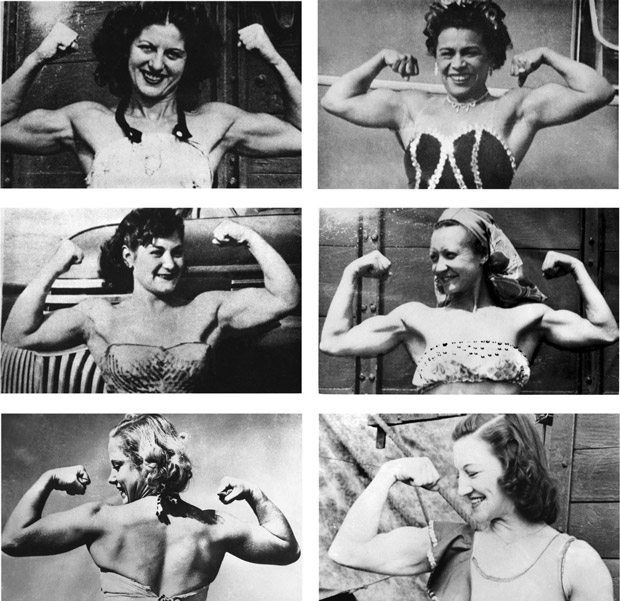 In the 1940s and '50s, there were few places where muscular women congregated; one of the most important was in the circus. Aerialists, trapeze artists, and acrobats all developed impressive musculature by practicing their arts. There was a cadre of men who pursued these women and captured their flexing biceps on film. The pictures do not show much creativity or talent, but they document female muscularity at a time when such images were very rare. There is a rustic charm to these photographs, taken in off-hours in fort of circus wagons or company busses. Unfortunately, few paying customers wanted to see girls posing like this.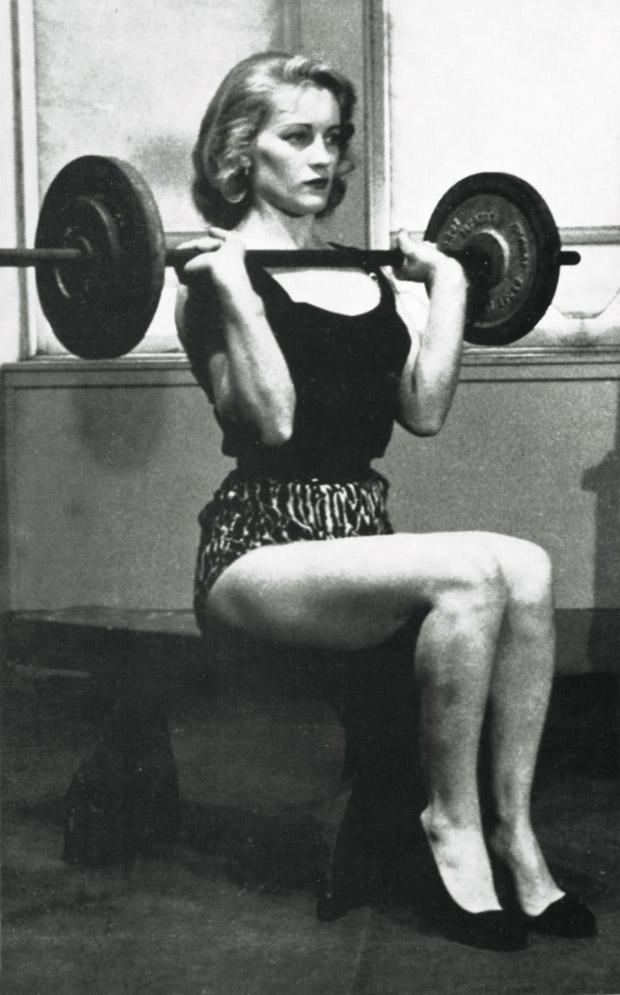 From the mid-1950s to the early 1970s, women had to appear as ladylike as possible, even when doing something as traditionally masculine as working out with weights. This girl is doing a seated press with respectably heavy weight, but her high heels and helmet-like hairdo are like fig leaves preserving her femininity.
Chapman's inspiration for the book came from the confluence of two influences -- his 1988 encounter with Muscle Beach icon Abbye "Pudgy" Stockton (1917-2006) and a 2000 New Museum exhibition titled Picturing The Modern Amazon. When Chapman was eventually invited to the museum to give a lecture on the iconography of strong women in historic images, he got a chance to meet some remarkable female athletes, which gave him new insight into these physique-builders' psyches:
They aren't building their bodies for us, anyway. The question is not whether they are sexually appealing for others but whether they excel at what they do for themselves. In the end, it is an issue of self-fulfillment. It was a simple explanation, but it made me wonder about the women who had tried to build their bodies in previous generations. Did they worry about gender-identity issues a hundred or more years ago?
Ultimately, Chapman reminds us misconception, stereotype, and judgement of strongwomen are far from eradicated:
Many of the same battles that were being fought over a century ago are still being waged today ... after all, labels are so much easier to deal with than realities.
The woman on the cover, by the way, is the legendary aerialist Laverie Vallee, better-known by her stage name of Charmion. She is the subject of this rare Thomas Edison film from 1901, featuring her famous trapeze strip-tease: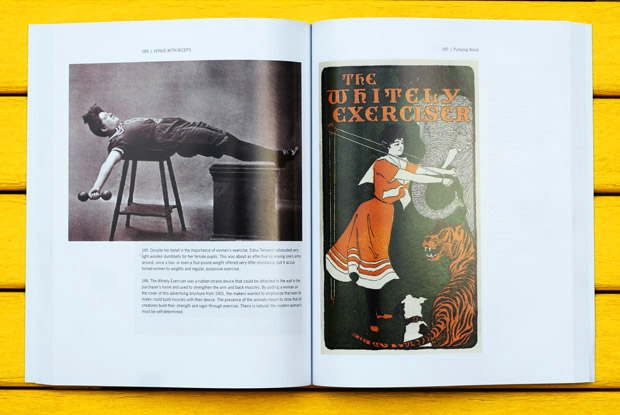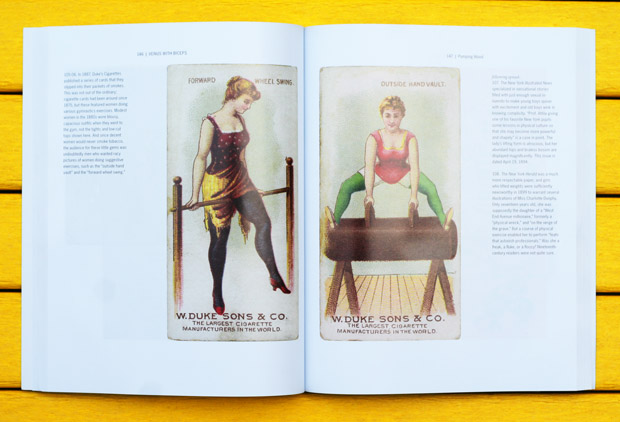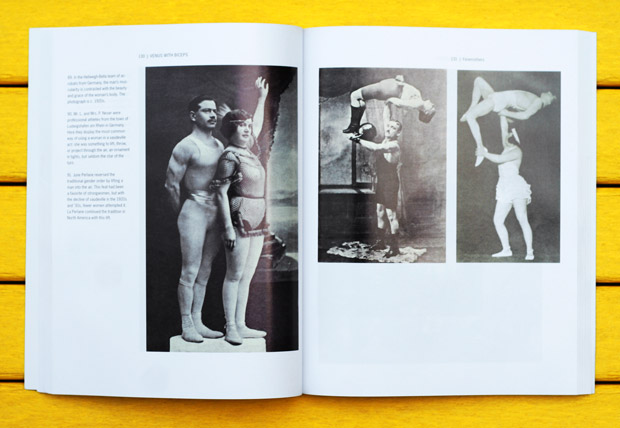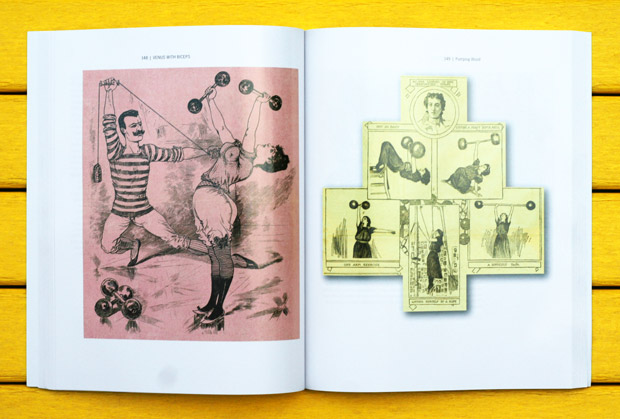 ="">
Visually stunning, rigorously researched, and thoughtfully written, Venus with Biceps is as much a treasure chest of rare vintage ephemera as it is a fascinating and important meditation on a contentious facet of gender identity and cultural politics.
Images and caption text: Arsenal Pulp Press © 2011.
This post also appears on Brain Pickings, an Atlantic partner site.
We want to hear what you think about this article. Submit a letter to the editor or write to letters@theatlantic.com.