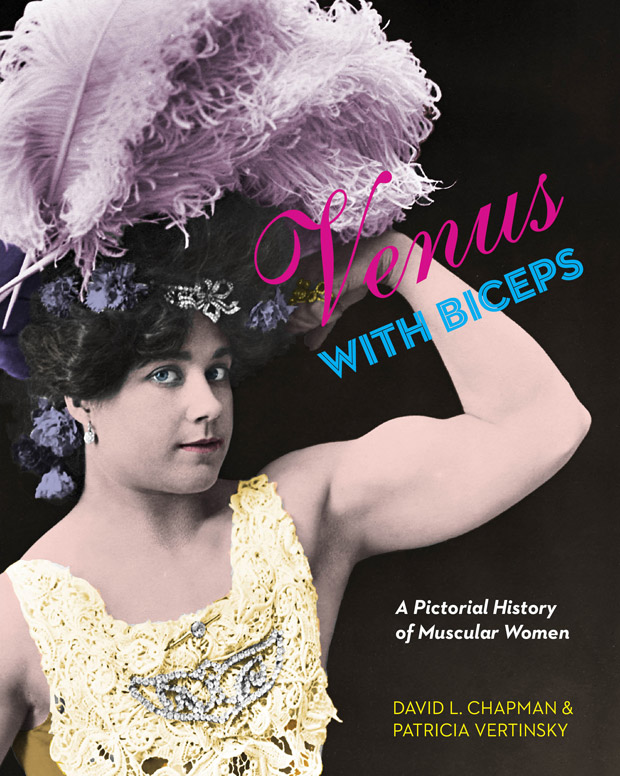 Having competed in amateur (a.k.a. drug-free) bodybuilding in my college years and to this day remaining the dedicated maintainer of a six-pack, I'm tremendously fascinated by the intersection of femininity and muscularity. So I was thrilled to come across Venus with Biceps: A Pictorial History of Muscular Women -- a fascinating collection of rare archival images by David L. Chapman and Patricia Vertinsky 30 years in the making, chronicling nearly 200 years of sociocultural narrative on the strong female physique. These women expanded and redefined femininity itself, reining in a new era of relating to the will and the body, but their plight was and remains far from easy, carried out most prominently in the battlefield of popular imagery.
This treasure trove explores strongwomen's legacy through rare posters, advertisements, comic books, flyers, and magazines, many never-before-published, for a total of 200 fantastic full-color and black-and-white illustrations and photographs, framed in their intriguing and far from frictionless cultural context.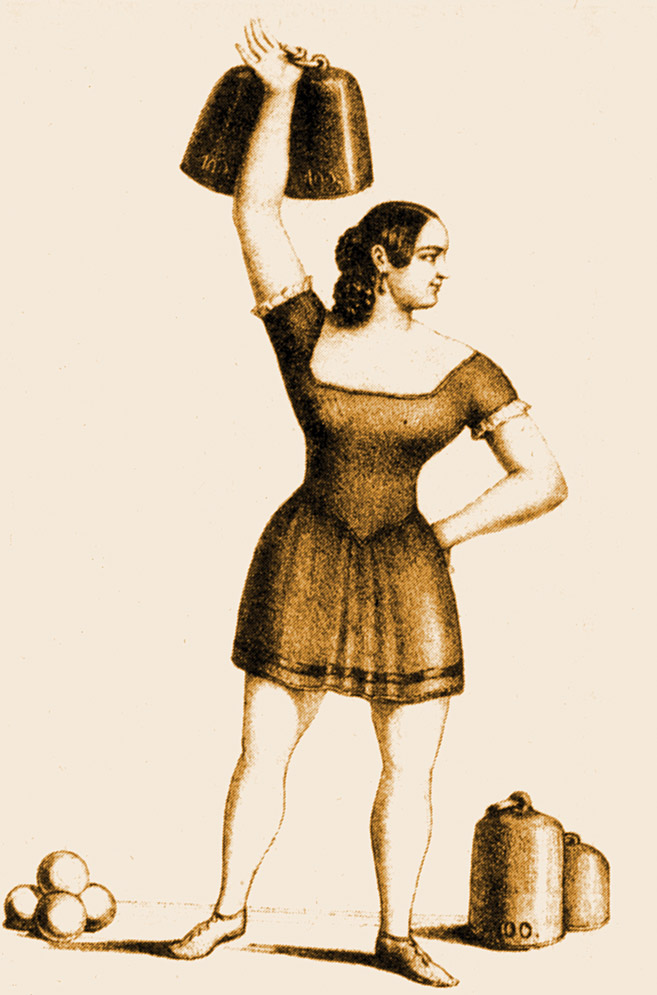 Among the earliest strongwomen whose names have come down to us is the subject of this lithograph: Elise Serafin Luftmann. Apparently from a German-speaking region of Bohemia, she performed all over central Europe. Luftmann was famous for her ability to lift heavy weights and to juggle cannonballs. This illustration dates c. 1830.
There is something profoundly upsetting about a proud, confident, unrepentantly muscular woman. She risks being seen by her viewers as dangerous, alluring, odd, beautiful or, at worst, a sort of rare show. She is, in fact, a smorgasbord of mixed messages. This inability to come to grips with a strong, heavily muscled woman accounts for much of the confusion and downright hostility that often greets her. --David L. Chapman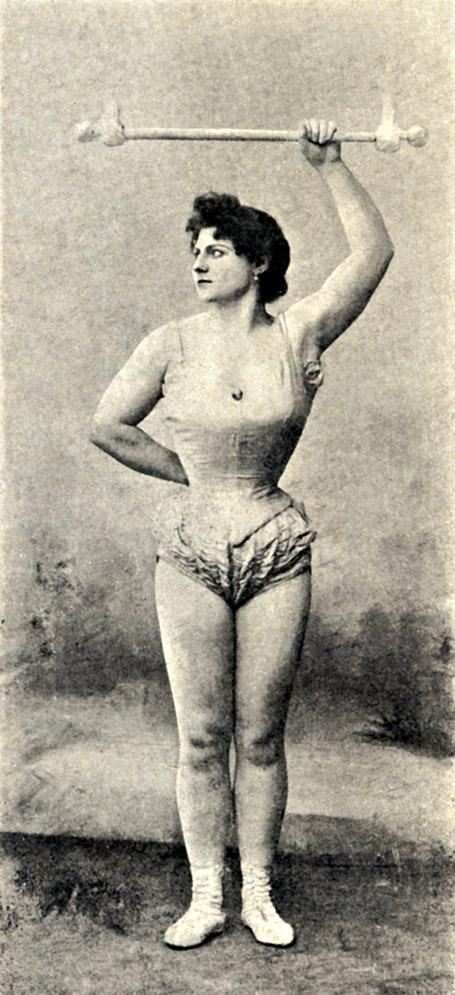 A way to diffuse male worries about women being too strong and threatening was to portray them in photos that emphasized their grace and beauty rather than their mass and musculature. Trapeze artists like this one had highly developed arms and upper bodies; it is significant that the photographer chose not to emphasize those parts of the subject's anatomy. Although her name and date are unknown, this gymnast is almost certainly a circus or music hall performer from the 1890s.
The ambivalence about women and muscularity has a long history, as it pushes at the limits of gender identity. Images of muscular women are disconcerting, even threatening. They disrupt the equation of men with strength and women with weakness that underpins gender roles and power relations. --Patricia Vertinsky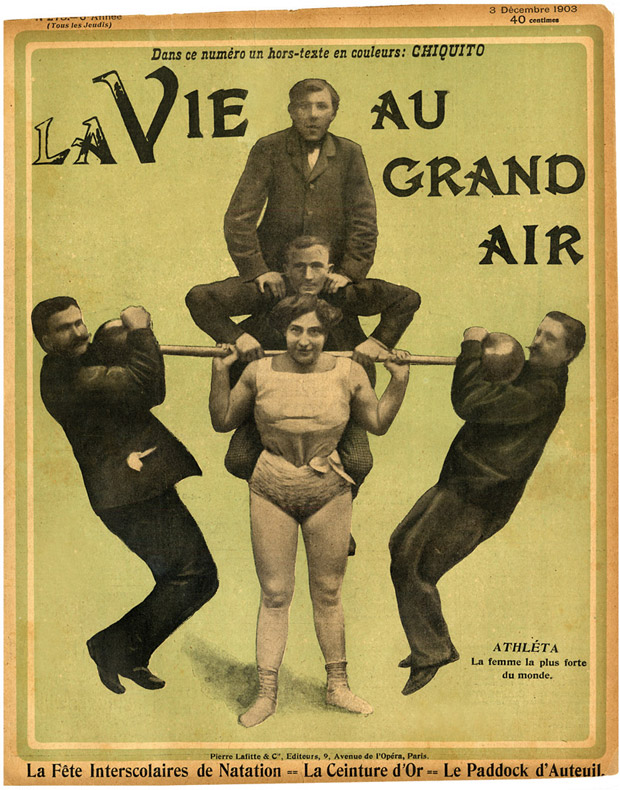 The Belgian strongwoman had figured out that the one of the ways that she could amaze audiences was to lift a man on her shoulders. Eventually she was able to support half a dozen burly males as well as an oversized barbell.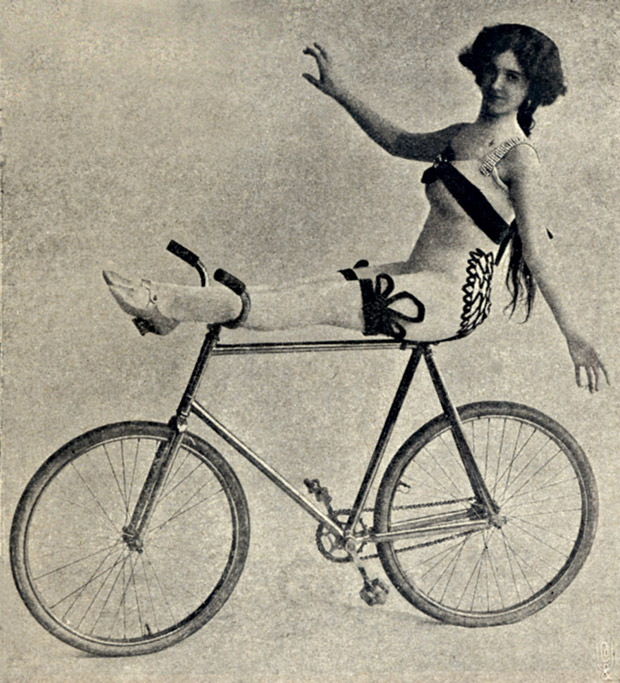 In the early 20th century, nothing conveyed the modern spirit of mobility, freedom, and independence better than the bicycle. When a pretty athletic girl was included, she added sexual desirability to the mix -- a sleek human machine joined to the manufactured machine. To many observers, this novel combination was exciting and perhaps a little frightening.
Created between 1800 and 1980, the images trace society's conflicted relationship with muscular women, met with everything from fascination to erotic objectification to derision, and even moral admonition. (A 1878 article for The American Christian Review, for instance, outlined a nine-step path to sin and humiliation, down which women participating in sports were headed -- a simple croquet game could lead to picnics, which led to dances, which led to absence from church, which engendered moral degeneration ... poverty ... disconnect ... disgrace ... and, finally, ruin.) Coupled with this is the permeating fear that a sculpted musculature would effectively "unsex a woman."