'Tower Heist': A Real-Enough Recession Tale Beneath the High-Budget Gloss
Ben Stiller and Eddie Murphy star in this surprisingly effective blue-collar revenge flick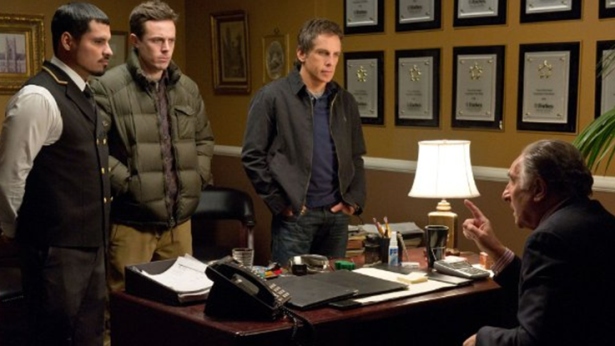 Universal Studios
Tower Heist begins with a close-up of what appears to be a hundred-dollar bill. But it's not a bill: The camera pulls back to reveal that Ben Franklin's visage occupies the middle of a giant swimming pool perched atop a New York skyscraper. It's a fitting opening salvo for a film that's been pitted as Hollywood's grand show of support for the 99 percenters.
The pool belongs to Wall Street billionaire Arthur Shaw (Alan Alda), a Madoff-like figure who gets arrested for a Madoff-like fraud that evaporates his employees' pensions. Those employees include Josh Kovacs (Ben Stiller), director of operations at Shaw's New York City high rise, a thinly disguised version of the iconic Trump International Hotel & Tower. Soon, a revenge plot is hatched, with Kovacs' con neighbor Slide (Eddie Murphy) enlisted to turn him, his brother-in-law (Casey Affleck), a former resident (Matthew Broderick), and a fired employee (Michael Peña) into a capable criminal team.
This is, of course, Hollywood schlock, directed by shlock-master Brett Ratner (Rush Hour). But it's also a surprisingly effective social drama. Ratner keeps the action rooted to the here-and-now, offering a recession-times revenge fantasy where the motivations never feel fantastical, even if the heist itself does.
From the start, the movie lays the groundwork for a cathartic payoff. Rather than hurrying into a barrage of plot developments, Ratner spends spends considerable time showing the regular-guy protagonists on the job. Coming from diverse backgrounds that reflect the melting pot realities of modern New York, they're seen earning their paychecks by holding doors for the residents, cleaning their apartments, and making sure that precise individual needs are met. One of the characters studies for the bar exam during her downtime. They ride the subway back to comfortable, modest, outer-borough apartments. In short, these aren't archetypes exaggerated for comic effect but rather hard workers earning their ephemeral shot at a small part of the American Dream.
The protagonists aren't embellished here; the villains and secondary characters, though, are. There's the smarmy Shaw, owner of one of Steve McQueen's hot-red Ferraris, whose sympathetic façade turns into haughty indifference when his duplicity is shown to have robbed the employees of their pensions. Scam artist Slide, meanwhile, is played by Eddie Murphy in all his '80s-style, fast-talking glory.
The reasoning behind the titual caper is sensible enough: These people want their pensions back. And so, in contrast to a lot of big-screen heists, there's an aura of disbelief surrounding the planning and execution of the robbery, and fewer of the usual flashy thrills. With the exception of Slide, the characters aren't out to get rich or grab an adrenaline high. Though Josh Kovacs (Ben Stiller) takes a golf club to Shaw's prized car, the tone is less angry than resigned to the desperate situation.
Tower Heist aims effectively for the tear ducts when Josh visits doorman Lester (Stephen McKinley Henderson) in his hospital room after the kindly veteran tries to kill himself when upon learning his savings have vanished. Given the proliferation of stories about lost 401Ks, not unlike Lester's, it's easy to be infected by the urgency that propels Josh on the quest for revenge.
Within its generic exterior, the film celebrates these sorts of relationships instead of the materialistic ideals so often promoted by Hollywood. It's successful in revealing the human cost of economic malfeasance from the ground up. In its appreciation for the basic dignity and inherent rights of all hard workers, the picture comes in the tradition of grand social dramas such as Norma Rae or On the Waterfront.
Of course, that's not to say that Tower Heist qualitatively compares with those movies. In truth, Ratner's film is unworthy of mention in the same breath. But the major studios just don't make these sorts of films anymore, works singularly concerned with the plight of the working class while subscribing to the notion that we're all part of the same ecosystem. The other prominent movies about the financial crisis offer instructive proof. There's Margin Call, with its insider portrait of an investment bank, the upper-management layoff drama The Company Men, and the sexy pyrotechnics of In Time.
In seeking to explain the dearth of big-screen working class dramas, Robert Nathan and Jo-Ann Mort, writing for The Nation in 2007, argued that "the country has changed. It's more difficult to build a mass movement for social and economic change, to find large numbers of Americans who care about social solidarity. If popular entertainment is, by definition, mass entertainment, what happens when no mass exists, when an insufficient number of people occupy cultural common ground?"
It now looks like we may finally be beginning to have that mass movement, in the form of the Occupy protests. And a film like Tower Heist, even with its broad comic styling and superficial structure, might be the closest we'll get to mass entertainment with a conscience.