The Who Made the Best Rock Opera Ever, but It's Not the One You Think
Forget Tommy. The newly re-released Quadrophenia represents the highest achievement in a lovably overblown genre: guitar music with story lines.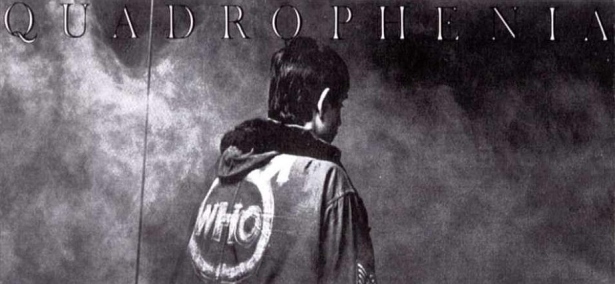 MCA/Polydor
Frequently pretentious, occasionally miraculous, and almost always way epic to the high-school stoner contemplating his place in the grand cosmology, the rock opera is pop music's grand, risky bid to prove that it, too, can be capital-A Art. The mere undertaking of such an album—which typically sprawls to a double or triple set—is enough to fire the imagination of anyone in search of a recording that's more than a mere collection of songs. We're talking narrative, motifs, characters, a journey, and epiphanies, with a few tidy internal monologues mixed in to show us that this is music of the psyche.
Unfortunately, the rock opera is also a bit of a cheat, as any classical music fan knows. If you're used to kicking back with a little Verdi, and someone comes along and plays you Pink Floyd's The Wall, declaiming, "Behold! Here is another kind of opera to blow your mind," you might point out that a rock opera isn't really an opera at all, but more, maybe, like a cantata, or a suite. Or even a musical, without the choreography. Rock operas aren't usually acted out, and you won't find much in the way of recitative. You get a cycle of songs, a main character, and, generally, a pretty trippy, gappy, plot. But on occasion, you can also get an album that numbers amongst rock's finest, one that is perfectly tailored to the sizable strengths of a singular band and a singular writer.
The Who normally get tabbed as just that band—and Pete Townshend as just that writer—because of the staggering success of 1969's Tommy, the record most people think of as the first and best rock opera. But it certainly wasn't the first. Before there was Nirvana, there was the British band called Nirvana and an early foray into the rock opera sub-genre, with 1967's The Story of Simon Simopath. Sadly, for Simon, his operatic journey clocked in at a mere 25-and-a-half minutes, making him somewhat less than Wagnerian in scope. The Pretty Things—who started off as a scuzzy R&B band—got in on the act with S.F. Sorrow the next year. The Kinks uncorked Arthur in 1969, an album that some fans argue is the rock-opera gold standard, never mind that it's essentially a collection of vignettes—albeit gorgeous and well-drawn ones.
And so we come to Tommy, the de facto celebrity in the rock-opera canon, with 20 million copies sold and a place in the Grammy Hall of Fame, never mind that it's not even the best rock opera by the Who. For starters, Tommy always functioned better as a live performance piece than it did on vinyl. There's a muted quality to the record—despite Keith Moon's orchestral approach to drumming—and the Who proceed at a leisurely gait. On stage, they cranked up the pace and the volume such that the audience felt like they were in on something messianic as Townshend's "deaf, dumb, and blind boy" becomes a pinball savant. An enlightening time was had by all.
That other rock opera by the Who—1973's Quadrophenia—doesn't get the attention that Tommy does. It was seen as something of a letdown ("on its own terms, Quadrophenia falls short of the mark," wrote Rolling Stone at the time), having been preceded by Who's Next, the album most critics cite as the band's best. Tommy, meanwhile, had acquired mystical status with rock fans, becoming an album that would be familiar as a cultural reference even to people who had not heard it, like the Beatles' Sgt. Pepper's Lonely Hearts Club Band.
But Quadrophenia is getting another coming out party today, with a splashy, extended reissue, complete with a much-needed remastering. Our hero is a mod named Jimmy, who has the time of his life taking part in some youth riots in Brighton. He gets his girl, loses his girl, becomes fed up with the hypocrisy of the mod lifestyle, does lots of uppers, travels back to Brighton where he had his good times, takes a boat out to a rock, passes out on the rock after forgetting to tether his boat, and, we assume, dies there while Roger Daltrey bellows "Love Reign O'er Me." But the reason why no other band was so well-suited to the rock opera medium comes down to the Who's dual nature. In essence, the band was really two groups, and that served well in bridging the gap between rock and opera. There was the aggressive act behind singles like "My Generation," "Anyway Anyhow Anywhere," and "I Can See For Miles." And then there was the arty band behind the "mini-opera" "A Quick One, While He's Away," Tommy, and the synth-heavy Who's Next. Rarely did the twain meet—save on Quadrophenia, where opera buffa and opera seria collide as Townshend flits in and out of the mix, and a soundscape builds and builds, while an aggressive, wailing, almost punk band rages at its core. Epic and feral, at once.
That punk approach works surprisingly well with rock operas, and Green Day took the same peppy tack with American Idiot and 21st Century Breakdown, although they weren't nearly so skilled with the whole grandeur element. And then there's Coldplay's recent Mylo Xyloto, which opts for spectacle over intensity, but comes off as the rock opera for mall food courts. Quadrophenia doesn't lack for spectacle—the Who loved a grand gesture—but it also has a gritty realism. Townshend understood the role of raunch in operas, rock or otherwise. If you want to experience filth, immerse yourself in Mozart's Don Giovanni some time—it's like porn delivered via opera. On Quadrophenia, similarly, we get couplets like, "You say she's a virgin / Well I'm gonna be the first in." All right then, sir!
At the same time, there isn't a lot of rock music—or even classical music—more intricate than Quad instrumentals like the title track and "The Rock." Both of those songs have no definitive beginning or ending but rather feature four intertwining musical themes—plus legitimately virtuosic playing from all involved—and the finest synthesizer work in rock history. It's as if Wagner had orchestrated something for a pack of rock-and-roll Paganinies to play. Throw in a dragon or two, and the boundary between opera and rock opera might start to get real fuzzy, for the first and only time.