Mike Krzyzewski's Humble Beginnings as Duke's Basketball Coach
The record-breaking coach almost took a different job—and even when he arrived in Durham, he struggled at first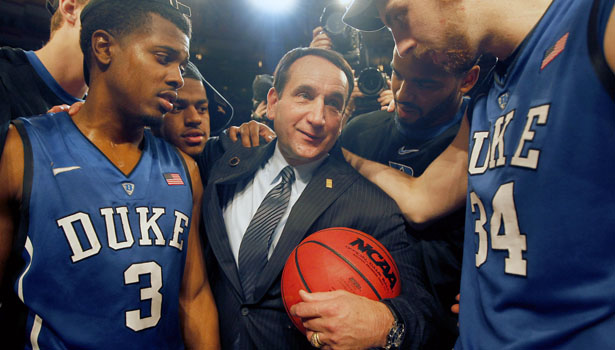 AP Image
Walking across the Madison Square Garden court Tuesday night after winning a record 903rd game, Duke coach Mike Krzyzewski finds Bob Knight, his mentor. Coach K embraces Knight with the same kind of hug a prizefighter gives his trainer after a bout that's been going on for 36 years.
"Just keep it going," Knight tells Krzyzewski, still holding the back of his friend's head. His star protégé—whom he coached and worked with for five years at West Point and Indiana—has just passed him for first on the men's college basketball coaches' all-time wins list.
It could have been different if the man once tabbed "the brightest young coaching talent in America" took the other offer he was given in March of 1980. Krzyzewski, then the coach at Army, had finished a disappointing 9-17 that season.  But nonetheless he was on the move. The landing place—Duke or Iowa State—remained uncertain.
For all the attention given to the relationship between Krzyzewski and Knight, the role that Col. Tom Rogers had in shaping Krzyzewski's basketball trajectory cannot be understated. When Krzyzewski first arrived at West Point as a student in 1965, Rogers was his officer representative, a liaison for the institution's military administration, much like the colonel had been for Knight when he was the freshman coach years prior. Their relationship became even closer during Krzyzewski's senior year in 1969 when Mike's father, Bill, died of a cerebral hemorrhage. From there, Krzyzewski leaned on Rogers and Knight, turning tragedy into motivation.
"Dad always thought of Mike as a son and that's the kind of way Mike saw Dad," says Marleah Rogers, daughter of the colonel, who now suffers from Alzheimer's.
There's little doubt that Krzyzewski would have indeed taken the Iowa State job if the Duke offer never came to be, says Jamie Spatola, the youngest of Krzyzewski's three daughters and an author of two books about her dad. Her mother has told her as much. "But I know they wanted the Duke job very badly," she says. So when the time came in 1980 to make the jump from West Point like Knight had done nine years earlier, he turned to Rogers, who would lay things out for Coach K in a pre-Coach K world.
"Sometimes I wonder where I would have been if I hadn't listened to Tom Rogers, my officer rep, when I asked him if he thought I should take the Iowa State job when it was offered in 1980," Krzyzewski wrote in the foreword for John Feinstein's Last Dance: Behind The Scenes At The Final Four. "'I think you need to follow this Duke thing through to the end,' Colonel Rogers said. I guess it's fair to say he gave me good advice."
The Duke offer was appealing for a number of reasons: It meant coaching in the ACC, plus the university was undergoing dynamic changes in philosophy and long-term strategy that would have made it tempting for any coaching candidate at the time. The university was bringing in high-profile faculty and a more well-rounded student body to help shed the school's image of it being a place exclusively for affluent, southern, white kids. "He came to Duke at the right time," says Murray Sperber, visiting professor for the Graduate School of Education at the University of California, Berkeley, and author of Beer and Circus: How Big-Time College Sports Is Crippling Undergraduate Education. "Duke was in ascension as a national institution. He was able to take advantage of all of this."
Amid the celebration of Krzyzewski's career, it's easy to forget about the difficulties Krzyzewski faced, even as he entered into the Duke job with unquestioned confidence. "I was not shocked," Krzyzewski said of his hiring at the time. "I felt this was a position right for me. I think Duke basketball is excellent, has been excellent and I hope to continue that tradition."
Patience helped save Krzyzewski during his first three years, as he went 38-47, including a 13-29 conference record that saw the Blue Devils finish no higher than tied for fifth in ACC play. In the impatient culture of today's major college basketball programs, three years at that rate would have meant the door for most coaches. Going against the strong wave of fan and alum dissatisfaction against Krzyzewski—yes, this did happen—then-Duke Athletic Director Tom Butters stuck with Krzyzewski, believing the best could still be on the way.
Getting the chance to stick around allowed the players and coaches to become a team, the team to become a program, and finally, the program to become a family. And when the basketball family overlapped with Krzyzewski's own family like it did as Spatola, the third of Coach K's three daughters, was about to be born, it felt normal. "Colonel" and the rest of the Rogers family lived right down the street from the Krzyzewskis.
"Coach called dad and Mickie was probably thinking, 'Thank God, he's finally going to get a chance to take me to the hospital,'" Rogers says—Krzyzewski's coaching duties had previously prevented him from seeing his daughters being born. "Mike sat down with my dad and went over the whole coaching plan for the day before putting Mickie in the car to have Jamie."
To teach, to love, and to be passionate has been the plan for Spatola's mother and father during their time on Tobacco Road. The all-time record was not a part of that plan. It just kind of happened.
"I think it means a great deal to both of them," Spatola says of the record. "But it's funny how it almost seems more meaningful because it was a goal achieved in pursuit of other, more meaningful goals."
Quantifying Krzyzewski's success is difficult, even if his legacy does come with the number 903 attached to it. He is Duke basketball much like John Wooden was UCLA basketball, and, at least up until a few days ago, Joe Paterno was Penn State football. But as easy as Krzyzewski has made his Hall-of-Fame career look, it's just as easy to forget how a decision here and a decision there may have changed everything.
"I'm anxious to get down here," he said on March 18, 1980, the day he was hired at Duke. "It's great basketball."
More than three decades later, Krzyzewski hugged his family inside Madison Square Garden, celebrating his role in making Duke basketball that much greater. Duke is successful because of Krzyzewski, but Krzyzewski may not have been afforded the opportunities to be successful in the long run without that early patience from the Duke administration, as well as the influence from Knight and Rogers that directed him to Durham. His hard work would have eventually delivered success no matter where he coached. But it was the special moment he arrived at Duke, combined with the time the school gave him to develop as a coach, that helped turn Krzyzewski into a record-breaker.