Manny Pacquiao Has A Bad Night, Wins Anyway
The boxing star delivered an uninspiring performance, but managed to win the judges' decision against Juan Manuel Marquez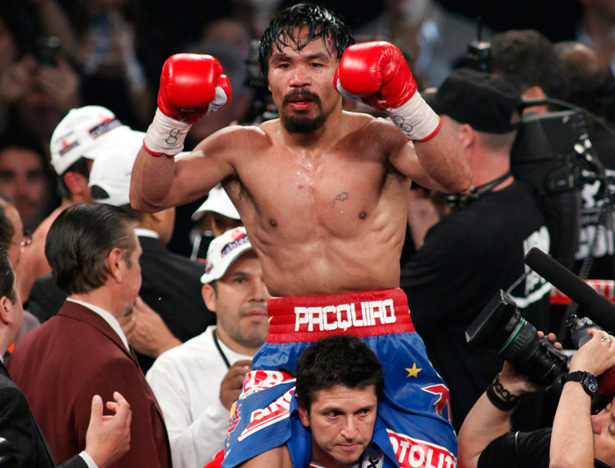 After Saturday's megafight in Las Vegas, Manny Pacquiao was 30 minutes late for the press conference because he had a date with a plastic surgeon. Pacquiao, a Filipino boxer, had a gash over his right eye that needed twenty-three stitches. Pacquiao, who--until Saturday evening--was considered the world's greatest fighter, has a bubbly and likeable personality. He has captivated his nation. He is a Congressman (60 Congressman from the Philippines were in attendance), a game show host, a singer, a product pitchman for Hennessy, Hewlett-Packard and Nike, and a future presidential candidate. He even went to the White House to meet President Barack Obama. On Saturday when he fought (Sunday morning in the Philippines) his country stopped to watch him fight Juan Manuel Marquez of Mexico. Watching Pacquiao fight, and win, has become like a religious experience to millions of people.
But when the fight concluded, Marquez lifted his hands in the air in victory. Pacquiao returned to his corner with his head bowed. I'm not sure I have ever seen him so defeated. The judges had seen it the other way. Remarkably, Pacquiao won the fight on two of the three scorecards (the other judge had it a draw) in what is called a majority decision.

Pacquiao was expected to trounce Juan Manuel Marquez, 38, a brilliant but aging fighter, who is known as "Dinamita" for his explosive counter punches. Pacquiao was a 10-1 favorite, and his Hall of Fame trainer Freddie Roach expected him to knock Marquez out by the sixth round. The two men have fought before. First in 2004 to a dramatic draw (Marquez was floored three times in the first round), then in 2008, which turned into a split decision favoring Pacquiao. Since that fight Pacquiao has had a stellar career--including sending Oscar De La Hoya into retirement--and winning fans through his athletic accomplishments as well as his fight against poverty in his home country. Pacquiao's story of living as the poorest of the poor as a kid and his efforts to help the impoverished as an adult have made him into a worldwide icon.
For the last three years, Marquez remained upset, claiming that he had won both of their fights, and pushed for a third fight with relentless zeal. He even took to wearing a t-shirt that said, "Marquez Beat Pacquiao Twice."
Finally, he received his wish. He was determined to prove to the boxing world wrong, that he was a better boxer. No one gave him a chance. Saturday was his chance to prove everybody wrong.
Pacquiao has dominated so many fighters of late that he seemed invincible. In the last several months, he worked relentlessly on learning how to combat Marquez' counter-punching style. Training sessions in Hollywood were the best of Pacquiao's career. I went to watch Pacquiao train and he was making his sparring partners suffer. Pacquiao has had foot problems and calf cramping in several of his fights, but everyone assured me that these issues had gone away. Pacquiao looked like a sure winner.
After the opening gong, something seemed wrong with Pacquiao. The Filipino has developed a beautiful style in which he moves laterally, and he is such an intelligent boxer that he punishes the body at different angles, and confuses his opponents with his footwork and hand speed. Both of his hands are equally dangerous.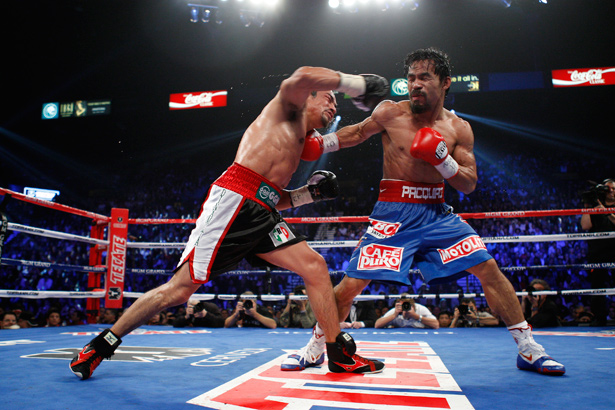 But on Saturday Pacquiao looked like something else was on his mind (his post-fight concert, perhaps?) Pacquiao, a southpaw, for some strange reason stopped moving to his right, a stupid non-move: he was walking into Marquez' right hand. His calf started cramping in round four and he had difficulty pivoting throughout the fight. Instead of breaking down Marquez, an older boxer, by landing body punches, he was head-hunting in every round. After the fight, I asked Roach about their game plan, and why Pacquiao was focusing on the head so much. "The game plan was to break him down, but he was head-hunting--a lot," said Roach, who felt like Pacquiao had gone off grid. Pacquiao just didn't have his typical hyper-kinetic energy. Then Pacquiao suffered a head-butt in round ten. He continued to be the more aggressive fighter, but he didn't look like the Pacquiao, a ring artist, everyone has come to expect. There was nothing unexpected.
Every round was close. Pacquiao had to win the last three rounds to pull out a draw or a win. He did so, barely. On press row, most people had it even or favoring Marquez. (I scored it even.) Not one person that I talked with favored Pacquiao. When the judges scores were announced. The MGM Grand was a cacophony of boos and people chanting, "MAR-QUEZ! MAR-QUEZ!"
Marquez' trainer, Nacho Beristain, said, "It was a robbery of the utmost."
Pacquiao stood in the middle of the ring. Then the crowd turned on Pacquiao--and booed the most popular man in boxing. He looked crushed, like a little boy being punished.
Pacquiao said, "It was clear to me I won. I clearly won," but it felt like he was trying to convince himself. The PacMan said he blocked a lot of Marquez' punches and claimed that the Mexican fighter consistently headbutted him.
Talk immediately turned toward the possibility of Pacquiao fighting Floyd Mayweather Jr., two arch rivals who have never fought each other. Pacquiao-Mayweather is a fight that everyone wants to see, and some have called it the "fight of the century," although at this point it is the "non-fight of the century" because the two camps are continuously bickering. Mayweather has seemed to duck Pacquiao, but Saturday's fight might embolden him. He easily beat Marquez when they fought in 2009. Pacquiao seemed willing. "Let's get it on," Pacquiao said of Mayweather. "Let's make the fight happen and give the people a good fight."
There was also talk of Pacquiao-Marquez IV, but Marquez said he was considering retirement. He was frustrated and upset by the judges' verdict. Marquez said, "I could knock him down and they would pick him up and give him the decision."

Images: Reuters.