Jimmy Kimmel Is a Hilarious, Mean Corporate Shill
The late-night host is reaching new heights of popularity—but some of his tactics may end up damaging his relationship with his audience
The late-night host is reaching new heights of popularity—but some of his tactics may end up damaging his relationship with his audience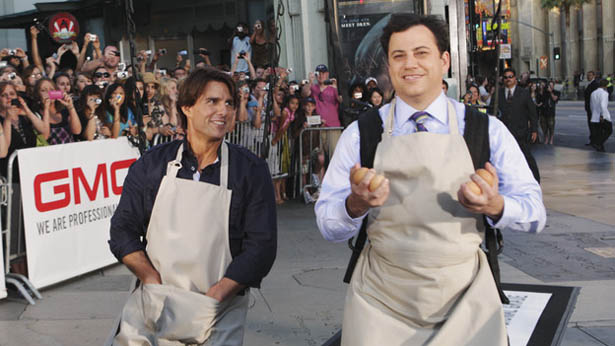 ABC
Jimmy Kimmel is on a roll.
In an age when the audience for late-night talk shows has been slipping steadily, Kimmel's ratings are on the rise. The host of ABC's Jimmy Kimmel Live! has seen his viewership tick up over the last 12 months, jumping from about 1.7 to 1.8 million viewers from this same time in 2010. Last week, the late-night host even landed the very plum gig of headliner at the White House Correspondents' Association dinner.
Also last week? Jimmy Kimmel made some children cry. On purpose. The incident captures the essence of everything that's good and bad about his show.
Halloween week, Kimmel issued a "YouTube Challenge" to viewers. He asked parents to tell their kids, "I ate all your Halloween candy," record their reactions, and submit the clips to his show via the giant video-sharing site. Hundreds of Kimmel viewers—each one clearly a potential Parent of the Year candidate—did just that. They told their children a mean-spirited lie. They recorded the fits of rage and despair that predictably followed. Then these latter-day Cliff and Clair Huxtables submitted the video evidence of their own bad parenting skills to a talk show in hopes of getting their kids' psychic meltdown broadcast on national TV.
That is some top-notch nurturing, Kimmel fans. What's next? Waking the kids on Christmas morning to tell them Santa died in a sleigh crash?
Two days later, while introducing the montage of traumatized kids, Kimmel seemed a little sheepish, cringing at how mean the prank had turned out.
"We didn't know there would be so much crying," he said. They aired the clip nevertheless, though, which immediately went viral, had 10 million hits by Friday, and spread around the globe over the weekend. Compelling, but not rewarding, both hilarious and unsettling, the video is a strange mix of charming, old school, kids-say-the-darnedest-things comedy, and a genuinely loutish display of cruelty in the service of cheap laughs. The clip—in the innovative use of new media, for its weird mix of humor and the guilty-pleasure appeal—is emblematic of Kimmel's show. Jimmy Kimmel Live!—which is broadcast, not for nothing, on tape-delay—can simultaneously feel smart and stupid, sweet and boorish, viral and corporate, innovative yet retrograde.
JKL! is produced by Jackhole Productions, formed by Daniel Kellison, Kimmel, and his longtime companion Adam Carolla. Their company undeniably has been forward-thinking in their approach to new media, whether it's that branded YouTube partnership, or their own smartphone apps. Just try to imagine David Letterman issuing a "YouTube Challenge" to his fans. Since Letterman doesn't even have a personal Twitter account, imagine him Tweeting to his 800,000 followers like Jimmy does. For that matter, try to imagine Letterman even saying the word "tweet"  and keeping a straight face.
Kimmel's on-air content is media-savvy, too. Generally, his show follows the sacred talk show template, as created by Steve Allen, Jack Paar, and Johnny Carson, of an opening monologue, followed by desk chat, three guests and a band.
In his monologue, though, Kimmel sometimes strays from the path. While he tells plenty of standard, setup-and-punchline style jokes, he's more comfortable using mixed-media, web-influenced humor—all the cartoons, found video clips, and edited photographs that younger viewers are used to seeing online all day. He'll throw up an animated mash-up, for instance, then wisecrack about it, and so comes off less like a traditional show host than a dude hanging out on the couch and riffing about whatever happens to be on TV.
The problem with JKL!, though, is what material all that cross-platform, How We Live Today, new media savvy gets used for.
First off, the show's humor is fairly dumb. Jackhole, after all, was also responsible for The Man Show. After Jimmy got his first TV gig in 1997, as a sidekick on Comedy Central's game show Win Ben Stein's Money, he and Carolla created and hosted that lewd, besotted, paleo-sexist, but hysterical bachelor party masquerading as a talk show.
Like The Man Show, JKL! also reeks of teen humor and towel-snapping locker-room bravado. If there's a joke to be made about the size of Kim Kardashian's rear-end, Kimmel will always make it. As a host, he is gracious, if not an especially curious interviewer. Face-to-face with guests, he tends to conspire more than confront. He's a partner-in-crime, as happy to let people in on a joke as make them the butt of it. But there nevertheless remains an element of the bully in his on-air persona—the sort of thing that would make a man find it funny to tell kids that someone ate all their candy.
Maybe that prankster style can be attributed to a show-business background much different from most of his talk show peers'. Jay Leno, Letterman, and Chelsea Handler started in stand-up comedy. Craig Ferguson's roots are in rock bands and London's musical theater. Jimmy Fallon got his start in sketch comedy on Saturday Night Live. Kimmel, though, worked in radio - first in his hometown of Las Vegas, then at stations across the country before landing in LA.
On radio, unlike with stand-up, stage acting, or on live TV, the performer and audience can't see each other. Just as the anonymity of an online forum tends to makes people bolder than they would be in real life, the emotional and physical distance between a radio personality and audience makes the medium conducive to a confrontational style that wouldn't work on TV. Howard Stern and Don Imus, for instance, can say things as disembodied voices that they could never get away with in front of a live crowd. That same confrontational impulse is behind every morning disc jockey who has ever made an on-air prank call—which, after all, is every morning disc jockey—and it's what motivates the humor behind another Jackhole production, Crank Yankers.
His radio background also explains Kimmel's willingness to shill. Citing Howard Stern as a professional role model, Kimmel told a Chicago newspaper that he long-admired Stern's seamless way of bringing advertorial content into a broadcast. But his own show's integration of sponsorships into the broadcast—admittedly smart and necessary in an age when viewers will DVR past conventional ads—has become full-on intrusive. Like the "cold open," or the two-minute segments before the theme song. Originally used by JKL! To tell a few jokes or for a short skit, the segment has evolved into a space for plugging sponsors like Cars.com. From that first moment when viewers see their host, until the show ends with the ritual fake apology to Matt Damon for being bumped and Kimmel calls his musical guest to the Bud Light concert stage, no talk show has ever been more aggressive about mixing corporate sponsorship into the broadcast.
There's nothing wrong with selling beer, of course. But not all of the salesmanship is quite so straightforward or benign. Kimmel's themed episodes, for instance, where "guest directors" not only visit, but shoot an entire episode in their signature style. The first time, when Quentin Tarantino guest-directed, it was remarkably fresh and way cool. Then J.J. Abrams followed, promoting the finale of his ABC series Lost, and Michel Gondry came on to promote his film, The Green Hornet. This summer, Jon Favreau directed a JKL! episode as part of an entire week of shows devoted his film Cowboys & Aliens. It felt like a five-day commercial. Because it was.
Or take what is probably the show's most memorable moment so far. Last summer, when a power outage in LA delayed a taping, Kimmel had a masterstroke. He recorded the episode on his MacBook, from the monologue and Seth Rogen interview to music from Dierks Bentley. The show was not only funny, but brave and raw. It felt underground, and plugged into the zeitgeist.
The episode also may have been faked.
A spokesperson for the L.A. Department of Water and Power said there were no signs of an outage around where the show is taped, and an ABC's spokesperson was only "unsure" if the outage was contained within the building. In retrospect, Kimmel's stroke of webcam vérité genius looks an awful lot like an Apple commercial in disguise. Maybe not. If so, though, Kimmel is dancing on a precipice. When the lines between information, entertainment, and advertising get that blurry, he risks losing the audience's trust. No performer can survive without that.
Caren Bohan, head of the White House Correspondent's Association, explained why her group chose Kimmel to host the esteemed event next spring. She said, "Jimmy's humor is sophisticated and edgy while appealing to a wide audience."
Bohan is right about the widespread appeal, at least if you believe the ratings. She is wrong, blatantly, about Kimmel's humor being "sophisticated," unless she means the show's sophisticated use of YouTube, Twitter, and other new media. Kimmel is an affable man, quick-witted, and sly, and he radiates a basic decency. His humor is an oddly compelling mix of sweet silliness and school-boy cruelty, but it's about as sophisticated as eating caviar with a soup spoon.
Bohan is correct about Kimmel being edgy, though, if not in his choice of material or on-air persona. By selling to, and toying with, his audience so much and so often, he's right on the edge of losing their trust.