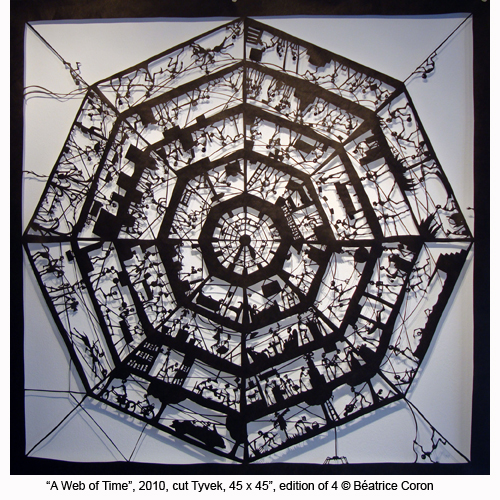 Béatrice Coron has been a shepherdess, a truck driver, a factory worker, a cleaning lady, and a tour guide. But today, Coron is one of the world's most remarkable cut-paper artists. I first encountered her astounding artwork on New York's F train last year and was thrilled to see her take the TED stage this past spring. In her fantastic TED talk, Coron -- whose beautiful visual storytelling is a living testament to combinatorial creativity, borrowing inspiration from wildly diverse fields and subjects -- takes you through her exceptional creative process and how her stories come to life. (Bonus points for the factoid on the etymology of the word "silhouette" which, as we know, comes from French minister of finance Étienne de Silhouette, famous for slashing so many budgets that people said they could no longer afford paintings and would instead have their portraits as "silhouettes.")
In life, and in paper-cutting, everything is connected -- one story leads to another. --Béatrice Coron
My inspirations are very eclectic. I'm influenced by everything I read, everything I see. --Béatrice Coron

The stories, they have a lot of possibilities, they have a lot of scenarios. I don't know the stories -- I take image from our global imagination, from cliche, from things we are thinking about, from history. And everybody is a narrator, because everybody has a story to tell, but more important is everybody has to make a story to make sense of the world. --Béatrice Coron
Charming, thoughtful, and relentlessly inventive, Coron, with her blend of indiscriminate curiosity and focused creative voice, is a true inspiration. Her work can be found in the beautiful Paper Cutting Book, which features 25 more masterful paper artists and a preface by Brain Pickings favorite Rob Ryan.
This post also appears on Brain Pickings, an Atlantic partner site.
We want to hear what you think about this article. Submit a letter to the editor or write to letters@theatlantic.com.