How Chick Corea Wrote 'Spain'
The story behind a modern jazz standard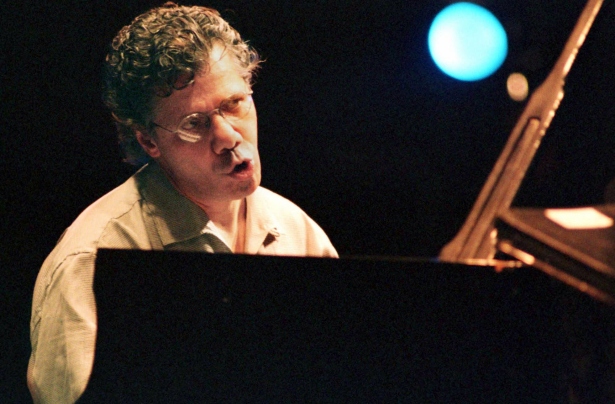 AP Images
The son of a trumpeter in a Dixieland band, the virtuosic keyboardist Chick Corea is revered as one of the principal alchemists in the fusion of jazz with rock, funk, and Latin music. After recording his seminal 1968 album, Now He Sings, Now He Sobs, he replaced Herbie Hancock as the piano chair in Miles Davis's band—the band that recorded such classic albums as Bitches Brew. Throughout his eclectic career, Corea has collaborated with vibraphonist Gary Burton and banjoist Bela Fleck, pioneered the use of the Fender Rhodes electric piano, and won 16 Grammys. In 1972 he founded the jazz fusion group Return to Forever, which he's steered through several lives—including Return to Forever IV, which recently concluded its 2011 World Tour. Here, Corea shares the original sheet music for "Spain," a composition for the group's 1972 sophomore album, Light as a Feather.
---
THE FIRST RECORDING took about three hours at a New York studio. This was in 1972, within the first year or two of Return to Forever's inception. We were on the road continually, and we were adding music to our repertoire and preparing our second record. Our rhythm was pretty developed by then-Stanley [Clarke] on bass, Airto [Moreira] playing the trap drums, bringing his Brazilian touch to everything, plus my writing.
At the time I was in love with Miles's "Sketches of Spain," with Gil Evans. I still am. On that record Gil has this fantastic arrangement-it's the second movement of Joaquin Rodrigo's "Concierto de Aranjuez." I fooled around with that theme, extended it and composed some melodies, which turned out to be the main themes of "Spain." I always play Rodrigo's second movement as a keyboard intro.
I work out alternatives in my head, toss them around, play them on the piano until I find a piece that's the best. And I don't set anything down onto paper until I've got a pretty long flow, a complete melodic statement.
By 1976 or so, I started to tire of the song. I started playing really perverted versions of it-I'd refer to it just for a second, then I'd go off on an improvisation. Once the acoustic band was in action, sometime around '85, I decided to try my hand at a rearrangement of the piece. Then there was the orchestral arrangement. Even with my current band, Return to Forever IV, we're still playing "Spain." We've gone back to the original arrangement.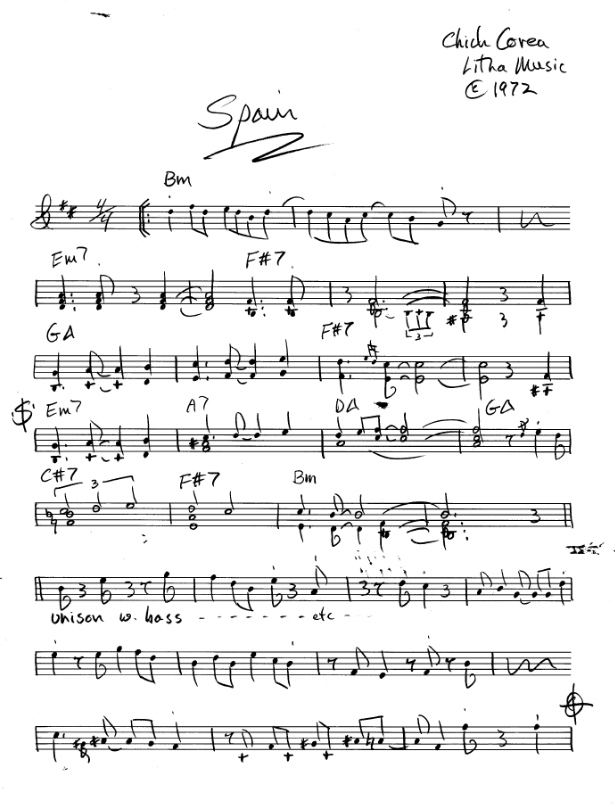 Click the images below to enlarge
Maybe another tune will come to the forefront. Probably not, at this part of my life. I don't know. I don't think any artist really knows why a song gets popular. A lot of artists say, we'll, it was a sing-able melody, the rhythm was infectious. You could surmise a lot.
The constant challenge is not so much the creative process, but the challenge of presenting an idea to the public. It's a constant challenge to get your arrangement and musical expression across to a new audience, especially when you're playing live every night, like we are.
Miles set this example of creative fearlessness. He kept changing the way he played. He kept changing the poem of his music. Now, when I play soul piano, for instance, and I play a rendition of "Spain," I do it deconstructively. That's the most fun, but I can only do that when I'm on my own.
-Chick Corea, as told to Alex Hoyt
Read past First Drafts from Wilco, Will Shortz, Stephen King, Christo, and others.