How Alabama Became College Football's Greatest Team
As the number-two-ranked Crimson Tide prepares to play number-one-ranked LSU this weekend, a look at what's made the program so successful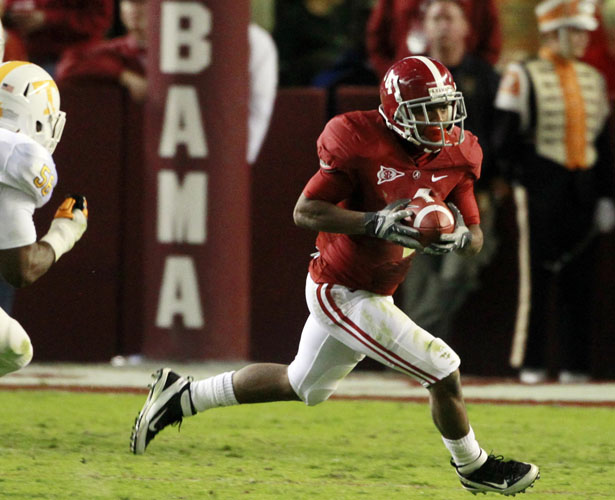 AP Images
We all know it's silly and immature to seek self-esteem through identification with your college football team. We all know that football is far from the most important thing that any university should be judged by.
Or rather, we say that we know these things, but deep down we know that all of the above is a lie. And University of Alabama fans know something even more profound, namely that everyone else in the country, whether they admit it or not, is jealous of us because the Crimson Tide has the greatest program in college football history.
You could make a very good argument that Notre Dame or Michigan or Southern Cal or Oklahoma or Nebraska has a gridiron history as glorious as Alabama's. You can make a good argument, but you'd be wrong. There are schools that can claim more national titles than Alabama, who have finished number one more times in somebody's rankings. Princeton, for instance, can claim 28 national championships, including the first one in 1869 when Walter Camp, the father of college football, deemed the Tigers the best after a spectacular 1-1 season. (Yale, by the way, has 27 national titles.)
You can go up and down the Internet and find many bogus ranking systems that don't place Alabama at the top. (That's how you know they're bogus—if they don't rank Alabama first.) Notre Dame finishes at the top of several of these polls, and for 80 years or so, the Fighting Irish and the Crimson Tide were indeed neck-and-neck. But Notre Dame's glory is of the past; it's been more than two decades since the Irish have been a major factor in the race for number one.
Some schools—in fact, just about every major college power—have had more Heisman Trophy winners than Alabama. It took 74 years after the first Heisman Trophy was awarded in 1935 (to Jay Berwanger of the University of Chicago) for Heisman voters to choose an Alabama player—running back Mark Ingram in 2009—as "the outstanding college football player in the nation." Were Heisman voters biased against Alabama or simply not looking south when it came time to cast their ballots? We'll never know, but consider this: In 1964—a year when the Crimson Tide won their second national title in four seasons—the established National Football League and the upstart American Football League engaged in a ferocious bidding war for Alabama quarterback Joe Namath. How convinced were NFL scouts that Namath was the best? the AFL's New York Jets eventually signed him for the unheard of sum of $427,000, which would just about have paid the salaries of half the NFL quarterbacks at the time.
But the Heisman trophy? Namath didn't even finish in the top ten in the Heisman voting that year; the trophy was won by Notre Dame's John Huarte. Namath went on to lead the Jets to the first Super Bowl victory in AFL history; Huarte threw just one touchdown pass in his pro football career.
Luckily for Alabama, the Tide has done quite well despite the indifference of Heisman voters. If you're making a realistic argument, Alabama's football program is superior to Notre Dame's (seven Heisman winners) or Southern Cal's (also seven, including Reggie Bush, who won it in 2005, though last year he was pressured into returning his trophy after allegations of accepting money and gifts). If we consider, say, the game since 1920, the Crimson Tide has been the best. So says the College Football Data Warehouse, whose objective ranking system includes won-lost percentage, toughness of schedule, and postseason bowl appearances.
How did the Tide become so great? For decades, Alabama's greatness was a regional secret, it's biggest triumphs—including the legendary Rose Bowls of 1926, 1931, 1935, and 1946—were known to the rest of the country only through a brief story in the Sunday sports sections. Things started to change in the middle of the last century: In 1958, Paul "Bear" Bryant, undoubtedly the greatest coach in college football history, came back to his alma mater. Bryant, who had played on Alabama's great 1935 Rose Bowl-winning team, didn't begin Alabama's football tradition, but he revitalized it, preaching the virtues of teamwork that had been taught to him by Frank Thomas in the 1930s, who had continued the tradition begun by Wallace Wade a decade earlier.
In 1960, ABC's Roone Arledge transformed televised college football from an occasional entertainment into a Saturday afternoon tradition. The first game he produced was Alabama-Georgia, the opening game of the season. It was the first time Alabama had ever been featured in a national game, and once fans all over the country got a good look at Alabama cheerleaders, heard the million-dollar band blaring, "Yea, Alabama!", and saw the imposing silhouette of Bear Bryant outlined against a blue-gray September sky, suddenly, it was no longer possible to ignore the greatness of Alabama football.
For the next 22 seasons, Bryant and Alabama were college football's dominant force, winning 212 games, losing just 39, appearing in a bowl game every season, and winning six national titles.
Several factors have contributed to Alabama's becoming such a great program. In practical terms, on the field, Alabama's winning concept manifests itself in a single word: Dee-fense. A century of football clichés to the contrary, defense isn't necessarily more important than offense in winning games, but it does seem that way to coaches. The reason is that offenses are usually built around one or two superstar players, while a great defense only works when every man does his job.
Two weeks ago, Sports Illustrated's Lars Anderson indicated that this year's Crimson Tide defense might be the best ever. He wasn't clear as to whether he meant the best Alabama defense or the best in the history of college football, but then, that amounts to pretty much the same thing.
Either way, Anderson might be right, except for four other great Alabama teams: 1992 (which gave up 88 points in 11 regular season games with three shutouts), 1979 (58 points in 11 games with five shut-outs), 1966 (37 points in ten games with five shut-outs), and 1961 (22 points in ten games with six goose eggs).
As Tex Noel, executive director of the Intercollegiate Football Research Association, says, "The thing that sets Alabama ahead of other programs is that they mold the talent they have into a team and play within a team concept. Eleven players playing as one—not ten players to support one star." What those boys quickly learn when they come to Tuscaloosa is to sublimate their egos to a common goal.
That was the prescription for victory when Bear Bryant was molding stars out of players who he explained "didn't have a lot of talent but didn't know it." It works in even more spectacular fashion today under head coach Nick Saban as the program attracts bigger, faster players who want to move on to the National Football League. (Such as this year's mostly highly touted offensive player in the country, running back Trent Richardson and defensive player, linebacker Courtney Upshaw.)
Another factor in their success is that the Tide thrives on competition. They play in the toughest league in college football, the Southeastern Conference. Since the BCS (Bowl Championship Series) began determining the official champion of college football in 1998, an SEC team has finished number one seven times, and over the last five seasons the SEC champion has owned the national title.
But perhaps the most significant reason Alabama is the number one football program of all time is the one offered by Bear Bryant himself, "When we have a good team at Alabama, I know it's because we have boys who have good mamas and papas." The sophisticated are ill advised to snicker at this prescription for winning.
This Saturday night, the Tide—unbeaten and ranked number 2 by the BCS—plays equally unbeaten, number one-ranked LSU (though it hardly speaks well for the BCS system that the number two team is a five-point favorite.)
After Alabama plays LSU, there will still be he formality of the SEC championship game on December 3, and, oh yes, the official BCS title game on January 9 in New Orleans. But if history is any indication, the question of who has the best football team in the nation will be decided well before then, and the winners will be wearing crimson and white.
This has its downside—people all over the country will be more jealous of us than ever. But everyone has their cross to bear, and the resentment caused by winning is ours. We promise to bear it humbly.