Books of the Year 2011: The Runners Up
In the December issue of The Atlantic, literary editor Benjamin Schwarz named his picks for the top five books of the year. Here, he lists five more that almost made the cut.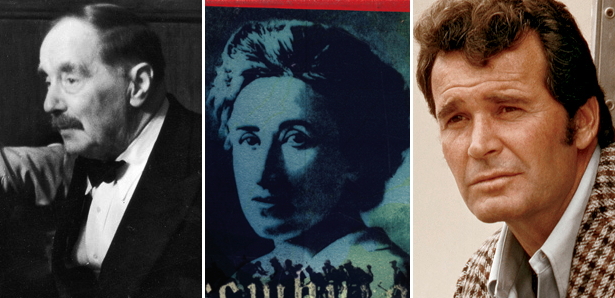 A Man of Parts:  A Novel
by David Lodge
Viking
Ths novel is as scintillating, engaging, and multidimensional as the man whose life and character it faithfully animates. At a time when writers had influence, H. G. Wells was among the most influential--and prolific. Lodge neatly shifts between narrative and probing interview, to reveal the intersections of writer, thinker, and man. Wells wrote a lot of schlock--the ideas (fuzzy as they often were), and sometimes the money, being more important to him than the prose--but he also had literary ambitions, and Lodge, unsurprisingly, provides compelling descriptions of a writer struggling to produce his best work. Ultimately, this novel's sensitive and lively examination of its protagonist's relationships with women--his appreciation of their charms, his responses to their needs and personalities, the social and emotional difficulties in which his love for them embroils him--is what really fleshes out (so to speak) his attractive character.
Read the full review by Christina Schwarz in the October issue
Letters of Rosa Luxemburg
by Rosa Luxemburg; Georg Adler, Peter Hudis, and Annelies Laschitza (editors)
Verso
From the many Marxists who took issue with Lenin, there proceeded a number of works of a high order of seriousness, and failing to scrutinize them would severely limit one's knowledge of modern history. To me, the most brilliant--and the most engaging--of these Marxist intellectuals was Rosa Luxemburg, the Polish-born Jew who was the most charismatic figure in the German Social Democratic Party (SPD). Slightly lamed since childhood, married only to gain the formalities of citizenship, and famous for the scornfulness of her polemics, Luxemburg was easy to portray as a thwarted and unfeminine personage. But her correspondence shows her to have been an active and ardent lover, as well as a woman constantly distracted from politics by her humanism and her love for nature and literature.
Read the full review by Christopher Hitchens in the June issue
The Garner Files
by James Garner and Jon Winokur
Simon and Schuster
James Garner, you can bet on it, has never told an important lie in his life. He really is like the men he plays onscreen, even unto the modest requirements symbolized by the humble trailer that serves Jim Rockford for a residence. He is thoughtful, honest, and fundamentally gentle, although he has knocked men down when riled. On the evidence given here, one doesn't doubt that they asked for it. One doesn't doubt this guy at all. We feel, when reading, that he is leaving out none of his vices: he swore too much when he played golf, but only because he couldn't bring himself to cheat. Traditionally, Hollywood stars are allowed to cheat at everything, including marriage, but Garner has quite evidently played it straight all along.
Read the full review by Clive James in this issue
Journey to the Abyss: The Diaries of Count Harry Kessler, 1880-1918
by Harry Kessler; Laird Easton (ed)
Knopf
He was cosmopolitan, and a member of a new aristocracy. He grew up in Paris, in England, in Germany, and on Staten Island. Though his mother was Anglo-Irish, Count Harry Kessler was, or became, intensely German, as if by a sort of tragic choice; and he also became, through his experiences and through the anguished searching of his spirit, something close to a representative man. The diary he wrote, starting in 1880 when he was 12 and continuing until his death in 1937, is said by the editor and translator of the volume, Laird M. Easton, to be one of the greatest ever written, "comparable in its stature to those of Samuel Pepys, André Gide, Henri Frédéric Amiel, Beatrice Webb, or Virginia Woolf."
Read the full review by James Fenton in the November issue
The Letters of T. S. Eliot, Volume 1: 1898 - 1922 (Revised Edition); Volume 2: 1923 - 1925
By Valerie Eliot and Hugh Haughton (ed.)
Yale
The American publisher of these massive volumes--1,832 pages in all--calls them "highly anticipated." For once, publicists understate. The first volume of T. S. Eliot's letters initially appeared in 1988. The editor of that volume, Eliot's second wife, Valerie, wrote in the introduction that she'd intended to include correspondence up to 1926, but there was too much material, so she promised a second volume "next year." It's been one of those decades-spanning years, and the wait has meant that Eliot scholarship has long been arrested. These books make stimulating and illuminating reading. To be sure, they have some editorial slips (and that they contain the letters Eliot wrote but not the correspondence he received means that of necessity they tell a partial story), but the fluent and full annotations are a triumph of learned compression.

Read the full review by Benjamin Schwarz in the November issue