America's Favorite Free-Agent Pitcher Plays in Japan ... and May Stay There
MLB fans can't wait for Yu Darvish to sign with their team—but will he ever leave his home country?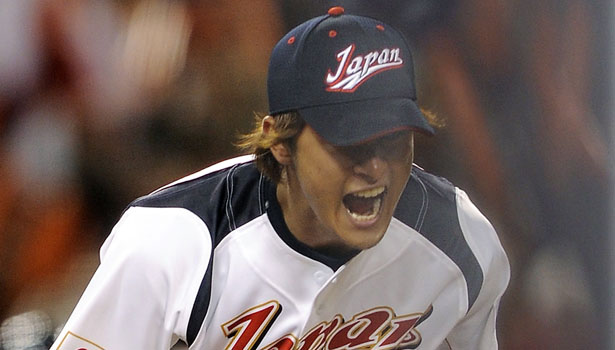 AP Images
This year's Major League Baseball off-season has some of the game's best players testing free agency, with power-hitting first basemen Albert Pujols and Prince Fielder on the market.  While many fans hang on each new development regarding those two stars—and whether sought-after shortstop Jose Reyes really decides to don the Miami Marlins interior-of-a-lounge uniform for 2012—another player, who hails from Japan but is half Iranian and doesn't mind posing nude, has been forcing baseball observers to refresh MLB Trade Rumors more than usual.  ESPN's Keith Law and Yahoo! Sports ranked him the third-best available free agent at the moment, and teams might have to cough up millions of dollars to just negotiate with him.
He's pitcher Yu Darvish, and he's generated a lot of hype this off-season.  The New York Times called him one of "the most coveted players" in Japan right now, while the Wall Street Journal and Sports Illustrated used Darvish as a jumping-off point to talk about Japanese players coming to America.  This is on top of countless blog posts, from New York Yankees fans to Seattle Mariners supporters, wondering how Darvish would look in their team's rotation - even though he hasn't even decided whether he wants to play in MLB.
The off-season attention paid to Darvish, a 25-year-old right-hander currently signed with Nippon Professional Baseball's Nippon Ham Fighters, has been an annual event since 2007, as baseball writers and analysts speculate if "this will be the year" Darvish comes to the MLB.  Yet the rumors have been particularly persistent this year.  The bump in media attention makes it sound like he's already decided to come over.  Darvish, though, hasn't made a decision at this point, choosing to play it coy.  The best pitcher in Japan could very well decide it is better for him to forego an MLB career and just stay put in his home country.
Darvish attracted national attention as a student at Tohoku High School, most notably pitching a no-hitter during the prestigious National High School Baseball Invitational Tournament in the spring of 2004.  The Nippon Ham Fighters (teams in Japan are named after the companies that own them, so Nippon Ham owns the Fighters, who play in Hokkaido) drafted Darvish later that year, and he made his professional debut in 2005.  It was in 2006, however, when he established himself in NPB: He struck out 115 batters and recorded an ERA of 2.89, and played a pivotal role in helping the Fighters win their first championship since 1961.  He only improved from there—he won the Eiji Sawamura Award, the NPB equivalent of the Cy Young, in 2007, and was named Pacific League MVP in 2007 and 2009.  Darvish also helped the Japanese national baseball team win the 2009 World Baseball Classic, recording a game-ending strike out against South Korea in the championship match.
He has also become famous for his off-the-diamond activities.  Before he played a single inning of professional ball, Darvish was caught smoking in a pachinko parlor despite being too young to either smoke or gamble (in Japan, one must be 20 to do either).  He has also posed nude for a woman's lifestyle magazine and became tabloid fodder after marrying actress Saeko, which many publications claimed was a shotgun wedding.  Darvish, who is half-Japanese and half-Iranian, has also become part of a program aimed at promoting baseball in Iran.  The pitcher identifies as Japanese, though, deciding in 2008 to retain his Japanese citizenship.
Yet the only aspect of Darvish that American scouts and fans focus on is his on-field accomplishments.  For the past two seasons, he has led NPB in strikeouts, racking up 222 in 2010 and improving to 276 this past year.  He's posted the lowest WHIP in the league for the last five seasons, and in 2011 recorded a career-best ERA of 1.44.  His fastball reaches into the mid-90s, and he also features a variety of breaking pitches that leave NPB hitters frozen.  In the appropriately titled YouTube video "Yu Darvish Is Filthy McNasty," his ability to strike out hitters is on full display.
"I think very highly of Darvish as a pitcher," says Patrick Newman, who founded the website NPB Tracker, a blog devoted to covering Japanese baseball.  He has followed Darvish since his 2006 championship appearance.  "He's a smart pitcher that continually adjusts and improves."
Darvish is compared most often to Boston Red Sox pitcher Daisuke Matsuzaka, and Newman agrees that the two have some important similarities. Matsuzaka , like Darvish, rose to national fame in high school before spending seven years playing for the Seibu Lions where he became one of the most dominant pitchers in Japan.  Both  players generated a lot of interest in the US while they were still playing in Japan, and Newman says they have similar pitching styles and can be counted on as "workhorses."  Matsuzaka came to MLB in 2006 but has turned into a cautionary tale for teams seeking Japanese pitching.  After two good seasons in Boston, the highly-paid Matsuzaka turned into a very mediocre pitcher plagued by injuries.  Darvish hopes to avoid that fate, of course, and Newman  sees some big differences between them as well.
"Darvish was very good when he came out of high school, but he's improved a lot as a pro, I would say more than Matsuzaka did.  He's added fastball velocity, refined his breaking pitches, improved his strategy and added strength to his frame."
The two pitchers do share one other similarity—their paths to MLB.  NPB rules state a player within the league can't negotiate as a free agent internationally unless they play at least nine seasons in Japan.  Otherwise, the player most be posted, a process where Japanese clubs "post" the player and MLB clubs have four days to submit a bid in order to just negotiate.  Matsuzaka used the posting system in 2006, and Boston paid $51 million just to talk before drawing up a six-year, $52 million contract.  Many speculate Darvish's posting fee could come close to what Matsuzaka commanded.
Going to MLB this route wouldn't be Darvish's most lucrative strategy, however.  Newman says that, while MLB pays a lot better than NPB, the posting system would limit Darvish to negotiating with just one team.  "He'll be leaving a lot of leverage on the table, both in terms of where he plays and how much he can be paid. The most lucrative path would be to play in Japan until free agency, then head to MLB."
There is also the chance Darvish isn't interested in MLB.  He has taken to his official blog to tell his fans that he is still undecided.  "Early in his career, Darvish was adamant that he wanted to play in Japan and continually disavowed any interest in MLB," Newman says.  "He's said that Japanese players should play in Japan, to inspire Japanese children. "  Newman says he has backed down a bit on this stance recently, but avoids the MLB discussion when he can, to the point where reporters covering Nippon Ham aren't allowed to ask him about it.
Though Darvish remains mostly mute on the subject, there is evidence that this might be the off-season he heads to MLB.  Newman says MLB scouts have been flocking to his starts during the second half of the NPB season, with some games featuring as many as 24 scouts.  Newman also says Darvish hired sports agent Arn Tellem, who has worked with Japanese slugger Hideki Matsui, to represent him.  This might also be the perfect timing for Darvish to head over, as this year's market for free agent pitching is thin, especially after the New York Yankees resigned ace CC Sabathia.
At the moment, though, Darvish remains mum.  It is completely possible he remains in Japan until he qualifies for free agency in two seasons, or that he never makes the jump.  Until he says anything, teams and fans will continue waiting for news from the best pitcher Japan has to offer.