Jason Segel's lively, loving relaunch is among the best films of the year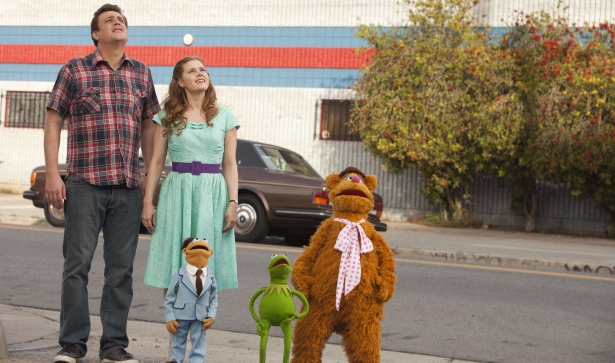 Disney
I confess, The Muppets had me at "Me and Julio Down by the Schoolyard." As Paul Simon's frisky whistling solo loops and bounces across the opening montage, we watch two brothers, Gary and Walter, grow up together. Alas, only the former does any actual growing: Though Gary (played as an adult by Jason Segel) seems a typical enough kid, Walter (voiced by Peter Linz) is--there's no delicate way to put this--a felt puppet. So even as Gary's annual-height pencil marks keep climbing up the wall, Walter's remain stubbornly horizontal: 5 years old, 6 years old, 7, 8, 9, 10, 11. Before you know it, the two brothers are young men out on their own, though still enjoying a Bert-and-Ernie bachelordom in adjacent beds.
It took perhaps ten minutes for The Muppets to win me over a second time, with a giddy, infectious bit of song-and-dance fluff titled "Life's a Happy Song" (written, like most of the original numbers, by Bret McKenzie of "Flight of the Conchords"). Truth be told, The Muppets won me over, over and over and over again. The film is an utter delight, a tidal surge of joyful nostalgia cunningly repackaged and updated. Take your kids, take your parents, take a friend or someone you'd like to become one. But by all means take yourself.
Directed by James Bobin (co-creator of "Conchords") from a script by Segel and Nicholas Stoller, the film follows Walter, Gary, and Gary's best gal Mary (Amy Adams) as they hop on a bus from Smalltown, Kansas to Los Angeles. For Mary, the trip offers a romantic 10th anniversary getaway with Gary; for Walter, an opportunity to visit the fabled Muppet Studios; and for Gary--well, let's just say he's conflicted.
As it happens, Muppet Studios turns out to be less fabled than crumbled. Worse, Walter overhears the plottings of an evil tycoon (played with diabolical glee by Chris Cooper), who intends to tear the place down unless the Muppets, who have long since gone their separate ways, can come up with $10 million to buy it back. So Walter, Gary, and Mary set out in search of Kermit the Frog and, once they find him, in search of everyone else: Fozzie and Miss Piggy, Animal the drummer and Rowlf the Dog and Gonzo the Great, Scooter and Beaker and all the rest. Cue up reels of Getting the Band Back Together, of Putting on One Last Show, and of Learning Valuable Lessons About Love and Self-Worth.
In other hands, this arc might have proven just as saggy as it sounds. But Bobin, Segal, and Stoller propel the proceedings with wit and verve, genre winks tumbling out over timely demolitions of the fourth wall. That said, this is no Shrekish exercise in exhausting inside-jokery: The Muppets is equal parts tender and hilarious, heartfelt and sly. It's hard to miss that a primary thread is essentially the story of Walter's uncloseting: his discovery, as a puppet/boy, of "The Muppet Show" and the way it made him feel less different and alone; his gradual, grownup realization that he, too, is one of them. The filmmakers wisely decline to make the analogy explicit, instead allowing it to serve as a quiet emotional tether. And even here, they're alert to comic opportunity, offering up a self-mocking yet oddly touching duet, "Man or Muppet," in which Walter and Gary embrace their respective life paths.
Quibbles can of course be found. The Muppet voices are, inevitably, a tad off, and 10 or 15 minutes might have been shaved from the back half of the movie. Neither irony nor nostalgia can quite save a montage set to Jefferson Starship's "We Built This City." And cruelest of all is the meager cameo afforded Neil Patrick Harris, which only engenders visions of What Might Have Been. (Maybe in Muppets 2?)
But for every misstep, there are a dozen times the movie hits its marks exactly: the generationally acute jokes about Molly Ringwald, "Benson," and the banshee screech of early modems; a glimpse of Kermit and Piggy walking the cobbled streets of Montmartre, him black-turtlenecked like an amphibian Belmondo; wistful reminders of Muppet Show hosts Steve Martin, Julie Andrews, Bob Hope, and Dom DeLuise; a poultry-clucked pun on Cee-Lo's "F*** You"; Chris Cooper's impromptu descent into hip-hop bravado; two variations on "The Rainbow Connection," first commercially defiled then lovingly reclaimed; Walter's exquisitely Muppet-y curtain-closer; likable turns by Rashida Jones and Zach Galifianakis and Jack Black as himself.
As you may have surmised, I could go on. But those unconvinced will likely remain so, and perhaps for the better. Not all of us have that primordial, all-but-forgotten Muppet gene twisted into our DNA. But if you do, or even imagine you might, plan your holidays accordingly.
The Muppets is not the kind of movie likely to get much awards-season consideration, though it's the kind that ought to: smart, warm, and, in its avowedly goofy way, elegant. The chorus of one of the songs declares, "I've got everything that I need, right in front of me." For 120 minutes, that's precisely how I felt.