World Series 2011: 5 Things to Know Before the Cardinals Play the Rangers
A look at how the two teams compare in pitching, fielding, batting, and more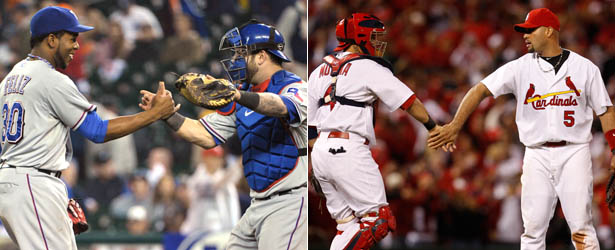 Reuters
The 107th World Series starts Wednesday when the National League champion St. Louis Cardinals host the American League pennant-winner Texas Rangers in game one of the best-of-seven series. It's a matchup few (any?) people predicted when baseball season began back in March. The Cardinals lost their best starting pitcher, Adam Wainwright, to a season-ending injury in spring training, and as late as September 1 the Cardinals were eight and a half games behind Atlanta in the Wild Card race. Meanwhile Texas, which reached the World Series last year and lost to San Francisco, entered this season minus their best pitcher as well, with Cliff Lee departing to Philadelphia as a free agent. Just consider how well the Yankees would have done without CC Sabathia this year, or the Tigers without Justin Verlander. These types of developments normally devastate a team's fortunes. But the Rangers and Cardinals both compensated for the loss of their number one starting pitchers by developing other strengths. Let's see how the Fall Classic participants measure up in regards to starting pitching, hitting, fielding, base running, and relief pitching.
1. Starting pitching is not a strength for either team ...
When the Yankees were in the midst of winning three straight World Series between 1998 and 2000, the team's strength was its starting pitching. With Andy Pettitte, David Cone, and David Wells (and later Roger Clemens, who was traded for Wells), the Yankees were flush with either three borderline Hall of Famers or two borderline Hall of Famers and one pantheon-level pitcher (who might have talked his way out of Cooperstown thanks to that messy business with Congress). If you look at the Rangers and Cardinals, you notice that the strength of both teams does not lie with their starting rotation. Both have fine number one pitchers (C.J. Wilson for the Rangers, an All-Star this season; Chris Carpenter for the Cardinals, a former Cy Young Award winner who's finished in the top three in voting on two other occasions). But Wilson has been shoddy in this postseason (0-2 with an 8.04 ERA) and Carpenter is the lone Cardinals starter with a postseason ERA lower than 5.74.
In 11 postseason games, St. Louis has notched just three quality starts (at least six innings pitched and three earned runs or fewer allowed), while the Rangers have just one quality start in 10 outings. Some of that can be attributed to the two managers, Tony LaRussa of the Cardinals and Ron Washington of the Rangers, who in the playoffs will dip into their bullpen at the first sign of danger. But ultimately the Cardinals's starting pitchers (Carpenter, Edwin Jackson, Kyle Lohse and Jaime Garcia) and the Rangers rotation (Wilson, Derek Holland, Colby Lewis and Matt Harrison) have been coming up collectively small in the postseason. So far that hasn't been debilitating for either team, but there's a reason why teams put a premium on starting pitching: It's usually of paramount importance to a team's postseason success.
2. But starting pitchers can afford to be subpar when the relief pitching is this good.
Five pitchers this postseason have won two games, and two of those pitchers (Octavio Dotel for the Cardinals and Alexi Ogando for the Rangers) are middle relievers, highlighting the important role of bullpens for both World Series teams this postseason. Dotel has been practically unhittable, with batters hitting a minuscule .087 against him in seven games. Hitters are faring slightly better against Ogando (.114), but the former starter has struck out 12 batters in 10.1 innings and posted an impressive 0.87 ERA. These two are surrounded by supremely capable bullpen mates, including Mike Adams and Michael Gonzalez for Texas and Fernando Salas and Marc Rzepcynski for the Cardinals. Meanwhile the closers, Jason Motte for St. Louis and Neftali Feliz for Texas, are both 4-for-4 on save opportunities this postseason. The bullpens are a source of strength for both teams, and you can bet that both managers will be wearing out the grass between the dugout and the pitcher's mound in a seemingly endless parade of pitching changes. Be thankful. Pitching changes will provide a temporary reprieve from the droning voice of Fox announcer Joe Buck and his apostle of the obvious sidekick, Tim McCarver.
3. The Cardinals and the Rangers are the best-hitting teams in baseball.
Do you enjoy well-pitched 1-0 postseason games? If so, you're probably going to hate this World Series. When you pit the Rangers--who led the American League in batting average at .283 during the regular season--against the Cardinals--whose .273 team batting average led the Senior Circuit--you have to anticipate a lot of offense. Texas was second in the major leagues with 210 home runs (only the Yankees had more) and they had the fifth-best on-base percentage. They didn't walk very often, working just 475 free passes this season, which was tied for 20th in the majors. But they had the fewest strikeouts of any squad, so they're essentially a relentless contact-hitting team. They had five players with more than 25 home runs, not including designated hitter Michael Young, whose .338 batting average was tied for second in the American League.
In the opposite dugout, the Cardinals are led by Albert Pujols, who hit .299 with 37 home runs and 99 runs batted in--a "down" year for the three-time Most Valuable Player, who entered this season averaging a .331 batting average, 41 home runs, and 123 runs batted in his first 10 seasons. Behind Pujols, Lance Berkman and Matt Holliday, the Cardinals also led the National League in runs scored, on-base percentage and fewest strikeouts. They were middle of the pack in home runs during the regular season, ranking 13th, and don't have as much power throughout the lineup as Texas. But they have six regulars who hit better than .290, including National League Championship Series Most Valuable Player David Freese, so their offense can be equally relentless at times. Just imagine if some of these players were still on steroids. Ah, the good old days.
4. Ignore the fielding percentages—one of these teams is actually pretty good defensively.
If you simply looked at the fielding percentages of teams in the major leagues, you might think that St. Louis (ranked 23rd at .982) and Texas (ranked 26th at .981) were both bad fielding teams. Unfortunately fielding percentage is an inferior metric for determining a team's fielding prowess, since it only accounts for errors made on balls that are reached and doesn't account for how many runs a defensive player might have helped save. For that you need Ultimate Zone Rating (UZR), which is the only sabermetric arcana I will drop on you in this preview, I promise. Simply put, UZR measures how many runs a player or team saved or allowed on account of their fielding, as compared to the league average.
According to FanGraphs, an acknowledged authority on the sorts of statistics that can leave you wall-eyed, the Rangers were 6th in the majors in UZR, thanks largely to their American League-leading 394 double plays. The Cardinals, for their part, led the majors in double plays turned with 411 -- and yet that didn't prevent them from ranking 27th in UZR, ahead of only the Indians, Orioles, and Mets, three teams who didn't even sniff the playoffs. Aside from their superior ability to turn twin-killings, St. Louis was an inferior defensive team, collectively leaking runs because of mediocre throwing arms (this doesn't apply to catcher Yadier Molina, the winner of the last three gold gloves in the NL) and mediocre range. They had no players ranked among the leaders in UZR at any position. Conversely, the Rangers are loaded with fielding stars, including second baseman Ian Kinsler, third baseman Adrian Beltre and shortstop Elvis Andrus, who had the best range of any shortstop in baseball, according to FanGraphs. Fielding percentages would tell you that both these teams are both poor defensively, but the truth is only St. Louis is inferior with the leather.
5. The Cardinals and Rangers have different approaches to base-running.
In Lou Brock and Vince Coleman, the Cardinals of the past had the two best base-stealers in National League history, with Brock setting the league record of 118 swipes in a season (1974) and Coleman holding the next three highest one-season totals, with 110, 109, and 107 (in 1985, 1986, and 1987). Brock and Coleman would feel out of place on the 2011 Cardinals, a plodding, station-to-station team that stole a National League-low 57 bases. Only the Tigers, with 49, had fewer swipes in the majors. St. Louis's relative inability to steal second base had an unwanted, ancillary effect: the Cardinals hit into a major-league high 169 double plays.
Rangers catcher Mike Napoli will have a relatively worry-free Series behind the dish, as none of the Cardinals regulars has shown much proficiency at stealing bases. Rafael Furcal, who joined the Cards midseason, has 302 swipes in his career and has surpassed 20 steals in nine seasons. But he seems to have inherited the Cardinals sartorial preference for cement running shoes, attempting just six steals in 50 regular-season games and just one thus far in the postseason. Conversely, Cardinals catcher Yadier Molina, whose 44 percent caught stealing percentage is second highest among active catchers behind Ivan Rodriguez--will be put to the test against the run-happy Rangers, who amassed the fifth-most steals in the majors (143). Ian Kinsler (37) and Elvis Andrus (30) spearhead the attack, with Craig Gentry (18), David Murphy (11), and Endy Chavez (10) viable base thieves as well.