Why Do Sports Make Us So Superstitious?
Understanding why athletes grow playoff beards and eat special meals, while fans wear lucky shirts and worship magical squirrels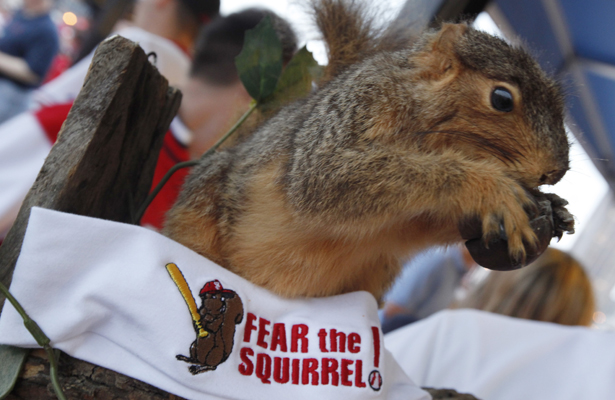 Reuters
Every week, our panel of sports fans discusses a topic of the moment. For today's conversation, Hampton Stevens (writer, ESPN and The Atlantic), Patrick Hruby (writer, ESPN and The Atlantic), Jake Simpson (writer, The Atlantic), and Emma Carmichael (writer, Deadspin) talk about the sports world's many superstitions.
---
Hey, guys,
On Halloween, we celebrate horror. We allay our fear of death by embracing the idea. Gaelic in origin, Gothic in motif, purely American in the crass splendor of its execution, Halloween is a holiday for the superstitious, and there's nobody on earth more superstitious than sports fans. Except maybe for athletes.
Like Drew Brees, who must have his "beefy mac" the night before each game. And Formula One champion Sebastian Vettel, who slips a lucky coin in his boot before every race. Canadiens' goalie Carey Price may care about cancer awareness, but still gave up his pink-trimmed pads after going 0-3-2 while wearing them. The playoff beard is so common it's become cliche. And let's not leave out coaches. Chiefs' coach Todd Haley hasn't shaved since KC started their three-game win streak. Detroit manager Jim Leyland honors win streaks by—brace yourself—not changing underwear until the team loses. Ew.
Fans, though? We're worse. Way worse. At the stadium, we wear our tattered lucky shorts and shirts, happily look ridiculous in rally caps, and put our faith in a magic squirrel. Watching at home, we have to sit in our special, favorite chair, and eat the same meal before every game—convinced despite ourselves that we are actually having some sort of tangible effect on a contest being waged miles or often whole time-zones away. Yours truly is no exception, certainly, having once gone through an entire college basketball season wearing one sock inside-out—and being fairly convinced that said inside-out wearing was absolutely crucial to KU making the Final Four that year.
The question, though, is if I'm nuts. Seriously.
All these little ceremonies we perform to court supernatural favor, are they mere tricks of the mind? Skeptics, of course, would say our constant quest for good luck is just a comforting nonsense—a simple case of psychic busywork. The human mind—being hard-wired to seek patterns—finds order and causality where none exists. Maybe. Maybe, though, the skeptics are wrong.
In this season of contemplating the unknown, my questions are about your favorite superstitions, and how much faith you put in them? Are we all just fooling ourselves? Or, as the anonymous poet wrote, are there truly more things in heaven and earth, yadda-yadda-yadda? Could there really be some as yet unmeasurable force in the universe, not beholden to distance, by which a fan's fervent prayers can change the course of a game? How about it, panelists? Are are we just spotting imaginary faces in the clouds? Or do you believe there are ghosts in this machine?
–Hampton
A ghost in the machine? You mean something beyond whatever higher power occasionally allows Tim Tebow to complete a pass to something other than the turf?
Nah. Don't think so. I simply don't believe. Not in unseen forces. Not in superstitions. Definitely not in Touchdown Jesus, because really, what has He done for Notre Dame lately?
Of course, this is why I'm not a professional athlete.
Don't get me wrong: The main reason I'm not a pro athlete is because I'm spectacularly unathletic, a member of the can't throw, can't run, can't dunk, can-operate-a-remote-control-and-flip-to-the-NFL-RedZone-channel 99 Percent. But there's also the itsy, bitsy, not-insubstantial matter of belief.
Crazy, irrational, unwavering belief.
Athletes have it. Even the insecure ones. Which, deep down, is most of them. They know the odds are against them. They know the deck is stacked. They know that talent alone isn't enough, that timing, circumstance and the sheer dumb luck to not have Gerald Wallace fall on your knee all play a major role in just making a roster—never mind actually starting, or, you know, excelling. Marcus Dupree could have been the greatest running back ever. He wasn't. Len Bias was poised to challenge Michael Jordan. He didn't.
Athletes aren't dumb. They grasp this. So do coaches. General managers, too. Owners, even. Pretty much everyone in sports. Fact is, when Malcolm Gladwell writes books about Outliers, he doesn't write about losers. Because—to borrow a line from the great, criminally underrated Darcy Frey—losing in sports is commonplace, like a shrug, and heartbreak the order of the day. Bill Belichick's Cleveland sojourn is the norm; the New England years are the exception; every spring, 67 men's college basketball teams walk off a court dejected.
And yet: they all still believe. They ignore the size of the casino—not to mention the size of Steve Wynn's art collection—and push their chip stacks forward anyway. Give me Tebow's ungainly throwing motion, and I'm wondering: (a) how many teams need a fullback; (b) where to included "Heisman Trophy winner" on the resume I'm about to hand in at Starbucks. But give Tebow that same motion, and he thinks he can quarterback the Denver Broncos to the Super Bowl on the sheer force of willpower, ball and juice.
To put things another way: I'm absolutely sure that eating chicken before every game didn't help Wade Boggs rack up 3,000-plus hits. But I don't fault him for thinking otherwise. After all, the guy was crazy enough to think he could hit a major league fastball in the first place.
–Patrick
Well argued, Patrick. But you forget about the real crazy superstitious nuts out there: us.
As ritual-driven as pro athletes are, we the fans are far worse. And unlike the players, we can't claim a need to believe in the physically improbable. We wear the same ratty David Eckstein shirt for weeks or sit in the same seats in our living rooms or dub an otherwise unremarkable fruit as "the lucky grapefruit" because we happened to be holding it when our team did something good. You think it's weird for Wade Boggs to eat chicken before every game? Imagine your next-door neighbor doing the same thing for 162 games.
Just like our earlier discussions about fantasy sports and backup quarterbacks, the impetus for our superstitious ways is a desire to assume even the slightest particle of control over our favorite team's fate. Most fans know that their rituals are ridiculous. It doesn't matter—the point is that superstitions make you feel more involved. Did my eating the last pig in a blanket during Super Bowl XLII (which had gone from the lucky food item to the unlucky food item in a matter of minutes) cause the Eli Manning-to-David Tyree "Helmet Catch" that occurred 10 seconds later? Of course not. But in the moment, it felt like it did. And most of the time, that's enough.
Emma, do you have a rabbit's foot or two handy for your favorite teams?
–Jake
Actually, I don't have a rabbit foot handy for any team, and I think I remember the precise moment that I lost track of it. When I was a senior in high school, our football team went undefeated the entire season and made it to the state semifinals, which were played on our home field. I know that Vermont's high school football circuit isn't exactly Friday Night Lights, but I hadn't read about Odessa, Tex. yet, and our football team had been, well, really bad for a long time. We hadn't won a state title in 25 years. But enough of the disclaimers: Really, this was about an undefeated team in a small town, and everyone got into it.
In the fourth quarter that night, we were down 16-12 with enough time for one more play, and the Hail Mary attempt came up just short. Off-the-fingertips short.
I remember, quite clearly, talking about the game with a friend later and trying to communicate that if I, or she, or we, or they, or someone had done something differently—and I was talking about looking away at the last second, or something equally irrational—then of course we'd have won the game. 18-16 final. The friend gave me a quizzical look, and I felt a little bit chastened, and there went the rabbit foot. Almost completely.
I don't have any explicit superstitions for my teams anymore, but I still crack my knuckles at the end of a close game and I still spin a basketball once, and then dribble it twice before I shoot a free throw because it's habit by now, and, as Jake said, it makes me feel a tad bit more involved. This isn't a serious comment on fate (this probably isn't the place for it), or a critique of the fans' right to claim influence (the fans who were at Ford Field three weeks ago would have something to say about that); superstitions just make sports, and the people who both play and watch them, much more engrossing, and much more nerve-racking. And that's half the fun. (Unless, I guess, you're doing Hamilton's laundry.)
And what do you know? Just now, I saw an older woman clutching a stuffed squirrel in the stands at Busch Stadium. Whatever works.
–Emma