Why Are So Many Bands Starting Their Own Music Festivals?
Acts from Wilco to Pearl Jam to Yonder Mountain String Band have been hosting name-branded, mini-Coachellas recently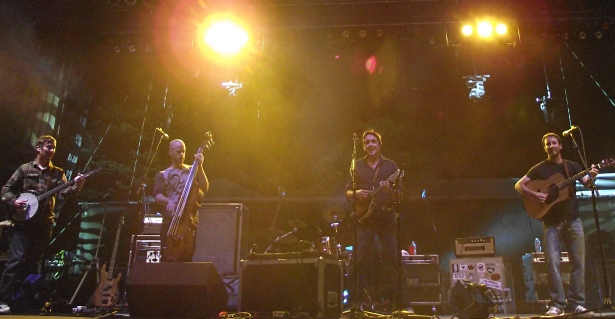 Yonder String Mountain Band at Harvest Music Festival
Two weeks ago, nearly 8,000 people gathered on a picturesque mountaintop in Arkansas's Ozark National Forest for the Yonder Mountain String Band Harvest Music Festival. The crowds came from nearby Fayetteville and not-so-nearby Norman, Oklahoma. They came from St. Louis, Tulsa and Kansas City; fresh-scrubbed Millennials in tie-dyes, and Baby Boomers still recovering from the '60s, sun-wizened with gray beards and thin ponytails. They came by hatchbacks, sedans and pickups, by rattletrap VW buses, borrowed minivans, and shining chrome-covered RV's, replete with kitchenettes and hot showers.
They came to hear live music. Lots and lots of it. They came for bands ranging from the Pixies-cover-prone Trampled by Turtles to songwriters like Jay Nash and Sara Watkins, the fine fiddler who made her name with Nickel Creek. They came to hear the masterful Peter Rowan, a Buddha-like Bluegrass player who has toured with Bill Monroe and recorded with Jerry Garcia.
Much of the crowd, especially those in their '20s, came to hear the festival's namesake, Yonder Mountain String Band. Often just "Yonder" for short, the hard-charging Neo-Bluegrass quartet from Colorado have won surprising fame for bringing speed-metal chops and an arena-rock mindset to the old school Appalachia line-up of banjo, mandolin, guitar, and standup bass.
Yonder, who also host the Northwest Strings Summit near Portland, Oregon, aren't the first band to stage their own festivals, of course. A diverse but small group of acts have been organizing their own annual celebrations of themselves since the 1990s, including Phish, Disco Biscuits, and a very ...interesting... gathering staged by Insane Clown Posse. The Roots were another early adopter, founding the Picnic five years ago. And Lollapalooza, after all, started as a Jane's Addiction farewell event.
In 2011, though, the vanity fest went viral. 311 staged their first multi-day event, the Pow Wow in Florida. Pearl Jam held their first festival near Chicago, to celebrate their 20th anniversary. In lieu of a tour this summer, Dave Matthews Band staged the DMB Caravan—basically four weekend-long festivals staged in four different states. Humble little Grace Potter & the Nocturnals, for goodness sake, had their own festival in Vermont. Even Nashville artists are getting in on the act. Last week the stadium-sized country crossover Zac Brown Band held the first annual Southern Ground Music & Food Festival in Charleston, South Carolina.
Bradley Rogers, an editor at concert-industry trade publication Pollstar, confirms that bands staging festivals of their own has suddenly become all the rage. "It's absolutely a trend," Rogers said. Money, obviously, is a motive. "With the advent of music-sharing," Rogers said, "most bands aren't making money off record sales like they used to."
By taking the financial risk of underwriting an event, bands also put themselves in position to reap greater rewards at the gate and merch tables. In a changing music industry, that's essential. "That's especially true for bands that play Americana, or are in an underground scene," Rogers said. "These are artists that don't normally get a lot of airplay. A festival is great way for them to reach out connect with fans. It helps artists build their fan base, build their community."
Ben Kaufmann, Yonder's savagely talented bassist, doesn't mind admitting that money matters. On a golf cart tour of the Harvest fest grounds, Kaufman first confessed his hope to be remembered as the John Bonham of stand-up bass. Then he described Yonder as essentially a live act.
"So much of pop music is really a producer's medium," Kaufmann said. "And you don't need to have an audience being in the studio. But for us—where we sell tickets, we don't sell records—if the people didn't show up, it would suck."
Part of the appeal of vanity festivals comes from the guarantee of an adoring crowd for the marquee act. Musicians also like to program the festival line-ups, filling the bill with young talent they think deserves recognition, or with older musicians whose work they've long admired.
"We do take pride in being able to showcase some of the artists that have been influential for us," Yonder banjo picker Dave Johnston said. "Sometimes, they're our friends. Sometimes, they are people that we have gotten to become friends with because of music."
Bands who curate a festival do more than hire and showcase their favorite musicians. They play with them, too. Festival weekends typically feature lots of musical cross-pollination, with the acts on site making guest appearances in one another's sets. Friday night at Harvest, for instance, Yonder had the Grateful Dead's longtime drummer Billy Kreutzmann come on stage for a jam-band cameo ("jameo?"). Saturday night, the band's guests on the main show included Bela Fleck, the Greatest Banjo Player Ever, plus some of his Flecktones, like the iridescent bassist Victor Wooten.
Stretching musically is also what drew Jeff Tweedy to the festival idea. His band, Wilco, held their second Solid Sound Festival in Massachusetts this summer.
"Something we had always thought about was trying to find a place to play together," Tweedy said when speaking to TheAtlantic.com earlier this year. "Where we could all do our side project bands, and also play as Wilco together."
This year, Solid Sound, held on the grounds of an art museum, featured a photography exhibit, conceptual art installations, and a Wilco poster art retrospective. All of that is "as exciting as anything else we get to do," Wilco's manager Tony Margherita said. "It gives the band and everyone around it the chance to stretch creatively."
Not everything is quite so thrilling. At least, not for the Yonder boys at Harvest fest. Part of the band's duties included run-of-the-mill meetings where they helped hammer out details as mundane as food service. Brett Mosiman, owner of of Pipeline Productions, which handles logistics for the event, said some bands may not be as involved in the production, but Yonder takes having their name on the festival seriously. "They really look at themselves as hosts," Mosiman said, "and the people who come to the festival as their guests."
Fun, though is the dominant theme when your band hosts its own festival. Like after the golf cart ride, when Ben took a few pictures with a fan who was so infectiously excited to meet him that she bounced while they talked. Or when Kaufmann was asked the coolest thing about his band hosting its own festivals. He replied that the coolest thing was being friends with couples who conceived children at one of Yonder's first Northwest String Summits, and having since had the opportunity to watch those kids growing up.
That was just before an obviously perturbed, 40-ish bleached-blonde in tight jeans walked up to his golf cart. Exasperated about something, she looked at Ben, and demanded, "Do you work here?"
Behind her, a brood of giggling toddlers chased a beach ball on the sun-drenched, flat, grassy, field in front of the main stage. Bunches of teen- and 20-somethings gathered on brightly-colored picnic blankets. Blissed-out hula-hoop girls spun barefoot in flowery skirts, skin bright with body glitter. Older married couple sat side-by-side in lawn chairs, holding hands and tapping toes. Past them, the multicolored tent city—flags and banners aflutter—then rose the pine and maple treeline, with the ancient, silent Ozarks beyond.
Ben looked up at her, and said, "Kinda."