Who's to Blame for the Colts' Post-Peyton Misery? The Colts
Indianapolis built its entire strategy around Manning, neglecting to craft an defense or train a backup quarterback. No wonder the team's fallen apart since he got injured.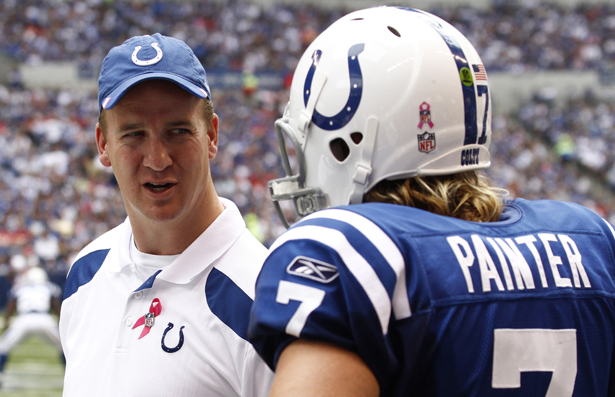 Reuters
The biggest difference between the 2011 Indianapolis Colts and its roster from the previous 13 seasons is obviously the absence of quarterback Peyton Manning. The four-time Most Valuable Player may just deserve the award again this season - because he hasn't played a single down and the team has gone 0-7 without him: an unorthodox but unassailable case for his value.
League observers have said for years that the team was too Manning-centric, that the team's success was invested too heavily in the ability of their future Hall of Fame quarterback to tally points and keep pressure off their defense. And yet the team's front office did little or nothing to change the delicate dynamic. Only a historic combination of poor planning, hubris, and run-of-the-mill injuries could turn a team that was 14-0 through week 15 of the 2009 season into the 0-7 team that limped off the field after getting shellacked 62-7 by the Saints on Sunday night. And for all you hear about "Suck for Luck"—the 2011 NFL buzz term for teams purposely tanking in order to secure the No. 1 pick in next spring's draft, a slot that will likely be filled by Stanford quarterback Andrew Luck—the Colts really aren't that bad. They may be on pace for zero wins, but these are not the second coming of the 2008 Detroit Lions, the only team to finish a 16-game season with no wins. No, in some ways they're more disappointing. During the decade from 2000 to 2009, the Colts won more regular-season games than any franchise in the NFL. They won more than 12 games a record seven seasons in a row (2003-2009), yet they were often unfavorably compared with baseball's Atlanta Braves: For all their regular-season success, the Colts only managed one championship.
Before Manning and his teammates finally broke through and won a title against the Bears following the 2006 season, he had a reputation as a statistical juggernaut who couldn't win the big game. Even now, after winning one Super Bowl and appearing in another versus the Saints after the 2009 season, Manning's career postseason record stands at a pedestrian 9-10. By contrast, the playoff record of the Patriots' Tom Brady, the one quarterback with whom Manning is consistently compared, is a superlative 14-5, with Brady winning three Super Bowls to Manning's one. But when Brady was knocked out for the 2008 season with a leg injury in the first game, the Patriots rallied around their untested backup, Matt Cassel, went 11-5 and almost made the playoffs. Does the Patriots' success that season prove that Manning, not Brady, is the more valuable of the two quarterbacks? It seems you can make that argument. But here's another argument you can make: The Patriots were better able to withstand the loss of their quarterback because they had a respectable defense that finished fourth in the NFL that year. Sure, Cassel had to step up and play well in Brady's absence, but the team had to collectively compensate for the loss of their best player. The 2011 Colts have not done that, because they're not constructed to do that. They've never been constructed to do that.
Team vice chairman Bill Polian and his son, Chris, the general manager, were so ill-prepared for Manning's health issues (he's had three neck surgeries in the last 19 months and has an outside chance of returning this season) that right before the season started they lured Kerry Collins out of retirement to fill in for Manning until, well, they weren't sure. The Colts' front office had seen Manning start 208 straight regular-season games since 1998—second only to Brett Favre's all-time record of 297—so they'd apparently been lulled into believing that Manning was impregnable. When reality proved otherwise, the Polians started to scramble, looking like car owners who realize it's a good idea to have car insurance only after they've run a red light and t-boned a city bus.
Rather than entrusting Curtis Painter, the backup quarterback they drafted in 2009 in the sixth round (the same round, by the way, that Brady had been drafted by New England in 2000), the Colts panicked and offered $4 million to a retired quarterback who was at home working on a country music album. These types of decisions don't engender much confidence in a team's fan base. As Stampede Blue, a Colts fan site, put it, "Signing Collins, and the gross under-valuing of Painter, were pretty colossally stupid decisions in a 2011 off-season defined by front office incompetence."
Collins' stint atop the depth chart in Indianapolis was short-lived due to injuries. In three mediocre outings, the former Penn State star completed less than half of his passes, threw for two touchdowns, and tossed one interception, clearing the way for Painter to take over. Following a series of concussions, the team this week placed Collins on injured reserve and ended his season (and likely his career).
Painter, a Purdue graduate who also went to high school in Indiana, has played fair thus far in his five-game stint as the quarterback. It's been a small sample size, but Painter has thrown five touchdown passes against two interceptions, with three fumbles as well. Has he been great? Far from it. But if you go by quarterback rating—a metric that's not without its flaws—Painter is 12th in the NFL, ahead of quarterbacks such as Michael Vick, Andy Dalton, Jay Cutler, Mark Sanchez, Cam Newton, Philip Rivers, Matt Ryan, Joe Flacco, and Josh Freeman. Painter's problem isn't that he's terrible, because he's not; his problem is that he's not nearly as good as Peyton Manning. And you need someone of Manning's capability to overcome the problems inherent to the Colts—problems that have existed for a decade.
Football is often touted as the ultimate team sport, where the strength of a team's offense or defense is defined by their weakest link. But with the Colts, their offense and their defense have been defined by their strongest offensive link, Manning. With so much of the team's success predicated on his health, it seems impossible that the team would go through the last decade with this series of backup quarterbacks—Mark Rypien, Brock Huard, Jim Sorgi and Painter. And yet the team has been stubborn in its philosophy: Rely on Manning and the offense to score a lot of points; rely on the quickness of the defense to produce sacks when the opposition is forced to throw. But another glaring weakness in this approach—at least when Manning is removed from the equation—is that the Colts' defense has been consistently mediocre (if not terrible) at stopping the opponent's running game. So if the Colts aren't scoring points and the opposition has the lead, the Colts' defense can always expect a healthy dose of running by the other team's offense.
Since 1998, when Manning first entered the league, the Colts have ranked in the bottom half of the NFL in rush defense every single year. In eight of those 13 seasons, they've ranked 24th or lower, which is the lower 25th percentile. Even the year they won the Super Bowl (2006), they were dead last in the league against the run. This year, they're second to last. No doubt the season-ending injuries to linebacker Gary Brackett and safety Melvin Bullitt have hurt. But how much difference would they have made? Last year, with those two players, the team finished 25th in the league in run defense. The only way a good team—a consistent winner that should be attractive to free agents—can be that consistently bad in one huge facet of the game is by willful ignorance. Bill Polian, who built championship-contending teams with the Bills and Panthers, is ultimately responsible for this cockeyed dynamic—the kind of all-in on Manning that can allow a team to win a Super Bowl with the league's worst rushing defense and then start 0-7 when the quarterback goes down.
Safe to say Polian, who has won the NFL's Executive of the Year Award six times, won't be earning that award this year. With the Colts' philosophy laid bare in such a public spectacle, he will probably be lucky to earn a paycheck from the team next season.
Yes, it's somewhat surprising that the Colts are 0-7 in 2011. But it's also somewhat surprising that this unraveling didn't happen earlier. Only Manning's exceptional run of health kept the team from being exposed before now. Luckily for the Colts, they don't play the Saints again this year. They do, however, play the hated Patriots and their top-ranked offense in the first week of December. Will the team risk further injury to Manning and bring him back in time for that game? Perhaps they will, if only to know if his career has hit a speed bump—or come to a screeching halt.
Manning's absence, while painful in the short run, might be the best thing for this organization in the long run. It's time the Colts learned to live without him. It's also time they do something about that atrocious run defense.