What Makes '60 Minutes' Tick?
Forty-four years after its launch, the weekly broadcast is still the dominant news magazine on television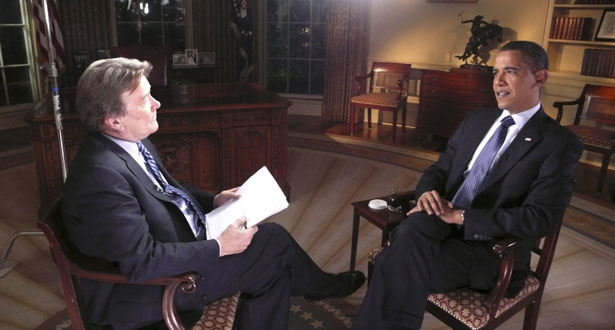 Reuters
Despite the gradual decline in the viewership of network television news, it is notable that longevity is still a characteristic of many major programs. The evening news shows have been on the air since television's origins in the late 1940s. ABC's Nightline, which began with the Iran hostage crisis of 1979, still draws the highest ratings in its time slot. ABC's 20/20 and NBC's Dateline have been around for years. NBC must still see potential in prime-time news--it is planning a major launch soon of a weekly magazine show called Rock Center, hosted by Brian Williams and featuring correspondents with long and impressive resumes such as Harry Smith and Meredith Vieira.

But no other network weekly news show comes close to the success of 60 Minutes, which began its 44th season on September 25. In the 2010-11 season, 60 Minutes actually increased its audience. The program attracted an average of 13.4 million viewers per week. Half of the season's shows ranked in Nielsen's weekly top 10 listings, and for the full run through the traditional Memorial Day measuring period, 60 Minutes ranked 15 out of 179 primetime programs. Seven 60 Minutes segments received Emmys in the 2011 news and documentary awards ceremony.
This appraisal of 60 Minutes' continued strength was prompted by Andy Rooney's 1,097th commentary on October 2, billed as his last regular appearance on the show. At 92, Rooney (whose books I have published for more than 20 years) has every right and reason to step back from the rigor of original pieces. I have already written about our partnership and friendship, so will resist the temptation to do more than wish Rooney well in however he now chooses to spend his time. I was pleased to see that his farewell appearance substantially boosted the viewership for the program.
With Rooney's departure, the retirement in 2006 of the great correspondent Mike Wallace, and the death of 60 Minutes founder Don Hewitt in 2009, it would be understandable to relegate the program to some category of natural old age. The fierce competitiveness of cable news and so much information programming on cable channels and the streaming of programs on the Internet pose a challenge to a format that is essentially unchanged since it was devised by Hewitt all those decades ago. But that is what makes 60 Minutes so remarkable. Under the leadership of Jeff Fager, who took over as executive producer in 2004 (and now is also chairman of CBS News), 60 Minutes has maintained its basic approach to story-telling: teams of correspondents and producers report in depth on a broad spectrum of subjects that qualify as investigative, news-making, and often revealing, in an entertaining way (for example, Anderson Cooper's profile of Lady Gaga). The formula has clearly kept 60 Minutes in the mix of what viewers in large numbers want to watch, rewarding a fan base with multiple options and consistent loyalty. It still takes time and money to deliver so many fully formed pieces, including extensive travel and overcoming the resistance of individual or corporate miscreants. The record shows that 60 Minutes has more than held its own.
Given the generational shift in leadership, many of the correspondents are nonetheless long timers: Morley Safer, Steve Kroft, Lesley Stahl, and Bob Simon have prodigious energy and are backed by producers like Bob Anderson (who currently holds the record of over one hundred segments). Scott Pelley, Byron Pitts, Lara Logan, and Cooper fulfill the same intrepid pattern as their predecessors. The biggest difference is that pieces tend to be more closely tied to the news and often are turned around in a matter of days or weeks, in contrast to the past, when some stories were in the works for months. I asked a CBS representative to remind me of last season's major pieces. Here is just a portion of what he listed:There was Scott Pelley's investigation into Lance Armstrong and the doping in professional cycling. Pelley also did powerful reporting from Japan after the earthquake and Tsunami. Steve Kroft did a piece that exposed exaggerations and falsehoods in Three Cups of Tea about the work of Greg Mortensen in Afghanistan that produced a best-selling book and substantial contributions. Kroft also got an exclusive briefing from President Obama after the killing of Osama Bin Laden. Lesley Stahl had a terrific interview with Facebook founder Mark Zuckerberg, and Bob Simon interviewed the Chilean miners whose rescue after weeks trapped in the shaft was an international sensation. Morley Safer did a memorable session with Wynton Marsalis, who is the country's leading proponent of jazz education and performance. After a few weeks to recover, Lara Logan revealed what happened when she was sexually assaulted on assignment in Cairo after the downfall of Hosni Mubarak. And Byron Pitts explored the meaning of the "N" word in modern parlance.
By any standard, that is an impressive collection of stories, and there were a great many more. To supplement the weekly broadcast, there are now Web features, including 60 Minutes Overtime, which adds to the background of the pieces on the air. Don Hewitt's mantra in his heyday--and the title of his memoir--was Tell Me a Story. Updated to the metabolism of contemporary news cycles, that is still the core of what makes 60 Minutes so distinctive and satisfying. In the digital age, with the rise of so many new ways to deliver information, 60 Minutes has some old-fashioned qualities, which proves that being venerable still has its virtues. Everyone connected to 60 Minutes knows that to be the case, and they carry the accolades the program receives with deserved pride.