Tom Waits Sounds Older, Weirder, and Wiser on 'Bad As Me'
Waits's latest album sees the ornery and brilliant singer addressing his own legend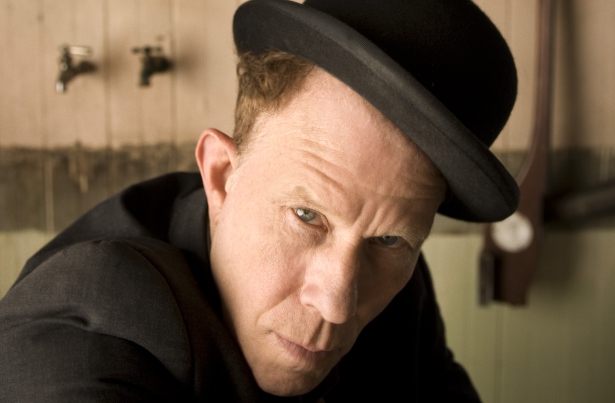 Michael O'Brien / Anti-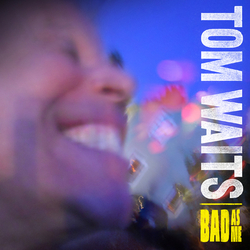 If any musician has earned the right to crow about his hard-won acclaim, it's Tom Waits. Toiling on the margins of popular culture over the past four decades, Waits has forged an iconoclastic style that blends boozy barroom crooning, Tin Pan Alley lyricism, flimflam carnival barking, barnyard braying, and a menagerie of found sounds. He takes pride in his freedom to chase his muse to whatever experimental depths it leads him to, even if the results frequently fall outside the musical mainstream. As he mused in his Rock and Roll Hall of Fame acceptance speech last March: "They say I have no hits and I'm difficult to work with, and they say that like it's a bad thing." Now in his early 60s, an age when many of his contemporaries are touring casinos or leasing their tunes to corporations, Waits still seems as vital and feisty as he's even been.
So it should come as no surprise that the title track on Bad As Me, his first album of original material in seven years, finds Waits cartoonishly celebrating his eccentricities with a likeminded soul: "I'm the blood on the floor / The thunder and the roar / The boat that won't sink / I just won't sleep a wink / You're the same kind of bad as me." Set to a rumba backbeat, "Bad As Me" playfully skewers hip-hop-infused self-aggrandizement, with the narrator comparing himself to an increasingly odd string of images ("I'm the hat on the bed ... I'm the car in the weeds"). The same swaggering defiance comes across in "Satisfied," a bluesy, clear-eyed consideration of impending mortality as well as a response to the Rolling Stones' signature song. With Keith Richards strumming along gamely in the background, Waits growls that he will be satisfied before he passes away, going so far as to taunt the singer and guitarist who complained otherwise for their whininess: "Now Mr. Jagger and Mr. Richards / I will scratch where I've been itching." It's a good-natured barb, and it comes off as though he were challenging the moribund Rolling Stones to come back at him with music of equal hunger and vitality.
Bad As Me brims with the verve and chutzpah of an artist in full command of his craft. Unlike the rural rusticity of 1999's Mule Variations and the offbeat sputters and stomps of 2004's Real Gone, Bad As Me is less concerned with staking out new sonic territories, focusing instead on layering novel textures and inflections onto well-trod themes and sounds. What saves the album from merely imitating Waits's earlier work is the uncharacteristic tautness of the tracks. Few songs spill over the four-minute mark, and this masterful precision goes a long way toward amplifying the lyrics' smoldering brew of desperation, bluster, and hope.
The album kicks off with frenetic urgency in "Chicago," a song that evokes the migration of African-Americans to the Windy City during the early 20th century. The jittery horns, clanging banjo licks, and delusional choral line ("Maybe things will be better in Chicago") complement a typically Waitsian setting in which downtrodden fringe-dwellers take to the road in search of better opportunities. Two minutes in, with the tension already at a breaking point, a harmonica blares, Waits bellows "All aboard!" and the song fades out unexpectedly like a departing train chugging into the horizon. Displacement and restless wandering reverberate similarly through most of the album's tracks. The drifter in the incandescent "Face to the Highway" chooses the road over his lover, while the world-weary showman in "Pay Me" laments his itinerant existence amid a wheezing accordion line, coming to the bleak realization that "the only way down from the gallows is to swing."
Many tunes pick up on the political undertones that permeated Waits's previous album, Real Gone. The characters in the haunting shuffle, "Everybody's Talking at the Same Time," are too confounded by the endless media chatter to actually do something about their crumbling personal and political lives. Waits purrs in an eerie falsetto: "Well we bailed out the millionaires / They got the fruit / We got the rind / And everybody's talking at the same time." And on the album's most startling track, "Hell Broke Luce," a drug-addled soldier, rendered nearly deaf and blind during his stint in Iraq, slips in and out of a noisy warscape. Amid clomping percussion and a trio of electric guitars sputtering out machine gun beats, the soldier fumes against the brokenness of his postwar life and against battles that killed his buddies.
While Waits's political indignation is visceral and deeply felt, his ballads in contrast feel perfunctory and strangely inert. The scratchy, stripped-down sound of "Kiss Me" suggests a vinyl recording of a jazzy nightclub trio, yet the song never rises above its clichéd refrain: "I want you to kiss me / Like a stranger once again." The album's closer, "New Year's Eve," shows promise, but ultimately becomes weighed down by its lyrics' sprawling cast of ill-defined characters. Moreover, its choral appropriation of "Auld Lang Syne" prompts unfavorable comparisons to Waits's iconic live performances in the late 1970s of "Christmas Card from a Hooker in Minneapolis," which he bookended beautifully with "Silent Night."
The exception is "Last Leaf," an unvarnished acoustic number that doubles as an irresistible metaphor for Waits's career. On it, Waits and Keith Richards croak in the chorus, "I'm the last leaf on the tree / The autumn took the rest / But they won't take me." These lines tie together the album's disparate thematic concerns: loss, perseverance, and deserved pride at having held on after so many others fluttered away. But they also call to mind the determination of Waits to keep his voice heard in today's fractured musical landscape—which the resonant and relevant Bad as Me all but guarantees. If this album is any indication, we can expect many more late-period masterworks in the years to come. Waits himself hints as much in the concluding verse of "Last Leaf": "I'll be here through eternity / If you want to know how long / If they cut down this tree / I'll show up in a song."