The Myth of the Home Run That Drove an Angels Pitcher to Suicide
Donnie Moore blew a playoff game 25 years ago, then shot himself a few years after that—an act fans and sportswriters alike deeply misunderstand.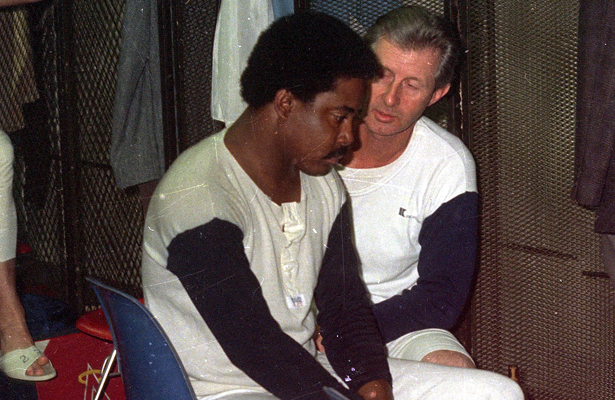 AP Images
There are stories we like to tell ourselves about sports. One of them is that the games we play can be so engrossing, our losses so exquisitely painful, that we can never really recover from them.
This is mostly a fan's way of looking at things, of course. Players can't afford such thoughts. Their business is to shake it off, forget about even the worst losses, and move on to the next game. Yet as fans, we continue to believe that we can impose our agonies upon them, that we can so hound them with their mistakes and failures that they can never escape them. Former Dodgers' pitcher Ralph Branca, for instance, has spent the last 60 years of his life having to replay the epic home run the Giants' Bobby Thomson hit off him, in the last game of the 1951 pennant race, perhaps the most famous single game ever played.
Being reminded over and over again of the worst mistakes we ever made in public, for the rest of our lives—surely, this must be every player's waking nightmare. In sports, where things happen so quickly and suddenly, we are obsessed by how everything can turn in one, irretrievable moment—and we project that obsession onto the players, the constant objects of our veneration and our scorn, just as we project everything else.
This month is the 25th anniversary of one of the most infamous errors in all of major-league history: Bill Buckner's allowing Mookie Wilson's ground ball to trickle between his legs, for the error that sealed the Red Sox's fate in Game Six of the 1986 World Series, and saddled that team with yet another in a long line of traumatic defeats.
The error is overrated; it did not, by itself, cost the Red Sox either the game or the Series. But Buckner, like Branca before him, has endured with rare good grace ever since, even playing himself on a hilarious episode of Curb Your Enthusiasm, in which he misses another baseball, but catches a baby thrown from a burning building.
Pushed to the background by these ceremonies of forgiveness has been a much darker story, from that same October of 1986. It is the story of Donnie Moore, a pitcher for the California Angels who, unable to overcome his own moment of failure, was supposedly driven to take his own life. Yet the chances are good that everything you think you know about his story is wrong.
Moore was a 32-year-old, itinerant relief pitcher from Lubbock, Texas, who was on his fifth major-league team. Tall, black, and mustachioed, the son of a maid and a truck driver, he had made the most out of a modest fastball and a snappy splitter. In 1985, he had put together his finest major-league season, saving 31 games, compiling an ERA of 1.92, and making the All-Star game.
Rewarded with a three-year, $3-million contract by Gene Autry, the Angels' free-spending owner, he immediately spent about a third of that money on a big house up in the Peralta Hills section of Anaheim, and moved in his wife, Tonya, who had been with him since Lubbock, and their three children. They looked and acted like the ideal family. Donnie Moore, it seemed, had finally arrived.
Yet things started to go wrong for Moore almost from the start of the 1986 season. He missed a month of play early on with what was diagnosed as a muscle strain in his rib cage, but was eventually found to be a bone spur near his spinal cord. Throwing awkwardly on his return, he soon found that his elbow and shoulder were aching, too. Before long he was taking a nerve-blocking agent for the rib cage, anesthesia and cortisone for his shoulder, and other medications for the migraines that had begun to plague him.
Donnie Moore was a mess, but he wasn't one to complain, at least not in public. The Angels could not find a reliever to close games without him, and Moore simply did what so many fans demand that athletes do, which was to play through the pain. Despite his injuries, he returned to save another 21 games, and the Angels became one of those teams that simply clicked. An intriguing mix of veteran stars such as Reggie Jackson, Don Sutton, Bobby Grich, Bob Boone, Rick Burleson, John Candelaria, and Doug DeCinces; and rising young players such as Wally Joyner, Kirk McCaskill, and Mike Witt, California ended up breezing to the American League's West Division title.
The Angels were still underdogs in the league championship series against the Red Sox. Besides Buckner, a former batting champion, Boston boasted future Hall-of-Famers Wade Boggs and Jim Rice, American League most valuable player and Cy Young Award winner Roger Clemens, and other all-stars such as Dwight Evans, Bruce Hurst, Don Baylor, and Rich Gedman. All of Boston was so certain it was at last their year that, on the eve of the playoffs, the Boston Globe ran a special literary supplement featuring John Updike, Doris Kearns Goodwin, Stephen King, David Halberstam, George Will, and others mulling over why all good literati were Red Sox fans.
Then the games began, and things began to happen to the Red Sox, as they usually do. Mike Witt outpitched Clemens in the series opener in Fenway, and the Angels won going away, 8-1. Back in Anaheim, Clemens surrendered a 3-0 lead in the ninth when Jim Rice turned the wrong way on a flyball, and rookie reliever Calvin Schiraldi hit Angels catcher Brian Downing with a pitch to force in the tying run.
California won the game in 11 innings, and took a three-games-to-one lead in the series. The Sox ace would be unable to pitch again until the seventh game, while the Angels had their best pitcher, Witt, going in the fifth game of the series, at home in Anaheim. Surely California would wrap up the first pennant in its 26-year history—and the first for manager Gene Mauch, "the Little General," who through many heartbreaks of his own had set a record for wins by a major-league manager without ever making it to the World Series.
That afternoon, everything continued to go the Angels' way. Boston centerfielder Dave "Hendu" Henderson almost made a brilliant, leaping catch of a ball hit by Bobby Grich against the centerfield wall...only to see the ball tip out of his glove when it hit the wall, and fall over for a two-run homer.
Witt looked dominant again in the lazy, Southern California sunlight, carrying a 5-2 lead into the ninth. He surrendered a lead-off single to Buckner, of all people, but then froze Rice with a wicked curveball for strike three. Two outs to go. The 64,223 fans filling the Big A were now leaning over the railing, pounding on anything they could find, making an incredible racket. In the Angels' dugout, Reggie Jackson carefully pocketed his sunglasses and went over to congratulate Gene Mauch.
"It isn't over yet," Mauch reminded him.
Almost on cue, Don Baylor gulfed another, sharp-breaking Witt curveball over the fence in left-center. Now the score was 5-4, the standing, chanting crowd abruptly hushed, but Witt responded by inducing Dewey Evans to pop out weakly to third.
One more out. The crowd revived, and security guards began filling up the outfield bullpens. Smirking, helmeted, California Highway Patrol officers crowded the Red Sox into a corner of their own dugout, telling them, "C'mon, boys. There's going to be a party here."
Mauch, though, had decided that his starter was out of steam, lifting him for reliever Gary Lucas, rather than letting Witt face Boston catcher Rich Gedman. Gedman had rarely hit Witt, but he had already touched him up for a home run that afternoon. Lucas had struck out Gedman just the night before.
It seemed like the smart move—until Lucas hit the Boston catcher square on the forearm. It was the first batter he had hit in over four years, and four hundred innings. Lucas departed. Mauch brought in Donnie Moore.
This, too, seemed like the smart play. Moore was not only the team's closer but a righthanded pitcher, brought in to pitch to the righthanded Henderson, who had been having a horrendous time ever since coming over to Boston that September. Besides the ball that had gone off his glove for a home run, he was nursing a sore leg, batting just .189 in the championship series, and had already struck out in a key situation that afternoon. It seemed like a cinch.
But Moore's injuries had also taken their toll. Called on to protect a 4-1 lead in the third game of the series, he had surrendered either a hit or an outfield fly to all 11 Boston hitters he faced, barely escaping with the 5-3 victory.
Now he got two strikes on Henderson, and nearly struck him out with a split-fingered fastball, Hendu just nudging a weak foul down the third-base line. When he hit another, much harder foul off a straight fastball, catcher Bob Boone called for an off-speed splitter. Moore delivered—but the ball had no snap, his weakened shoulder throwing up a floater. Henderson pounced, hitting the ball eight rows deep in the left field stands, then danced around the bases. The Red Sox led, 6-5. The highway patrol boys retreated from the Red Sox dugout. Reggie Jackson put his glasses back on.
The game was not yet over, though, and much of what happened next has been forgotten. The Angels fought back to tie the score again in the bottom of the ninth, and then loaded the bases with just one out. Doug DeCinces, who had led the team in runs batted in, and Bobby Grich, two of the Angels' best hitters, were coming up. A long flyball or a soft grounder would win the game.
But neither hitter could deliver. Donnie Moore, running on fumes, gave up two more hits in the top of the tenth inning, but got Jim Rice to hit into a double-play. In the bottom of the inning, the Angels threatened again--only to see Rice, never known for his fielding, make an outstanding, two-handed catch against the wall.
Moore finally gave way in the 11th, allowing a sacrifice fly by—who else?—Hendu Henderson. The Red Sox had the lead again. This time they would hang on, then go back to Fenway and win the final two games of the series easily, 10-4 and 8-1. The Angels played as if they were shellshocked, booting easy balls and failing to hit in the clutch.
"It was strange. It was really weird," Jackson admitted once it was all over. "The past two days, it was like we weren't even here."
Afterwards there was plenty of blame to go around, but most of it came to congeal on Donnie Moore. Never mind that he had been pitching hurt, and pushed beyond what any reasonable manager would do today. It was all his fault.
Right away, Moore seemed to second-guess himself, telling reporters in the clubhouse after his Game Five loss, "Maybe if I had tried to blow it past him [Henderson], we'd be drinking champagne right now."
For the rest of his life, he would go back and forth about taking responsibility for the loss. He did admit in the clubhouse that same afternoon, "Every time I throw, my arm hurts," but—realizing he had broken the ballplayers' unwritten code—adding, "that's not why I lost the game. I was horseshit."
"I'll shoulder the blame. Somebody's got to take the blame, so I'll take it...I threw that pitch. I lost that game," he said after the final loss in Boston. Later he pointed out: "I don't believe the pitch cost us the game. We still could have won it."
Certainly, more of the blame should have been shared with Gary Lucas, or with the Angels' hitters for their repeated inability to get the winning run across the plate against a motley succession of Boston relievers that afternoon, or with Gene Mauch, for his dubious managerial decisions. Instead it was Moore (who, it's worth noting, was the one black man in the piece) who heard it from the fans and the media. He was booed and criticized relentlessly, especially as his injuries worsened and he moldered on the disabled list for most of the next two seasons.
Moore suffered in silence before the doctors finally found and removed the spur near his spine that had been tormenting him. Meanwhile, the Angels' star veterans began to retire, and the team dropped to last in the division. Gene Mauch hung it up for good in spring training, 1988, after a record 26 seasons without a pennant—and California cut Donnie Moore loose before the end of the season. In 1989, the Royals released him from their Triple-A team in Omaha, ending his baseball career at the age of 35. The big house in Peralta Hills went on the market.
On July 20, 1989, the smog seemed to sock in a particular madness over the Southland. Word came that Rebecca Schaefer, a pretty young TV actress, was shot and killed at her home by a deranged stalker. That same day, less than a week after his release by Omaha, Donnie Moore shot himself in the head with a .45. The instant assumption was that he killed himself because of a home run.
"I think insanity set in. He could not live with himself after Henderson hit the home run. He kept blaming himself," Moore's agent, Mike Pinter, told everyone who would listen. He added, "That home run killed him."
Moore's old teammate, Brian Downing, blamed the fans and the media: "You destroyed a man's life over one pitch. The guy was just not the same after that." The press quickly picked up the theme. Headlines from coast to coast read, "Sometimes, This Game Is Life or Death," "A Ballplayer's Life Turns on a Home Run," and "Donnie Moore: 'That Home Run Killed Him'"
Lyle Spencer, a columnist for the New York Post asked, "How many times did a media type remind him of the pitch that didn't break...How many times did he hear this—'Moore, you blew it!'—from some drunk and disorderly fan with the sensitivity of a cockroach?" Tom Boswell in the Washington Post lamented "an American predisposition with Puritan roots...to equate defeat with sin," and asked that "before we boo or use words like 'choke' and 'goat,' perhaps we should think sometimes of Donnie Moore."
Yet the truth was that there were much worse demons haunting Donnie Moore, and probably always had been. Donnie and his wife Tonya had been together since they were high school sweethearts, all right, but this was not a romance.
Violently jealous and possessive, Moore started beating her when she was just 19 years old, and kept it up through the rest of their years together, especially when he had knocked back too much Jack Daniels. Well before Game Five of the 1986 American League Championship Series, he would become enraged whenever she so much as looked at or talked with another man, and he often kept her a virtual prisoner in their home. It was a side of Donnie Moore that he doesn't seem to have allowed his teammates or the sportswriters to see—or perhaps no one wanted to look very hard.
Tonya tried to leave her husband when his baseball career ended, knowing he would become still more violent. When a brief attempt at a reconciliation failed, he chased her around their beautiful home with his gun, shooting her through the neck, lungs, and chest in front of their three children. Somehow, Tonya made it to the backseat of her car, and her 17-year-old daughter drove her to an emergency room, screaming most of the way. Miraculously, Tonya Moore walked into the hospital under her own power and survived, although months of physical and mental rehabilitation would be necessary before she could fully recover.
Back at home with his young sons, Donnie Moore put the .45 to his head and pulled the trigger as they watched. Something had been lost, all right, but it wasn't a ballgame, and it didn't happen in a moment.
Ballplayers, especially professional ballplayers, find ways to adapt and get past their failures—and to live with them. True, the losses and the errors don't go away. Reading Lawrence Ritter's seminal oral history, The Glory of Their Times, one finds players still mulling over famous catastrophes four and five decades later—the Merkle "bonehead" play, Snodgrass muffed fly, the ball that hit a pebble and bounced over Freddie Lindstrom's shoulder, costing his team a World Series.
Yet even when not allowed to forget their failures, most of them find a way to get on with their careers, and their lives. Ralph Branca, asking the family priest why this had happened to him, was able to accept the answer, "Because God knows your faith is strong enough to handle it." (Branca would, earlier this year, discover that his mother had been born Jewish. All this time, he could have simply blamed it on yiddishe mazel!) Buckner was able to laugh about the worst moment of his playing career on national television, and accept the cheers of the Red Sox faithful when he returned to Fenway this year.
This is what fans too often don't understand about the athletes they follow. When it comes to the game, the mental toughness that enabled them to excel in the first place usually allows them to go on. It's the rest of life that can be too much--as it can be for all the rest of us.