The Fashion Oeuvre of Kanye West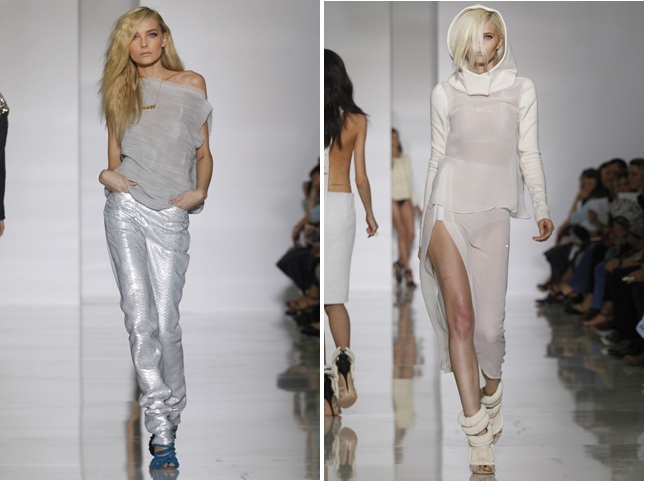 Horde Lieutenant Anibundel offered her thoughts on Kanye's fashion debut in Paris. We've said a lot about the misses. Here she is on
a couple of hits
:
These outfits are both fabulous. I particularly like the outfit on the left. Simple silver pants, which have some slouch to them, but not so much that the model is swimming her way down the runway. Pairing it with the sexy opaque top is a great choice. There's not too much going on, and every piece has room to breathe. The pop of blue with the shoes is a nice touch. As for the outfit on the right, this is just a fun twist on a high-end 80s look. But I'm a sucker for high-end hoodies, even when the bodice is downright see-thru. The pairing with the barely see-thru skirt is visually interesting while maintaining enough simplicity that things work.
I'm partial to the joint on the left, too. Regrettably, the rest don't hold up as well. Check out Anibundel's notes on all of
Paris Fashion Week
.
For those wondering as to how a soldier might rise to Lieutenant, I'd say that blogging about fashion and showing up at one of my readings is a pretty good way to go.