The Best World Series Game Ever Was Also the Worst
Before David Freese's miraculous home run, Thursday night was filled with maddening errors. That's what made it so good.
Before David Freese's miraculous home run, Thursday night was filled with maddening errors and slapstick baseball. That's what made it so good.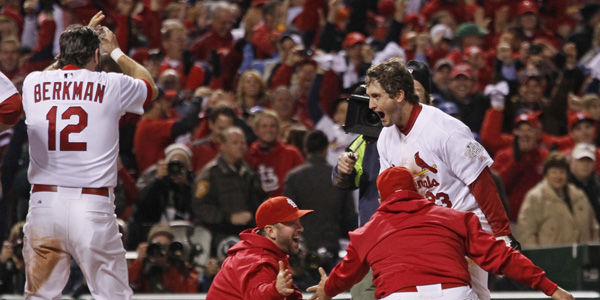 Reuters
When a team defies odds so heavy that the outcome is taken for granted—as it was by a Dallas Fox affiliate that texted subscribers last night to inform them that "The Texas Rangers have won the World Series"—we call it magical. There is no other word.
As Game Six of the 2011 World Series ended, third baseman David Freese had his uniform torn off by rabid teammates struck with giddy disbelief. That's how good it was. For a St. Louis Cardinals fan, which I am, Thursday night was like VE Day on a baseball diamond. When I think of the game now, the only thoughts I can conjure are of this photograph and sometimes Glenn Frey's "The Heat Is On."
Imagine being told by a doctor that you have a life-threatening illness. And then that you don't. And then that you do. And then that you don't. And then that you do. And then that you don't! The mind reels.
No one expected this dramatic ending, especially after Freese dropped a routine fly ball in the fifth inning, allowing Texas to begin a rally that would capture the lead. It was the worst kind of error, a Little League miscue: Freese one-handed the catch a bit nonchalantly, closed his glove early, and the ball glanced off. It was bad. I screamed obscenities. The Cardinals were doomed, it seemed, to an offseason of Mexican-league winter-ball and unadulterated remorse. But the hometown kid (Freese graduated from Lafayette High School, in an exurb of St. Louis) made good, improbably lifting a game-winning, 11th-inning home run off Rangers pitcher Mark Lowe to extend this Series to Game Seven in St. Louis Friday night.
Freese's turn from goat to hero signified something bigger about Game Six: It was the best of games, but it was also the worst of games, an error-fest in which both teams tried excrutiatingly hard to lose.
For half of the game, all the dramatic twists and turns came on miscues:
Top of the 4th, game tied 2-2. It's already been a tense, back-and-forth affair. Rangers outfielder Nelson Cruz hits a routine pop-up to left field, and Cardinals outfielder Matt Holliday somehow—against all logic and sense—neglects to call for it. The play ends with Holliday yelling frantically over shortstop Rafael Furcal, the ball plopping sadly on the outfield grass, and Holliday crawling pathetically toward it on his knees. It is the second time in his Cardinals career that Holliday has dropped a routine fly ball in postseason play. (The first happened against Los Angeles in 2009). Cruz scores later in the inning.
Top of the 4th. Rangers lead 3-2. Cardinals pitcher Fernando Salas throws a changeup to Rangers pitcher Colby Lewis, who bunts it back to him. Salas attempts a force-out at second base but air-mails his throw into the outfield.
Bottom of the 4th. Rangers lead 3-2. Lance Berkman hits a sharp grounder. Rangers first baseman Michael Young has trouble getting it out of his glove. He throws it to Lewis, who misses first base with his foot. Berkman later scores on a ground-out.
Top of the 5th. Game tied 3-3. Just as the game seems to have reached an equilibrium, the Freese error happens. Josh Hamilton, who reached base, scores on a double in the next at-bat, giving Texas the lead. Cardinals fans everywhere scream obscenities.
Bottom of the 6th. Rangers lead 4-3. The game has become truly ugly. Holliday hits a grounder to Rangers first baseman Young, who bobbles it—literally tossing it into the air out of his glove as if he's about to begin a juggling act—and attempts a diving tag near first base. He misses. Lance Berkman advances to third base on the play and later scores.
Bottom of the 6th. Game tied 4-4. Holliday is picked off at third base, diving wrist-first into Adrian Beltre's foot and seeming to injure himself on the play. He screams at the umpire. The Cardinals leave the bases loaded and fail to take the lead.
All of this made Game Six a rolling heart attack for fans. "This is not World Series baseball," a friend remarked during the middle innings. I agreed.
For the Cardinals, the tragicomedy of Game Six mirrored the team's entire season. When ace pitcher Adam Wainwright tore an elbow ligament in spring training, St. Louis wasn't supposed to do much of anything this season. But somehow the team came on strong in the early part of the year, and by the grace of the National League Central's relatively soft competition, the Cardinals remained competitive until the Milwaukee Brewers finally ran away with it. The Cardinals fell apart in August, a summer slump precipitated largely by fielding errors. They were done, 10.5 games behind the Atlanta Braves in a non-race for the wild card on Aug. 27. But the Braves collapsed, handing the Cardinals a chance, and the NL champs seized it, completing an impossible streak to the postseason. Watching Thursday night's game, I thought more than once, "Well, they weren't even supposed to get here."
The Cardinals proved, miraculously, that it is possible to win a World Series game by dropping routine fly balls. They also proved that slapstick, error-riddled baseball can become exciting in the end—and that the errors can actually become the excitement.
In the 5th inning, Freese was the biggest goat of this year's World Series. Had the Cardinals lost on Thursday night, he could be called one of the biggest goats in St. Louis World Series history. But Game Six was so dramatic partly because Freese turned it around. He had to be down before he was up, otherwise the action wouldn't have had the same significance. It wouldn't have been the same without all those maddening, horrific bungles.
It's easy to remember that David Freese won Game Six with an improbable home run to center field. It's slightly more difficult to remember that he tied the game before that with a triple. But it's important to remember the awful moment that came before.
When Fox grabbed Freese for a postgame interview, to ask him the all-time obvious question of how it feels to hit a game-winning home run in a World Series in one's hometown, the first words out of his mouth were, "I'm just glad I had a chance after looking like an idiot on that popup."
Freese briefly quit baseball when he was young, burned out. In 2009, the Cardinals almost gave up on him as their third-baseman-in-waiting after a DUI arrest, which followed a 2008 public-intoxication charge. Freese almost didn't become the hometown hero he is today. But he did.
Game Six took its time to mature. Without all that error-driven back-and-forth, the greatest game in World Series history wouldn't have happened.
Image credit: Jeff Haynes/Reuters