People Have Been Arguing About Shakespeare for Decades
From The Atlantic archives, an old debate on the authorship question posed by Anonymous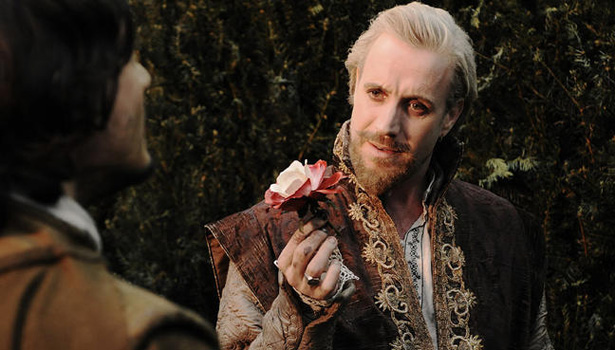 Sony Pictures
This week, Anonymous, a conspiratorial Shakespeare drama directed by Roland Emmerich, will bring the question of the playwright's authorship to the general public. For the uninitiated: Some people believe that William Shakespeare, born in Stratford-upon-Avon in the 1560s, wouldn't have had the education and access necessary to write the eloquent, detailed accounts of British and European royalty found in plays like Hamlet and Henry V. Hence, goes the theory, William Shakespeare either never existed or was a pen name for someone like Edward de Vere, the 17th Earl of Oxford, who would have feared punishment for critiquing of the royal family.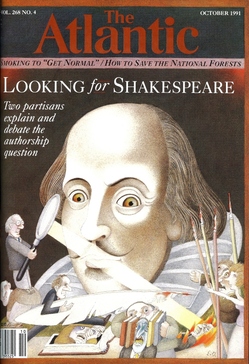 Anonymous is the product of a debate that has raged for years between "Oxfordians"--who say Shakespeare wasn't Shakespeare--and mainstream scholars who dismiss the theories as wildly speculative. In 1991, The Atlantic commissioned two pieces from admittedly partisan authors, Irvin Matus and Tom Bethell, to examine both sides of the argument.
In "The Case for Oxford" Bethell wrote:
Writing in the mid-1840s [Ralph Waldo] Emerson admitted that he could not "marry" Shakespeare's life to Shakespeare's work: "Other admirable men have led lives in some sort of keeping with their thought, but this man in wide contrast." That is the anti-Stratfordian case in a nutshell. There is a great gulf between the life and the work. Ivor Brown inadvertently drew attention to it in his 1949 biography of Shakespeare. "During 1598," he wrote, the Bard was "managing, acting...and turning out plays (two or three a year was his pace at this time) and yet keeping an eye on malt and [Stratford] matters." In 1604 Shakespeare sued the Stratford apothecary for the balance of an account for malt, and for a debt of two shillings. But "it may have been Mrs. Anne Shakespeare who forced this into court," Brown continued. "Shakespeare himself was then at the top of his performance in [the] tragedy period...." Hmmmmm.

No amount of research has been able to narrow this gulf. In some respects research has widened it. At the time of the Restoration, forty-four years after the Stratford man's death, knowledge of Shakespeare was so poor that the plays bound together for the library of Charles II and labeled "Shakespeare. Vol. I." were Mucedorus, Fair Em, and The Merry Devil of Edmonton, which are not accepted today as Shakespeare's. Textual scholarship only later clarified the canon, and tremendous archival digging in the nineteenth and twentieth centuries turned up quite a bit of information about Shakespeare's life. But (if we exclude posthumous testimony) none of it establishes Shakespeare as a playwright. With the rise of critical scholarship, poetic images of the Stratford man, told as fables at second and third hand in the eighteenth century, have mostly been overthrown as unreliable.
Matus addressed the lack of evidence supporting the playwright in "The Case for Shakespeare," dismissing Oxfordian theory as "disprovable feast, of which only a taste can be given here":
Is the absence of records from the Stratford grammar school really very suspicious? It so happens that no admission books from before 1715 survive for Westminster School either, and Westminster has been called "the most fashionable school" in Tudor England. In fact, the only knowledge we have of [contemporary dramatist, Ben] Jonson's attendance there comes from William Drummond's notes of his conversations with the poet, and Drummond tells us nothing more than that Jonson "was put to school by a friend (his master Camden)." Drummond was the closest thing to a Boswell that this Jonson would have: none of the admiring "Tribe of Ben," nor any of his fellow playwrights, thought to tell us more about the life of this notoriously self-promoting man, who made himself a legend in his own time. Clearly, the severe critical eye cast upon Shakespeare's record has been averted from Jonson's.

One set of records that has survived is Henslowe's Diary, which contains virtually all the internal documents of theater in Shakespeare's age that have come down to us. It is actually more of an account book than a diary and was kept by the theater manager Philip Henslowe, who was also the builder of the Rose, Fortune, and Hope playhouses. [Oxfordian scholar Charlton] Ogburn asserts that the "names of all other prominent playwrights of the time...find a place in his diary along with the names of famous actors and others who would be unknown but for his records"--not Shakespeare's, though. That three eminent Shakespeareans failed to cite "another case of an actor of Shakspere's alleged prominence not mentioned by Henslowe or Alleyn" (the actor Edward Alleyn, Henslowe's son-in-law and partner) amounts, in Ogburn's view, to proof that something is seriously amiss.

Is Shakespeare indeed the only actor not mentioned? We also do not find the actors Richard Burbage, John Heminge, Henry Condell, and other players who had performed at the Rose with Lord Strange's Men and, with the addition of Shakespeare, were to be the nucleus of the Chamberlain's Men. Nor are the dramatists in the first wave of London theater to be found: Christopher Marlowe, Thomas Kyd, George Peele, and Robert Greene. Not even Edward Alleyn, who was the first famous tragedian on the Elizabethan stage and who was closely connected with Henslowe, is mentioned in association with the stage until 1596. As a matter of fact, no player or playwright is named in the Diary before 1596, which certainly explains the absence of Shakespeare: by then Shakespeare was a member of the Lord Chamberlain's company, which had no association with Henslowe or his playhouse. No wonder we don't find him in the Diary.
Bethell fired back, writing:

In insisting that the Stratford man was "a man of the theater," Matus is simply trying to smuggle in the playwright with the actor. What is the warrant for claiming that there is "an ample supply of references to Shakespeare as a player and PLAYWRIGHT..."? Except for Greenes Groats-worth of Wit (1592), which I will discuss in a moment, there are no personal references to the Stratford man as a playwright that antedate his death. "Shakespeare" appears on quartos after 1598, but whether the Stratford man wrote them is precisely the point at issue.
Matus replied as well:
Tom Bethell's case for Oxford demonstrates once again that in the thousands of works on Shakespeare and his plays, something can be found to support any notion. It also demonstrates that, as usual, Oxfordians must often resort to outdated scholarship to find support for their notions. Apparently, modern scholarship is as discouraging to them as the contemporaneous records of Shakespeare and his theater are treacherous.
Other 1991 Atlantic pieces on the Shakespeare controversy include Edward Dolnick's "The Ghost Vocabulary," a look at the attempts to answer the authorship question via computer analysis of Shakespeare's works. Dolnick spoke with statisticians who proposed that Shakespeare's "fingerprint" could be identified through the use and frequency of certain words. In one case, the theory was used on "Shall I Die?," a newly unearthed poem that some suspected had been written by Shakespeare:

Exciting results came quickly: The disputed "Shall I Die?" poem seemed not to be Shakespeare's after all. Three of the leading claimants to Shakespeare's work--Francis Bacon, Christopher Marlowe, and Sir Edward Dyer--were decisively ruled out. To [Claremont McKenna College professor Ward] Elliott's good-humored consternation, the test dealt just as harshly with the claims put forward on behalf of the Earl of Oxford. Worse was to follow. For even as this first round of tests ruled out the best-known Shakespeare candidates, it left a few surprising contenders. One possibility for the "real" Shakespeare: Queen Elizabeth I. "That did it for our chance of appearing in Science," Elliott laments, "But it vastly increased our chance of getting into the National Enquirer."