Metallica's 'Lulu' Problem: Why Don't They Just Sell Out Again?
James Hetfield's band of rockers have been trying unsuccessfully to prove their artistic bona fides for a decade. As their new collaboration with Lou Reed shows, it's time for them to lighten up.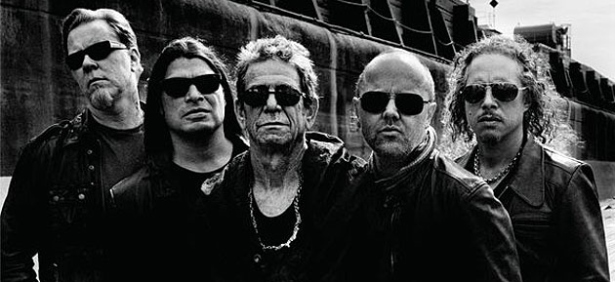 Metallica were not the best thrash-metal band of the '80s. Some might cry blasphemy at that assertion, but anyone who knew where to look could find thrash that was more technical (Coroner), more aggressive (Kreator, Sodom, Slayer) and more progressive (Watchtower). They were a great band, but not the greatest. Their true strength was the power to sell out, and I mean that in the most positive sense imaginable.
After releasing four iconic thrash albums, Metallica tapped producer Bob Rock, whose credits included acts like Bon Jovi, David Lee Roth, Motley Crue and Cher, for their divisive 1991 opus, The Black Album. Before the album's release, drummer Lars Ulrich talked about their new, more accessible sound: "There will be people who go, 'Yeah, the token radio song,' but all I can say is, this time around this is where our heads are at. We're going to fuck with some videos, fuck with some singles. For the first time in the last ten years, it just feels right."
Over the course of three albums (The Black Album, Load, and Re-Load), Rock honed Metallica's commercial sensibilities to a fine point. Were "Until it Sleeps," "Nothing Else Matters," and "Hero of the Day" not infinitely better than anything that commercial hard-rockers Staind or Puddle of Mudd would release just a few years later? If Metallica's members were smart, they could've settled for being the best radio-friendly metal band that ever to lead a stadium sing-along. The Black Album alone charted six hit singles and went 15x platinum.
Of course, there's a downside to selling more albums. Metallica became the poster boys for musical un-integrity, helped in no small part by their major role in the bands-suing-fans Napster controversy of 2000-2001. Since then, the group's output has felt like the result of an existential identity crisis, trapped between commercial allure and the desire to prove that despite their big league success, they were still all about the jams. After a six-year gap that that saw James Hetfield enter rehab and the band nearly splinter but for some lengthy (and well-documented) sessions with "personal enhancement coach" Phil Towle, they released St. Anger in 2003. Gone were the slickly produced radio hits, and in their place was 75 minutes of raw, clanging aggression. After another five-year stretch, the band tried reach even further back down their roots with Death Magnetic, and while it proved that the band could still be a semi-decent thrash band, it still wasn't half as much fun as Load.
Lulu, Metallica's collaboration with Lou Reed, feels like another misguided step in the name of "integrity." "We were psyched to be thrown into a situation with no specific structure," says Ulrich in the album's press release. "We were reinventing the wheel! We've tried over the years in certain instrumental pieces to get as far out there as possible, but nothing we'd ever done prepared us for where this went." But "out there" it is not. In late September, the band released a song, "The View," proving "Loutallica" to be exactly the sum of its parts: Lou Reed doing spoken-word lyrics over throwaway Metallica riffs.
The song was heavily parodied. Perhaps those parodies were unfair to the band, but the joke songs ended up sounding a lot like the tracks that ended up on the hour-and-a-half Lulu. There are approximately three enjoyable moments on the album, and they all cop to the aforementioned assertion that Metallica should have kept making the Black Album or Load over and over again until their mullets grew back. The first is "Brandenburg Gate," which opens the album with a breezy, almost country-sweet riff. "Iced Honey" floats a similar, sad, heavy-metal cowboy vibe. Twenty-minute closer "Junior Dad" would make a great soundtrack to a lonely midnight drive down a desert highway (having Reed actually sing on it doesn't hurt either).
It's a shame to see Metallica try to siphon attention from a big name like Reed's because they probably do have at least one great album left in them. It's not a thrash album or the backing soundtrack to an aging star's pet fantasy project. It's a big, friendly buddies-with-beers free-wheeling good time packed to the gills with singles destined for the charts. They just need to stop seeing stars and start seeing dollar signs again.