Irish Crime Writer Ken Bruen on Alcoholism, Sick Priests, and Neo-Nazis
An interview with the author of the Jack Taylor series, whose latest book comes out this week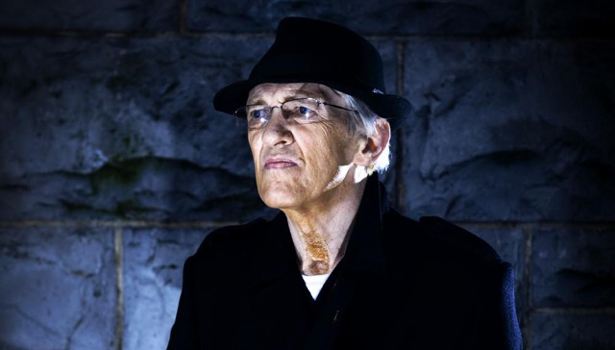 Reg Gordon Photos
Dr. Ken Bruen—he is surely the first master of crime fiction to have a doctorate in metaphysics—was born in Galway in 1951 and educated at Gormanston College and Trinity College, Dublin (where he earned his PhD). Since then he has traveled the world, holding jobs from English teacher in South America (where he did time in a Brazilian jail) to a security guard at the World Trade Center. His first novel, Shades of Grace, was published in 1993; he has subsequently written nearly 30 novels with titles like Rilke on Black (1996), The McDead (2000), and Dispatching Baudelaire (2004). Bruen's books are known for their dark, brutal humor laced with a crisp dialogue far more akin to the works of classic American crime writers than those of the more genteel Irish tradition.
He is best known, though, for the nine novels featuring Jack Taylor, a hard-drinking former policeman scraping out a living as a private eye in Galway. Already a favorite in Ireland and the U.K., Bruen is threatening to become a mass cult figure in the U.S. as well as a critical favorite. "Bruen," wrote Patrick Anderson in the Washington Post of the first Jack Taylor novel, The Guards, "is original, grimly hilarious, and gloriously Irish. I await the further adventures of the incorrigible Jack Taylor."
The latest Taylor novel, Headstone, is out today from Mysterious Press/Grove Atlantic. Bruen answered these questions from his home in Galway.
---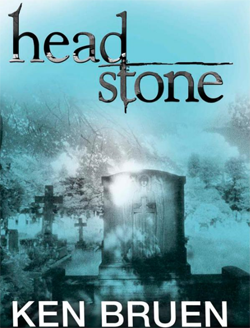 Mysterious Press
I'm seeing you called "the Pope of Galway" and "the Godfather of Irish crime fiction." Who pinned these on you?
I have no idea, but what it does is make me feel old, very. But you know, I'm also being called "Bukowski on crystal meth," the Prince of Darkness, and my favorite, an "intellectual guttersnipe"—a sideswipe at my PhD in metaphysics.
Your detective, Jack Taylor, must be the best-read detective in the history of fiction. I think yours are the first crime novels I've ever read that quote Yeats, Nietzsche, and Ruskin—among numerous others. But is it true that there were no books in your house when you were growing up and your father said he didn't want you to be a writer?
The only book in our home was the Bible. My parents forbade books. They thought I needed help because I wanted to be a writer! My father believed a real man didn't read, and my parents hoped I'd get some sense and find a job in insurance.
Much of what Jack reads is crime fiction. What crime fiction did you read when you were young? Were there any specific influences?
I got the gift of a library card when I was ten and found a discarded box in the library. They let me keep it and, oh, phew, what a treasure! All the Black Mask editions, Gold Medal books, all the pulps. So my influences then and now are American. They formed me as a writer and still do. Heresy in Ireland—where I'm supposed to worship Joyce, Beckett, and the other suspects.
When you say American pulp writers do you mean Raymond Chandler, Dashiell Hammett, James M. Cain?
Yes, James M. Cain is my favorite, with David Goodis riding point.
Who are the modern crime writers that you most admire?
James Sallis, Daniel Woodrell, Tom Piccirilli, C.J. Box.
May I ask if you have read the works of a Dublin crime writer named Benjamin Black and what you thought of them?
A.k.a. John Banville, the Booker Prize winner. Great to see the literary icons turning to mystery.
I think readers who have a sentimental view of Ireland are a bit shocked to find out how corrupt the clergy in your novels are. Are you exaggerating there?
When I began The Guards, around 2000, the clergy were still bullet-proof, but as I wrote The Magdalen Martyrs (2003), scandals were becoming known. More and more horrors emerged. I know personally many who suffered from them. Even now—even now!—they still cover up, lie, obstruct, and their arrogance is truly appalling. I know some great priests, and they suffer due to the sheer grandiosity of the leaders of the church. (But) the scum of the earth, the child molesters, still remain largely unpunished and unnamed. There are people who refuse to believe the horrendous truth, and when Priest (2006) came out, a women spat on me in the main street.
One can't go far in any of the Jack Taylor novels without it being obvious that Jack is a hopeless alcoholic. Does alcoholism run in your family?
Alcoholism doesn't run in my family, it bloody gallops, and my beloved brother, brilliant in every way, was found dead, a derelict in the Australian outback. Jack was formed from thus. I wanted to shatter the myth that Irish boys, like Italians, always love their mommas, and so Jack says, "My mother is a walking bitch."
Most Irish literature shows booze as a jolly caper. I wanted to show the truth: no one can ever say Jack has a good time drinking.
Even for a fictional private eye, Jack has a pretty rough life. He gets jumped by thugs, beaten by the cops, loses fingers, has teeth knocked out, his wife leaves him, another woman he loves walks out on him. He battles addictions with drugs and alcohol. Are you ever going to give him a break and let him live a peaceful—or at least a safer—life?
My own life has had so many twists that I keep thinking I'll have one blessing that is not in disguise. With Jack, I wanted to see how much grief one person could endure without breaking. In the new book, Headstone, Jack is happy ... but at least a quarter of the book.
I confess that before I read your books all I knew about Galway was from hearing my mother play Bing Crosby's version of Galway Bay: "You can sit and watch the moon rise over Claddagh, And see the sun go down on Galway Bay ..."
In your books, Galway isn't quite so serene, what with devil worship, neo-Nazis, even psychos who murder swans. Has the tourist board expressed any dissatisfaction in how you make the town appear to outsiders?
The local people are all delighted, as they are all in the movies. The tourist board have put a bounty on me head, but they like the biz from tourists. By the way, the photography in the Jack Taylor movies is by John Conroy, who worked as the focus-puller [first assistant cameraman] in The Bourne Ultimatum. He makes Galway look beautiful and unique.
We haven't seen the Jack Taylor movies on this side of the Atlantic. How many of them have been filmed?
Five so far have been shown on TV in the UK and Ireland.
Those of us who have become hooked on your books have cast everyone from Russell Crowe to Colin Farrell to play Jack, but I understand the Scottish actor Iain Glen is terrific.
He is superb as Jack. He's also been in Game of Thrones and a PBS series, Downton Abbey.
I understand you also have something of a career as an actor. What have you played?
To date I've played a psycho sheriff in Alabama—that film was a rush job and Alabama was transferred to Galway. I've also played a shrink, a college professor, and a dead husband, twice. I was a priest in Blitz [from a different crime series novel published in 2002; the film starring Jason Statham is available on DVD]. Ah, the clergy will crucify me.