Inside Baseball: The Boston Red Sox and Sports Journalism
Political reporters use anonymous sources all the time for their stories, so why can't sports reporters do the same?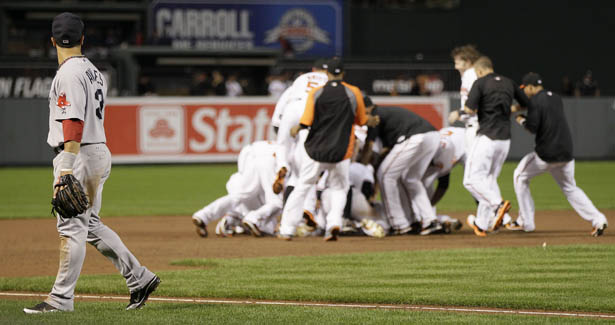 AP Images
Last week, the woeful tale of the implosion of the Boston Red Sox morphed into a larger story about sports journalism and the perils of beat reporting. Suddenly, the story of the team's epic September collapse became a sidebar to the manner in which that story was being told. I'm confident that the Sox ultimately will rebound from this terrible season. But will baseball coverage ever be the same? I'm not so sure.
The Sox last month lost a nine-game lead in the American League wild-card race by playing like chumps. Millions of fans like me were furious. And hundreds of millions of dollars were at stake. Last week, dutifully, the Boston Globe published an in-depth piece by investigative reporter Bob Hohler titled " Inside The Collapse." The story was unflattering to the team's manager (who will not be back) and pretty much everyone else. And with good reason.
Here's the nut graph from Hohler's piece:
The story of Boston's lost September unfolds in part as an indictment of the three prized starters. But the epic flop of 2011 had many faces: a lame-duck manager, coping with personal issues, whose team partly tuned him out; stars who failed to lead; players who turned lackluster and self-interested; a general manager responsible for fruitless roster decisions; owners who approved unrewarding free agent spending and missed some warning signs that their $161 million club was deteriorating.
One of those "personal issues," Hohler revealed, was that (now former) manager Terry Francona is going through a divorce and has been living in a hotel all season. We also were reminded that Francona has health issues that evidently required him to take pain medication, something which reportedly concerned team officials.
Hohler, who is not a regular baseball reporter, quickly let his audience know that the piece was "based on a series of interviews the Globe conducted with individuals familiar with the Sox operation at all levels. Most requested anonymity out of concern for their jobs or potential damage to their relationships in the organization. Others refused to comment or did not respond to interview requests."
When I first read that passage I thought little about it. Many political and legal reporters build their careers reporting in such a fashion. And such anonymous sourcing also has long been a stable of sports reporting ("a team source," an "industry source," etc). Either you believe the work or you don't. I chose to believe it. And at the time I didn't particularly care who the sources were. I still don't, actually.
My main thought when I read the piece was: amen. At last someone is telling me something I didn't know about some of the reasons why my favorite team stunk when it mattered most. Even though I knew when I read it that I was not getting the whole story-- when does that ever happen in anonymous-sourced journalism?-- I thought the piece was strong and advanced the story of the collapse. I wanted to get inside that clubhouse and the story helped achieve that.
Yet Hohler's story generated an extraordinary amount of disdain within journalism circles. Some said it was a hatchet job. Others alleged that it was a propaganda message from ownership (the Globe owns a minority share in the Sox, believe it or not).Here's what Keith Olbermann said. Yikes! The origins and sources of the story became the story; a case of "inside baseball" about inside baseball!
In Boston, in particular, some of the most prominent sports journalists seemed angry about and offended by the Hohler piece. Was this so because he had reported facts they had not? Was it because they felt Hohler was manipulated by owners? Was it because they thought ownership got a pass by the Globe? Was it because the players and coaches they had covered for years were being called to account? Paging Columbia Journalism Review. Stat!
If the Hohler story is accurate, and no one has told me otherwise, then I am unclear why it matters so much who gave Hohler his information. So what if management was the source? The facts are the facts, are they not? I am also unclear about why so many front-line journalists would suddenly get religion and find it shocking-- shocking!-- that a media outlet would publish personal information about a public figure. This is Beantown; it ain't beanbag.
So now the world knows what beat reporters evidently have long known: that Francona is going through a divorce. So what? I don't think anything less of Francona for that. But I do think less of all the reporters who kept that fact hidden from me all season why I was wondering why Francona seemed so helpless at the beginning and end of the season. What did all these reporters know and when did they know it?
Meanwhile, if I were a Red Sox season ticket holder, you're damn right I would want to know what Hohler's piece told me. I would want to know the details from the clubhouse even if it violated some unwritten rule about how baseball teams are supposed to be covered. All of these players are millionaires, they are all public figures, they are all grown-ups. And did I mention that their play stunk to high heaven?
The gravemen of the complaint-- by Olbermann and others-- seems to be that the team's owners unfairly used their positions of power to tell ugly truths about players and coaches. The underlying principle, I guess, is that teams are supposed to stick together and hide such embarrassing details from the public-- and that the motives of the messengers matter more than the message itself. What strange things for sports journalists to be so offended about!
Journalists who had used anonymous sources to get stories all year long suddenly were complaining that other journalists were using anonymous sources as well. Some of the very same reporters who miserably failed to explain the Red Sox collapse while it was happening-- who hinted about clubhouse problems but never quite wrote the piece-- suddenly were complaining that Hohler had written the piece. Me thinks they doth protest too much.
I went to journalism school in Boston and, I swear, you could teach a sports-journalism ethics course based entirely upon recent coverage. Lesson One: Do beat reporters overly protect their subjects? Lesson Two: When is "inside baseball" too much? Lesson Three: Should reporters take sides in intra-team disputes? Lesson Four: Should the Globe get out of the baseball business? Lesson Five: Does Major League Baseball foster this nonsense? Etc.
While I'm waiting for Boston University to ask me to teach that course, I'll wait to see whether Boston's media outlets, including the Globe itself, take a hard look at their own rules about covering the beloved team. Hohler's story, after all, didn't just call out players, coaches and management; it also called out many who are paid to cover the team. The Sox are in the process of mending their ways. I sure hope some of Boston's sports reporters are, too.