'Human Centipede 2': A Failed Defense of Torture Porn
The new horror flick comments on the existence of modern gross-out films while also also embodying the genre's most awful qualities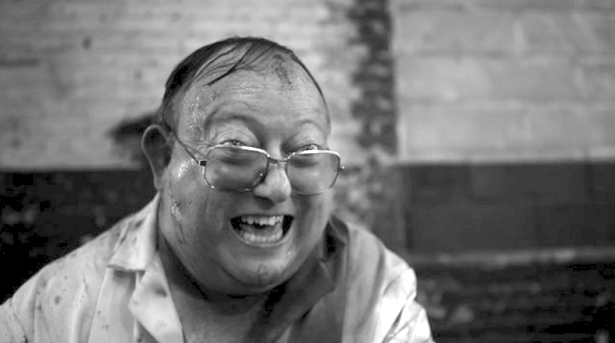 Six Entertainment
In the game of gory one-upmanship that is the horror off-shoot known as torture porn, Dutch director Tom Six has taken the cake. Or the intestine. Or whatever piece of anatomy you see as a fitting trophy for a genre built on escalating displays of sadism, explosive viscera, and human misery. In the years since Saw begat Hostel and the later installments of the Final Destination franchise, the genre—first ID'd by New York Magazine's David Edelstein in 2006—has opened itself up to parody, often bearing more resemblance to Gallagher's Sledge-O-Matic routine (see the weight room scene from Final Destination 3 for the most direct correlation) than to the psychological tinkering of Kubrick or Hitchcock.
In 2010, Tom Six raised the bar for sheer shock value with The Human Centipede (First Sequence), the tale of a deranged German surgeon, Dr. Heiter, obsessed with creating the movie's namesake, a chain of victims connected anus to mouth in a single digestive system. With the sequel,The Human Centipede 2 (Full Sequence), Six isn't doing anything on the surface to silence the genre's detractors, with a marketing campaign that hypes the film's nauseating visuals and a heavily publicized ban by the British Board of Film Classification. But Six isn't content to simply one-up his competition. With the sequel he's made an attempt to explain and even defend a genre that's been written off as a protracted exercise in shock value.
HC2 is a kind of meta-level commentary on torture porn. It tells the story of Martin (Laurence R. Harvey, a dead ringer for Gollum's fat cousin), a grotesque outcast who, when we meet him, is just finishing his gazillionth viewing of the first Human Centipede film. Martin, we learn, has become obsessed with the movie and is collecting victims for his own experiments in artificially conjoined peoples. The spectacle that makes up the entire second half of the movie is as disgusting as anything yet seen in the genre; craniums are pulped, buttocks dissected, knees incised, ligaments torn out and snipped with scissors, all without anesthetic and in full view of the camera. It's repulsive, and yet Six has the gall to try and get us to sympathize with the amateur surgeon.
The first half of the film is spent making sure we understand just how much abuse Martin has endured in his lifetime. He is sexually abused by both his father and the psychiatrist meant to counsel him, and even walks in on his mother attempting to murder him, stabbing the pile of bed sheets and pillows she believes to be her son's body. Short, fat, asthmatic, eyes bulging out of his head, Martin is utterly alone in the world. One of the hallmarks of torture porn has been the social outsider's vision of justice. Whether it's a pair of vapid valley girls incinerated in their tanning beds in Final Destination or Saw's karma-based Rube Goldbergs, it's often implied that the subject is in some way deserving of their fate. Martin applies this formula to his victims, many of which he envies or have harmed wronged him in some way. They include horny young couples, obnoxious drunk bimbos, and a happy family unit (complete with a pregnant mother that provides the film's most disturbing sequence), all far out of reach for Martin in any normal capacity.
In trying to explain Martin's actions, Six shifts the blame from his movie, with which Martin has become obsessed, to the horrors of the "real world" that he's had to endure. Torture porn, Six seems to be saying, is just a manifestation of the ugliness that already exists in reality in abundance. It's the difference between a disease and its symptoms. Alas, Six himself seems blind to his own teachings. Instead of furthering his argument and capitalizing on the sympathy and understanding for Martin, he spends the last half of the film lost in a bog of screams, whimpers and acts of unspeakable perversity. Credit goes to Six for at least asking where horror comes from, but he drowns out the answer with his need to make good on his franchise's reputation for splatter. But then again, who wants to see a torture porn movie with a message anyway?