How Jurgen Klinsmann Coaches the U.S. Men's Soccer Team
The player-turned-coach describes his methods for creating championship squads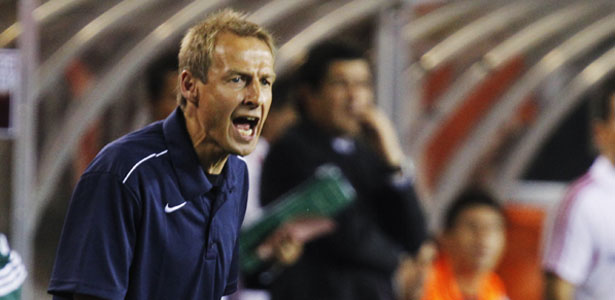 Reuters
As a player, Jürgen Klinsmann won the World Cup with the German National Team, starred for clubs from Stuttgart to Milan to Munich to Tottenham, and amassed a catalogue of goals by turns instinctive, innovative, and acrobatic . In 1998 he shelved the cleats, moved to California, and dropped the umlaut; now, after a long courtship, he's taken the helm of the U.S. National Team. In 2006 he steered an unfancied German side to the World Cup semi-finals, a success American soccer fans hope he replicates for his adopted homeland at Brazil 2014. Here he talks tactics, considers America's ascendant position in the global game, and shares the chart you'd have seen if you were on the U.S. roster for the recent win against Honduras.
---
The day before a game is a light session. Three days before a game you might have a heavier session--small-sided games where they get a good work out, stretch their legs, hit a little bit the wall. Game day I keep things to very few bullet points, because game day is emotion. They expect the world of themselves when they represent their country. So you let them deal with those emotions. At 11:00 I announce the starting 11. The players that don't play, they know it beforehand. You talk in front of the group; you don't want to put anybody down.
We have several flip charts hanging in the locker room. They cover the set pieces, our corners, the opponent's corners, direct free kicks, who's in the wall, who's next to each other, who runs out of the wall if they pass the ball to the side. The players just memorize it, they know who's taking who, where the moving patterns should be. I'm not a fanatic fan of any system. I try to build the system around the strengths of the players. With our experience, we can now transition more into a proactive style, having more possession than opponents, dictating the rhythm and pace, because all these Central American and Caribbean teams will bunker in against us, except Mexico. So you need to adapt your system to break them down.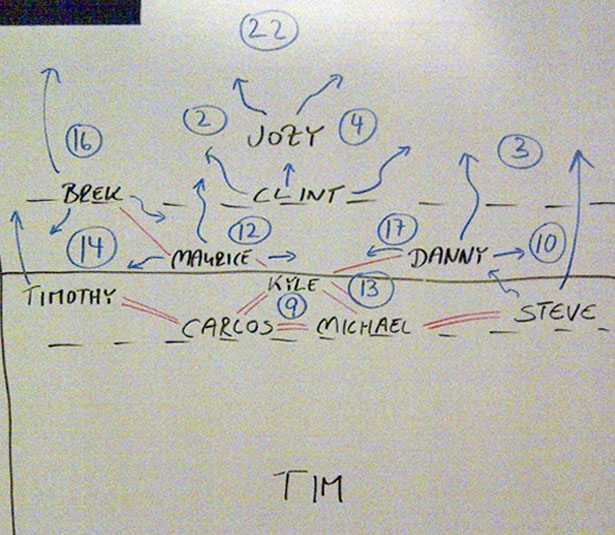 Klinsmann's locker-room flip chart showing the starting line-up for the U.S. National Team's recent game against Honduras.
Over the last few years a very important position has become an attacking fullback—a Maicon, for example—who comes from the back line and changes the pace of the game. One thing you see less and less in modern soccer is the classic Number 10, because as a coach you don't want to depend too much on one individual. The role model at the moment is Barcelona. Xavi, Iniesta—these guys work both ways. Defensively, they are nasty to win the ball back, then when they have it they are very skillful. Are they classical Number 10s? No, because you never know which one is the Number 10. You also see a lot of second strikers—a Landon Donovan or a Clint Dempsey for us, a Cristiano Ronaldo [of Portugal]—who come from midfield and run into the box. These players are becoming very difficult to catch, because the opponents never know whether it's the job of the defenders or a defensive midfielder to take care of them.
A player who has that classical talent is José Torres, a skillful midfielder who can set things up with long balls, who can switch within a second the pace of the game. You would love one day to see our best players in the Champions League—a Tim Howard, or a Landon, or a Clint Dempsey, whoever is next. That should be the automatic goal.
Some good advice I got was from Arie Haan, former Dutch international and the coach when I played for Stuttgart. I had offers then from big teams. And instead of telling me that I should stay, he said, "For your own sake you've got to go." He said, "I see your path, and that is going to the best league in the world." And that was Italy.
You follow your instinct, always. In practice, you try things out. The goals I scored later on in my career, bicycle kicks or whatever, those are things I tried out as a kid. All those techniques were just automatized, they were just in my system. There were a lot of surprises to people; there was nothing surprising to me. Because I did that already. I did bicycle kicks when I was eight years old, so why shouldn't they work for the pros?
–Jurgen Klinsmann, as told to Alex Hoyt
Read past First Drafts from Wilco, Stephen King, Christo, and others.