Philip Gabriel on how he helped make the Japanese author accessible to American readers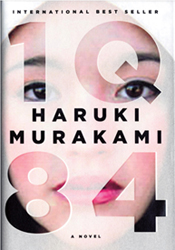 Knopf
In 1988, as a graduate student at Cornell, Philip Gabriel translated the first Haruki Murakami story to be published in the U.S., "The Kangaroo Communique." Since then he's brought three of the author's novels into English—including Kafka on the Shore , for which he won the PEN/Book-of-the-Month Club Translation Prize—as well as two works of non-fiction, a short story collection, and stories published in the New Yorker and Harper's. A professor of East Asian studies at the University of Arizona, Gabriel has also translated the fiction of Nobel Prize-winner Kenzaburō Ōe. Here he discusses his work on 1Q84, Murakami's much anticipated 1,000-page three-book novel, which he translated with Jay Rubin.
---
How many pages did you translate on average each day? How long was the revising process?
Usually I work five days a week and finish a rough draft of four pages per day. Twenty pages a week, 80 pages a month—that's always my goal. With writers whose prose is trickier, I might do only three pages a day, but Murakami is pretty straightforward and logical. It took about ten months to come up with a rough draft of Book 3 of 1Q84, and then I spent two months revising it. The first step in revising is to go back and check, line by line, the original with the translation. After the first pass the editor and I of course made some revisions, deciding, for example, to put most of the internal monologue in italics, and to put some passages that were in present tense into past. This is the part I don't like so much. My eyes feel ready to pop out. It's more fun to do the final run-through before I send it out to the editor. Here I simply read the whole translation again as a novel in English and try to improve the phrasing.