How Bad Will the NBA Lockout Be?
Will a delayed basketball season turn fans away from the sport—or will a hiatus be a good thing?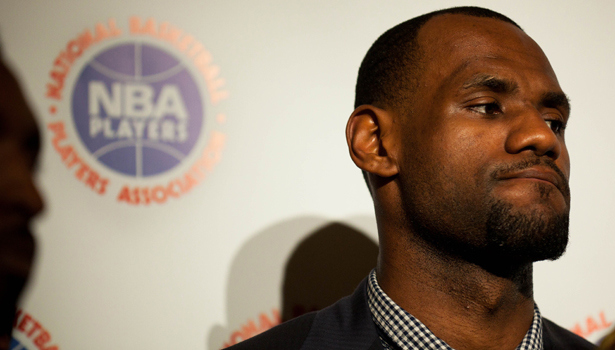 AP Images
Every week, our panel of sports fans discusses a topic of the moment. For today's conversation, Patrick Hruby (writer, ESPN and The Atlantic), Hampton Stevens (writer, ESPN and The Atlantic), Jake Simpson, (writer, The Atlantic), and Emma Carmichael (writer, Deadspin) talk about this year's delayed NBA season.
---
Hey, guys,
The NBA players and owners met behind locked doors in New York City this week, and after four hours of negotiations, they emerged to announce that, against all odds, the 2011 NBA season would ... not begin on schedule. There weren't any relieved hugs; there were no rainbows or golden retriever puppies. There was just a somber letter from the Players Association and a terse David Stern: "It wasn't to be."
So far, all we're definitely missing out on is the preseason—114 exhibition games in total—which is only ever a part of the season that attracts diehards and those seeking discount tickets, anyway. (Stern told reporters that those games alone will cost the league $200 million.) After that, there's no reason to feel overly confident about the league starting on time. Quoth Billy Hunter, executive director of the union, on when the two sides will even attempt another meeting: "Maybe a month. Two months. Your guess is as good as mine."
I'm tucking in for a long winter full of college hoops. It will be good for us, right? Back to the refreshing fundamentals in the broken system of college hoops. But I'm curious what you guys think will be the long-term effects of a lost 2011-12 NBA season. Jake and I were discussing this earlier: the NHL might not have fully recovered from its '04-'05 strike even today, and the MLB needed a few seasons to rally after the '94 strike. The NBA is coming off of one of its most successful postseasons in league history, and (even though Jeff Van Gundy might disagree) it could take some time for pro hoops to get back to the level of popularity it had finally achieved. That is, unless LeBron James announces he's starting his own team in Hawaii, or something.
Hampton, how do you foresee the lockout affecting the NBA's appeal? If we're back in time for the playoffs, maybe, as Van Gundy hinted, no one will really notice. But it's hard to imagine that a sacrificed season won't harm the league. What do you think?
–Emma
Harm the league? Ha! Hardly. Sure there will be short-term pain for everyone if we lose a whole season—from the billionaire owners to the Apocryphal Beer Vendor. In the long run, though, losing a year could be great for the game.
Stay with me. I'm going somewhere.
First, the crisis might force the NBA into finally making some badly-needed structural changes. Maybe, just maybe, the fall of 2012 could bring us a leaner, fitter league, with weak teams contracted, and the plodding 82-game regular season cut to a compact 60-ish. As long as we are pipe-dreaming, maybe the lockout will finally rid us of the very best thing that ever happened to players, and the worst for fans; the guaranteed contract, which mostly guarantees a lack of effort until a contract year.
Even if we go back to business as usual, though, the lockout still could help the league in the long-run by hurting it in short-term. And it will happen by using one of Stern's greatest victories against him. We're seeing it now. The commissioner's evangelical fervor for growing the game internationally, after all, is the only reason why the locked-out NBA players have options that baseball, hockey, and football players don't. A few guys may have skated for club teams in Russia and Finland during during the NHL lockout, but that's a piffling compared to the exodus of hardwood talent we're seeing today. Check out ESPN's massive list of the ballers who could need a passport.
Kobe Bryant is ready for his Italian job. Ditto for Tony Parker and a gig in his native France. Nets guard Deron Williams is headed for Turkey. The Gasol brothers will play together in Barcelona. Mavericks guard Rudy Fernandez signed with Real Madrid. (The other one.) It goes on and on, and this global diaspora of hoops talent is bound to bring megatons of attention, and thus tons of new fans to the NBA.
Stern, you win again.
For current fans, though, it's also hard not to notice a different upside. Seeing Kobe play in Italy, or Celtics guard Avery Bradley play for Israel's Hapoel Jerusalem, it all sounds pretty freaking fun, actually. Exotic and cool. It'd be especially interesting to see American stars adapt to the rougher style of play on foreign courts, and the rougher crowds around them. Truthfully, with apologies to the billionaires and Apocryphal Beer Vendors, I'm psyched, and hoping US fans at least get to see clips of these games.
Patrick, that brings up my questions for you. First, have you ever tried Apocryphal Beer? Also, is there some law against showing Hapoel Jerusalem highlights on SportsCenter? And, if so, shouldn't we repeal it?
–Hampton
Before I get to the NBA lockout, a quick digression: Emma, I really, really hope you're being sarcastic when you mention the "refreshing fundamentals" of college basketball. Because, quite frankly, there's nothing refreshingly fundamental about the campus game. On the whole, college players have lousy fundamentals. Because they're young. Inexperienced. Still growing physically, and still learning how to play basketball. In terms of sheer practiced basketball skill, college players do not—cannot—compare to their professional counterparts, who, you know, do this for a living. Really, the myth of superior college fundamentals belongs in history's dustbin, alongside the Soviet Union and Baby on Board stickers. And when you do see a pro player who isn't fundamentally sound—cough LeBron James in the post cough—it's almost always because said player is athletic enough to: (a) flaunt convention; (b) be effective anyway. Are we supposed to fault a David Foster Wallace essay because it breaks all the rules of freshman comp?
Phew. I feel better already. Back to the topic at hand. The lockout will cost the NBA some short-term money. Quite a bit, actually. Which is never good. Still, I doubt it will hurt the league in any lasting or meaningful way, because I don't think fans will be turned off. Whenever sports leagues miss time due to labor-management disputes, columnists and commentators like to huff and puff about greed and betrayal and eroding goodwill. Color me dubious. Pro basketball isn't a serious girlfriend dumping us for a year to go find herself hiking the mountains of Spain—read: sleeping with guys who look like Cristiano Ronaldo—only to then come back heartbroken, overly tan and begging for a second chance. Pro basketball is just an annual entertainment product. Like a line of mystery books, a movie franchise, a television series. Or like an iPhone. Think about it. The iPhone 5 isn't coming out as soon as some people would like. Does that make the same people less likely to eventually purchase one? I doubt it. When basketball returns—in three months or next fall—so will basketball fans. Even the ones who prefer the—ahem—fundamentals of the college game.
Jake, will you have a hard time forgiving Stern, Cubes, LeBron and the rest of the Association if the lockout nixes the season? Or will you tune in as soon as there's some tunin' in to be done?
–Patrick
I wish I could say I'll hold out against the greedy millionaires, the greedier billionaires and their schoolyard game-turned-runaway capitalist train. But I won't. If it were 2004 and me-first stars like Vince Carter, Tracy McGrady, and young Dwyane Wade were dominating the league, I might be tempted to catch up on my correspondence for a couple of years. But the NBA has more talent (and more young talent) than I've seen in my lifetime, and I'm not going to miss the halcyon days just because I'm bitter about another consumer-screwing work stoppage. To put it in your terms, Patrick, I'd stay away if the ex/NBA looked like this , but not when it looks like this.
But even if most people are quick to return to the NBA, a prolonged lockout would give other leagues—cough, NHL, cough cough—a chance to climb the popularity ladder a little. When baseball canceled the World Series in '94, the NFL took advantage and assumed dominant status in the hierarchy of the four major sports—even when baseball had its Home Run Renaissance of 1998, it couldn't really challenge football for the top spot. I'm not saying the NHL is going to supplant the NBA in popularity—but it could pick up its fair share of temporarily disaffected basketball fans and turn them into hockey diehards. I mean, not me. But some people.
We should also briefly mention the other cohort that faces the great unknown of how a lost season will affect them: the players. Will aging veterans like Kobe Bryant and Dirk Nowitzki be able to come back in 2012 with the same intensity? Will second-year studs John Wall and Blake Griffin take a step back in their development without the structure of an 82-game season to keep them interested? Will Chris Bosh finally complete his transformation into a velociraptor and eat LeBron James and Dwyane Wade before they can play another regular-season game? Who can say. But a yearlong stoppage would unquestionably change the career course of some of the brightest stars the league has seen in years. It may not be for the better, but it would at least be fascinating to watch.
–Jake