'Charles Eames on What Is Design'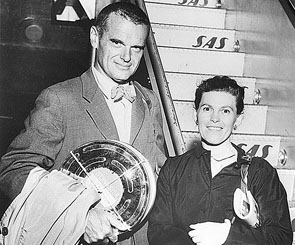 Legendary design duo
Charles and Ray Eames
shaped the mid-century modern aesthetic and influenced the voice of design for decades to come. They were also prolific filmmakers, perhaps best known for the iconic
Powers of Ten
film. In this fantastic Q&A from 1972, found on the excellent compilation
The Films of Charles & Ray Eames
and reproduced here in
House Industries
' typography journal, Madame L'Amic of the Musee des Arts Decoratifs in Paris asks Charles Eames 29 questions about design, covering everything from the balance between form and function to the role of computers in creativity to the impact of influences. His answers are a timeless treasure trove of wisdom and insight on all that design is and should be.
I'm particularly taken with this bit affirming remix culture and combinatorial creativity:
[Is design] a creation of an individual?

No -- because to be realistic one must always admit the influence of those who have gone before.
You can also listen to the full audio of the interview in this Japanese video of questionable legality:
And for the ultimate Eames fan, see Ph.D. student Kevin Mackice replicate the interview with his young son Carter to an amusing, refreshing, and surprisingly philosophical effect:
The entire collection, The Films of Charles & Ray Eames, is an absolute gem -- I highly recommend it.
H/T Ace Hotel Blog; @gary_hustwit.

This post also appears on Brain Pickings.