All Nothing: Poetic 1978 Animated Allegory About Mankind's Greed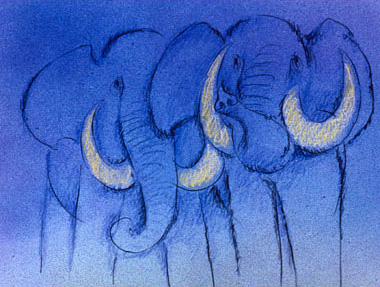 French-born artist and activist-filmmaker
Frédéric Back
got his professional start in Canada in the 1950s, where he was asked to draw still images promoting moving pictures at Radio-Canada's graphics department. In 1967, his giant stained glass mural entitled
L'histoire de la musique à Montréal
("history of music in Montreal") became the first work of art to be commissioned for the Montreal metro system. But most striking of all are his animated short films. In 1978, his
Tout Rien
("All Nothing"), a delicate and pensive 11-minute animated allegory set to the music of Igor Stravinsky about how our human greed is stealing the happiness of our species, earned him an Oscar nomination. It tackles, with remarkable elegance and sensitivity, our tragic tendency towards anthropocentricity in a world we share with countless other creatures.
Possessions, like happiness, are always eluding our grasp. Instead of constantly wanting to have, wouldn't it be better simply to be -- to watch and let the natural environment exist in peace? A world whose true joys and riches, continually renewed and replenished, we have yet to fully appreciate? --Frédéric Back
The following year, while working on another film and applying a coat of fixative to a drawing, the fumes got into Back's right eye. The film eventually won him his first Oscar, but his eye never recovered. Back, nonetheless, continued to produce breathtakingly beautiful work underpinned by a thoughtful environmental message through the early 1990s.

This post also appears on Brain Pickings, an Atlantic partner site.