Albert Pujols' Big Moment Will Come After the World Series, Not During It
The Cardinals' star batter has never gotten the attention of a Tom Brady or a Derek Jeter. That will all change once the postseason ends, whether or not his team wins it all.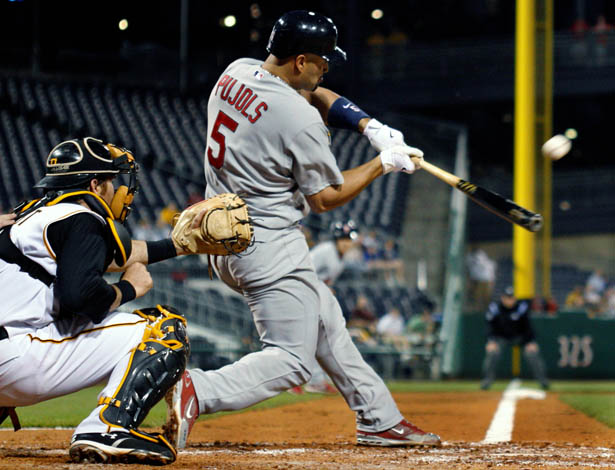 AP Images
Postseason magic in Major League Baseball often comes from the unlikeliest of sources. From Bucky Freaking Dent to Aaron Freaking Boone, unsung heroes seem to burst onto the scene every October. Last year, unheralded outfielder Cody Ross helped lead the San Francisco Giants to a championship; this year's unknown success story is Cardinals' outfielder David Freese, who earned NLCS MVP honors after hitting .545 with three homers and nine RBIs in the series after hitting .297 with just 10 longballs in the regular season.
With so many middling players taking a leading role in past postseasons, it's all the more interesting when a superstar puts up a monster postseason. Especially when that star is Freese's teammate, Albert Pujols, the consensus best player in baseball.
Heading into what is certain to be a frenzied free agency, Pujols has quietly put up the best playoff numbers of his career and led St. Louis to its second World Series in six years. While Freese was busy grabbing headlines in the Cardinals' six-game NLCS triumph over the Milwaukee Brewers, Pujols anchored the middle of the lineup put an unconscious .478/.556./913 split with two home runs and nine RBIs. In Game 2, he went 4 for 5 and drove in the Cardinals' first five runs in a 12-3 win. Six days later, he launched a 423-foot longball to spur a key four-run inning in St. Louis's series-clinching 12-6 victory. In the Cardinals' four wins in the series, Pujols hit .667 with two homers and drove in nine runs.
As staggering as the numbers are, they don't even begin to tell the story of (arguably) the best right-handed hitter of all time and his tumultuous 2011 season. Pujols finished spring training without the contract extension he'd hoped for when negotiations with the Cardinals broke down. Then he struggled out of the gate, hitting just .279 through June 19. When he fractured his forearm in a first-base collision with the Royals' Wilson Betemit, it looked like the three-time MVP was headed for the first throwaway season of his career.
Instead, Pujols missed just two weeks (instead of the four to six weeks projected by doctors, another example of his alleged otherworldly recuperative powers), then led his team's furious September comeback to claim the National League wild card. In the season's final month, Pujols hit .355/.393/.561 and had three separate four-hit games.
That the first baseman finished with the worst season statistically of his career tells just how consistently elite the man they call "The Machine" has been. His .299 batting average and 99 RBIs, stellar numbers for 90 percent of the league, were career lows, as was his 147 games played (perhaps an even more remarkable stat, since 2011 was his 11th year in the majors).
Pujols has been the league's best player since Barry Bonds, and unlike Bonds he's never tested positive for steroids. He led the Cardinals to their first championship in 23 years and is on pace to shatter baseball's all-time RBI record. Yet he's never received the attention of a Tom Brady or Kobe Bryant, fellow superstars who won it all.
That will change once this World Series ends. Pujols will enter the offseason as the most sought-after free agent in baseball history, and one of his leading suitors will almost certainly be the Chicago Cubs, the Cardinals' archrival with the 111-year title drought. If Pujols doesn't get the contract he feels he deserves from St. Louis—he turned down a nine-year, $200 million offer from the Cardinals in spring training and has asked to become baseball's first $30 million-a-year man—he could face a wrenching decision: Stay loyal to the team and fan base that's been with him from the beginning for less money, or join that fan base's most hated opponent for the highest salary in baseball and immediately assume all the pressure of turning around a very bad Cubs team. Oh, and if he happens to lead the Cubs to their long, long-awaited title, he'll be immortal, at least in the sports sense.
Right now, though, none of that matters. A consummate professional in the mold of Mariano Rivera, Pujols will keep quiet, dig into the batter's box with his trademark coiled stance, and look to make mincemeat of the Rangers' pitching when Game 1 starts Wednesday night. For one player, the World Series will actually be the calm before the storm.