5 Statistics That Illustrate Just How 'Unbelievable' Game 6 Was
A look at some of the "firsts" to come out of the Cardinals' thrilling 11th-inning victory over the Rangers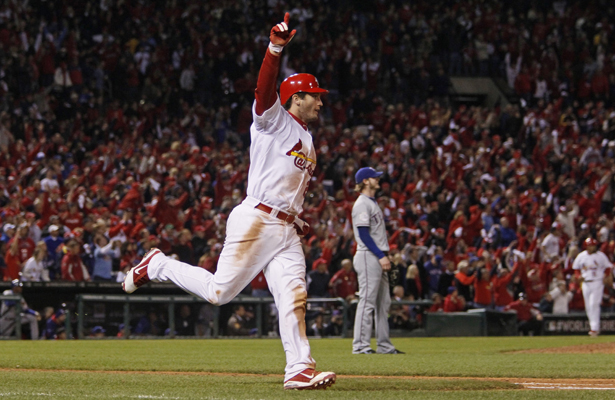 Reuters
"The most unbelievable game I've ever seen in my life." "I've never seen anything like it before." "If that's not the best postseason game of all time, I don't know what could top it."
These are just some of the breathless responses to Thursday night's stunning World Series game, when the St. Louis Cardinals came back from several deficits to beat the Texas Rangers 10-9 in extra innings and force a Game Seven. The Cardinals' zombie-like refusal to die ensured the game will be an instant classic. Here's a look at some stats that illustrate just how special the game was:

The Cardinals became the first team in World Series history to overcome a ninth-inning deficit and an extra-inning deficit in the same game.


The repeated comebacks were bad news for the Rangers bullpen: Three Rangers pitchers—Alexi Ogando, Neftali Feliz, and Scott Feldman—were marked down for blown saves in Game Six because the Cardinals made five different comebacks over the course of the game. According to ESPN, it's the first time in World Series history that a team has recorded three blown saves in one game.


This will be the first Game Seven in nine years—the longest stretch without a winner-takes-all final game since the World Series started in 1903.


The Cardinals hold the record for most World Series Game Sevens, with tonight's game being the team's 11th. History is on their side: The Cards' Game Seven record is 7-3.


Another encouraging stat for the Cards, who play at home again tonight: The last eight Game Sevens were won by the home team. The last road team to win was the 1979 Pirates.