Why It's OK for Tiger Woods to Play in the Frys.com Open
The injured former champion is set to compete an always-ignored tournament. But he shouldn't be ashamed.
The injured former champion is set to compete an always-ignored tournament. But he shouldn't be ashamed.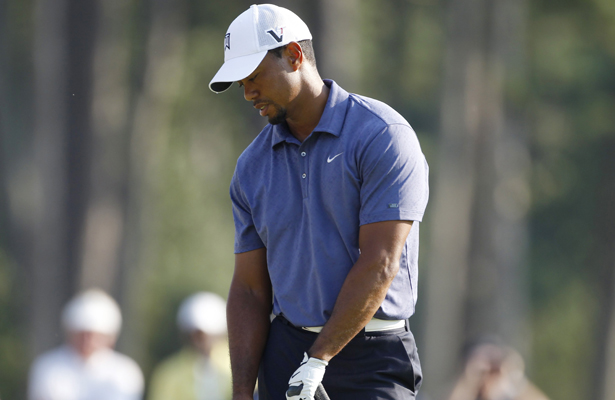 Reuters
Golf's Frys.com Open has been in existence for all of four years. Part of the PGA Tour's recently installed Fall Series, which takes place after the end-of-season Tour Championship and is usually reserved for mid-level players and those trying to secure their tour card for next year, the tournament is generally overlooked by, well, everyone. Among its winners are the eminently forgettable Cameron Beckman and Troy Matteson, the latter of whom set a 36-hole PGA Tour record by shooting 61-61 in the second and third round of the 2009 Open (both of his career wins came in this event).
And yet the Open, which takes place next month, is the next scheduled tournament for Tiger Woods.
Hampered by multiple knee and Achilles' tendon injuries in recent years, Woods is playing the event in preparation for the President's Cup in November as he struggles to return to top form. Ostensibly, the 14-time major winner is fulfilling a promise to U.S. team captain Fred Couples that he would play competitive golf before the Cup if Couples selected him as a captain's pick. But Woods will undoubtedly welcome the chance to test his balky Achilles in a stroke play event and could gain a huge confidence boost if he wins.
Whatever Tiger's motivations, he is setting a trend that should be emulated by more top athletes in both individual and team sports: rehab starts in lower-tier events. Baseball players almost always begin their return from a stint on the disabled list with a trip to one of their team's minor league affiliates to re-acclimate themselves to the game and test their recuperating bodies. That includes superstars - Alex Rodriguez suited up for the Yankees' Triple A affiliate in Scranton/Wilkes-Barre just two weeks ago. In the case of severely injured stars like Washington Nationals' pitcher Stephen Strasburg, one minor league start can turn into several to prepare a player physically and mentally for a return to the majors.
The rehab stints indisputably help baseball players, particularly pitchers, who can re-adjust to their stress-intensive throwing motions in a less competitive, lower-pressure setting. NASCAR drivers have a similar option with the lower-tier Nationwide Series. But in most sports, there is no commonly employed mechanism for easing a recovering athlete back into the game. And unfortunately, the primary reason that lower-tier options in golf, tennis, hockey, and other sports are almost never used is aesthetics.
Playing the Frys.com Open is not exactly a glamorous addition to Tiger's resume, just as a second-tier ATP Tour event would be "beneath" the talent level of, say, Roger Federer. But athletes cultivate their game and improve themselves through competition first and foremost - if all notorious workout junkie Kobe Bryant ever did was practice by himself outside of the NBA season, he could never have become the elite player he has been for more than a decade. The need for competition becomes even greater when athletes are returning from injury and re-testing their physical limits in a competitive setting for the first time.
Tiger has taken the opposite approach in his repeated comebacks from injury over the past three years, opting for marquee events with large purses and larger Q ratings. This season, he's played in eight events to date: two majors, the Players Championship (known as "the fifth major"), three World Golf Championships events, the Arnold Palmer Invitational, and the Farmers Insurance Open at Torrey Pines Golf Club (one of his favorite courses). All those tournaments are high-profile, highly competitive events played on some of the PGA Tour's hardest courses, and he won exactly none of them.
So even if he's only playing next month to fulfill his promise to Couples, a lower-tier tournament is the best venue for Tiger to really start a comeback. Who knows? Maybe he'll wise up and we'll see him at the John Deere Classic in 2012.